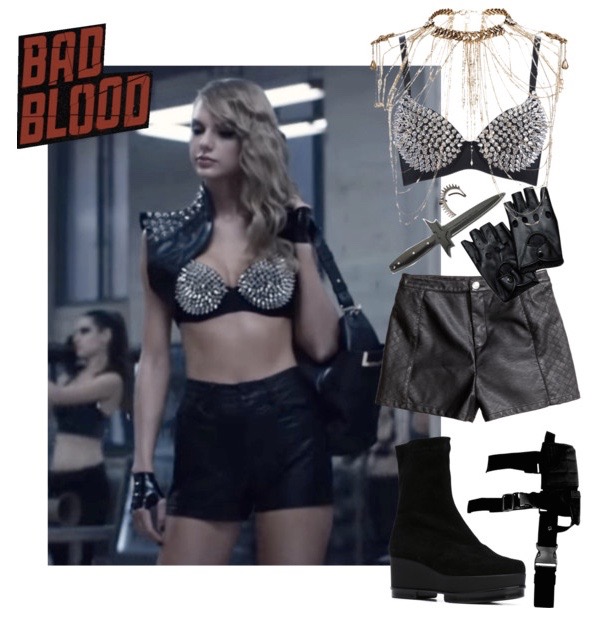 Ok if you know me, you know I LOVE Taylor Swift and therefore I want to be her for Halloween (again), but this time in a Bad Blood Halloween Costume. I wanted to create an outfit that actually looks like one from the video. According to Billboard, all of the outfits were put together with items from this sex shop — The Stockroom. Prices are also pretty insane for a one-night Halloween costume. Or you maybe you could reuse?
So here are the pieces that I found for reasonable prices and look pretty similar to her actual outfit.
1. Studded Bra from Spencer's: $30
2. Pleather Shorts from H&M: $20
3. Platform Combat Boots from H&M: $50 (I already own boots like this so I didn't have to spend any money here. Though I kind of want these boots now.)
4. Ear Cuff from Forever21: $6
5. Pleather Gloves from pretty much any costume shop: $5 (But I really, really like the ones from this site.)
6. Body Chain from Forever21: $11 (Because finding a pleather cropped bolero vest is pretty hard and pricey.)
7. Weaponry and Holster from Spirit Halloween: $20
TOTAL: $131
If you actually went out and bought everything then this outfit would be about $131, but I'm hoping you already own similar boots or some piece of this outfit that you wouldn't have to buy.
Another great site for other Bad Blood Halloween outfit ideas are in this Pop Sugar article. I can tell you that my roommate is going to be Mother Chucker (Cara Delevingne) and my other friends are going to be a mixture of various ninja/s&m type of gear. All I know is we are all going to be wearing black fingerless gloves.
What are you going to be for Halloween?
xo