I was lucky enough to attend the MTV VMAs 2016 last night and from seeing everything in person, I gathered my favorite (and not so favorite) looks — ranging from red carpet to performance to after party. Tomorrow I will tell you about the whole experience and what it was like to attend. Here's a quick synopsis.
I won tickets for the pit at the MTV VMAs 2016 and just happened to get so lucky that I stood right in the front, literally touching the stage. I could have reached out and touched Beyonce had I been so rude. It was lot of standing, but well worth it. The MTV VMAs are such a glamorous event, even upon walking in you can tell it took months to plan and days to set up. From the constant lighting effects to the caged stage that was raised up and put down for each performance, it oozed glamour.
Kim and Kanye sat front row, of course, with the seats constantly being filled by people who volunteered to be "seat fillers" any time one of them or anyone else got up to speak at the awards or perform. Fun job. Kimye stayed for the entire show. Behind them sat long time friend Jonathan Cheban and then front row, right sat the beautiful Britney Spears for just the first couple of performances. Three rows behind her was the dreamy Ansel Elgort and his girlfriend Violetta Mykoshan. The cute love birds couldn't keep their hands off of each, as per usual. I love watching who mingles with whom. During each commercial break, a handful of waiters came out to hand out water and drinks as all of the celebrity guests get up and mingle amongst each other. This is when you can see who is actually friends with whom.  Since Ansel (stage name Ansolo) and The Chainsmokers have the same manager,  Ansel got up and said hello to Alex and Drew of The Chainsmokers, presumably congratulating them on their chance to perform at the MTV VMAs 2016. Hailey Baldwin and Jaden Smith sat together for a couple minutes of mingling after she went and said hello to Kim Kardashian. Ok enough of me talking about the celebrity interactions. Below is my view of the stage and the audience from where I stood. Unfortunately, using my phone was discouraged since we were on camera and it looks bad for tv.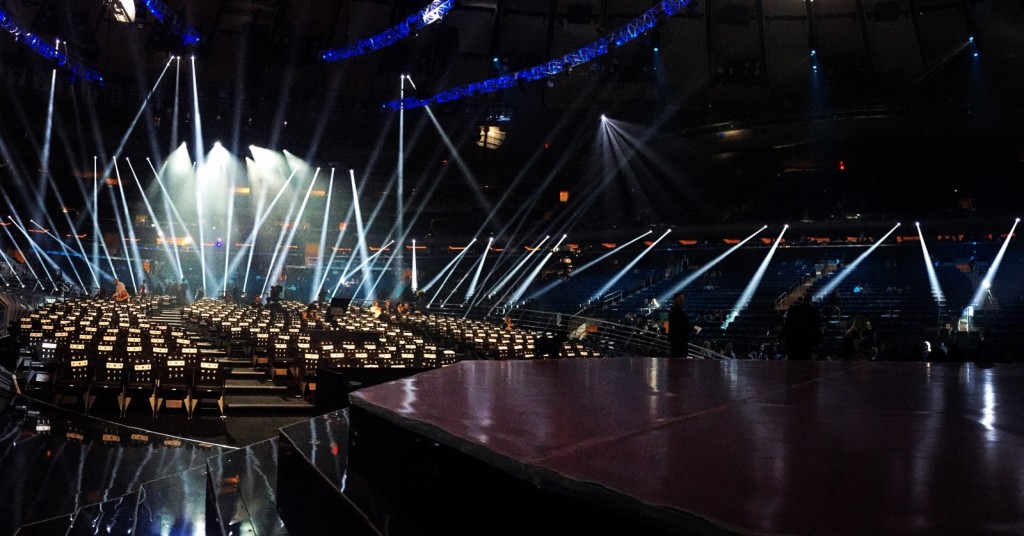 MTV VMAS 2016
BEST DRESSED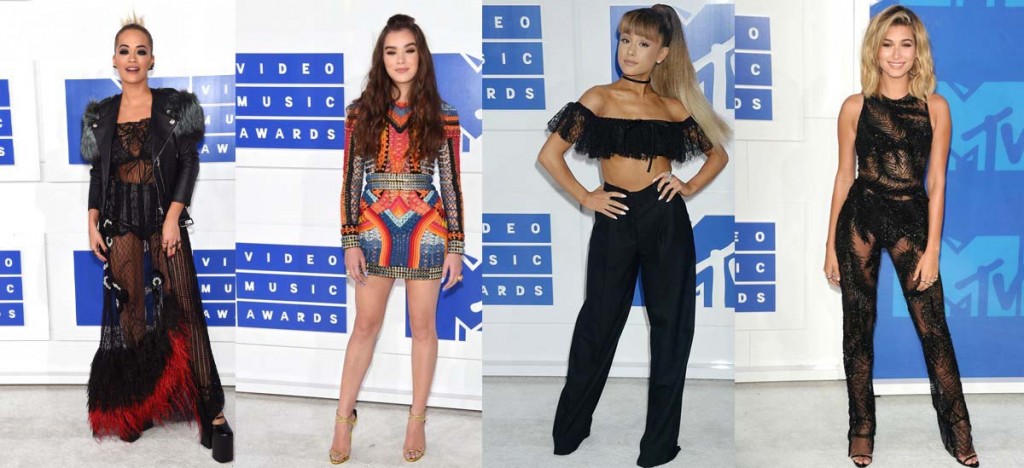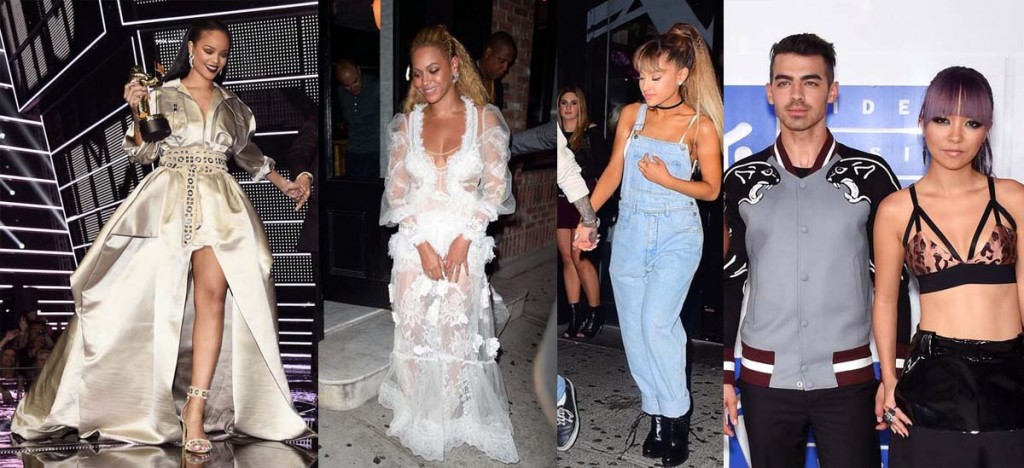 As for the red carpet looks… Rita Ora looked extravagant and bad ass in her see-through outfit with sky-high heels. Hailee Steinfeld looked age appropriate and cute in her detailed and colorful dress. Ariana Grande was chic and trendy with her high waisted black shorts and off the shoulder crop top. Hailey Baldwin looked smoking hot in the rather daring jumpsuit she wore.
Rihanna looked flawless through most of the night (except I hated that furry pink bra outfit) and her outfit to accept the Vanguard Award was my favorite with the wrapped around belt. Beyonce. You are just perfect so everything you wore slayed.
Maybe its a bit casual for a VMA after party, but actually no, I don't think there are any rules here, Ariana Grande looked so bad ass in her overalls. I am a huge fan of them and I swear you put a pair on and — instant cool girl! I also loved that she didn't wear a shirt. Next time, I'm wearing mine out without one too. Ha. Go Ariana for being brave and not giving a —-. DNCE is the coolest new band, clearly since they won the Best New Artist Award and they dress like it too. I loved the girl's outfit and hair. Right on point. And Joe Jonas can do no wrong in my book.
MTV VMAS 2016
WORST DRESSED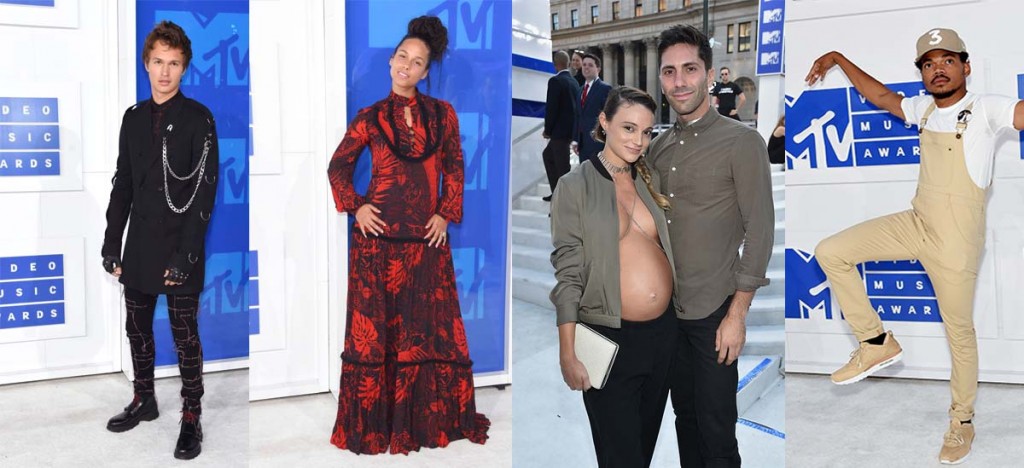 As far as the worst dressed, like I love you Ansel, but that outfit is awful. It looks like a ridiculous costume for one of your movie premieres. Alicia Keys could have done so much better in just about any outfit. I really hated this unflattering, boring dress. Please don't even get me started on the pregnant belly look of Nev Shulman's fiancee. I'm ok if you want to show off your pregnancy, but that was just a bit too much and uncomfortable for all. When she walked in to the show, every face had a look of "WTF" on it. And Chance the Rapper looked like a Mario character. Leave the cute overalls to Ari please. Oh and in case you saw Farrah Abraham in her ridiculous Wonder Woman costume, she is definitely one of my worst dressed, but I refuse to give her more than a shout out. How did she even get an invite? Oh yes, the MTV connection.
Agree? Disagree?
XO
 Photos courtesy of Getty Images, Vogue, MTV and Cosmo