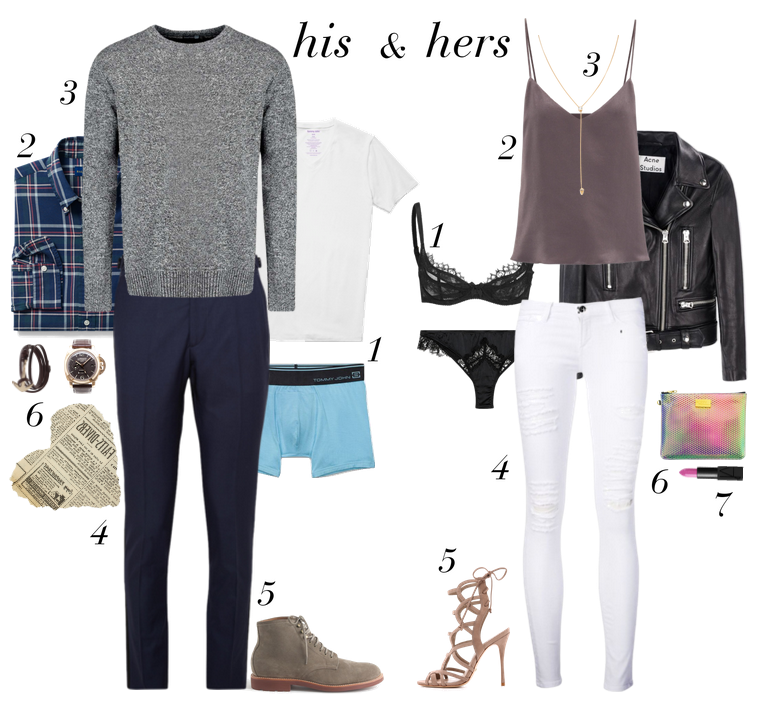 Here are some fall date night outfit ideas. Whenever I'm going out on a date, especially a first date, it always takes me quite a few outfit tries before I can decide on one. The woman's outfit is one that I have found to be my go-to basics for a date and hopefully some inspiration for you. The mens's outfit is what I personally would like to see a man wearing, hopefully that is also inspiring to any men out there.
Hers
1. It starts with the first layer. No matter what, I plan on wearing sexy lingerie because it just gives me a boost of confidence. It really does. Try it. This lace bra by L'agent by Agent Provocateur and underwear by Kiki De Montparnasse are super sexy.
2. Flattering tank & leather jacket. I'm always a proponent of a loose, silky tank. It really dresses up jeans for an effortless, yet pulled together look. Plus, the silk tank is an item that always feels good to wear and makes me feel really pretty and feminine. To add a bit of edge, I like to pair the silk tank with a leather or faux leather jacket if it's cold outside.
3. Delicate jewelry. I like to go with simple, yet beautiful pieces like a necklace or a few rings and bracelets. I almost always wear gold jewelry too. This lariat necklace style is flattering and compliments the neck bones.
4. Jeans. They are always comfortable and a skinny style is flattering. A white pair of jeans are slightly unexpected for fall — you most certainly can wear white after Labor Day.
5. Cage heels. These are the epitome of sexy and are so popular right now. I would just cuff the bottom of the jeans first so the two aren't competing for leg space.
6 & 7. Use accessories to add pops of color any look. This holographic clutch is eye catching and shows off your fun side. A bright lipstick color, like this pink NARS shade pulls the whole look together. The rest of the makeup should be pretty simple. I would go with a subtle smokey eye and a  little blush and bronzer.
His
1. A good base layer. Just like for me, I can imagine that he would prefer to feel comfortable and confident starting from the first thing he's wearing. Try a super soft, white V Neck Tee and a pop of color like in these Second Skin Platinum Trunks by Tommy John. They're very sexy, comfortable-looking and fun.
2. Plaid. You really can't go wrong with a plaid shirt. Right boys? I love the soft blue and maroon colors for fall.
3. Layering. It always looks good. Put a sweater on top to look slightly more polished if it's getting chilly outside.
4. Nice pants. I like nice yet casual-looking pants on a man and this navy pair is both. Just make sure they fit well.
5. Boots. For fall, these suede boots are perfection to me. They can also take the look from autumn to winter — so they will get a lot of use.
6. A little jewelry (not too much) is nice to see on a man. It shows that you put in effort and have some style. You can never go wrong with a watch. Then try one of these anchor bracelets that you have probably seen around, but are still very cool. I actually want a leather one for myself.
Try these outfit combinations out! These are all my opinions on perfect date night staples for men and women, but it doesn't mean another look is wrong. I just want to offer up some suggestions and inspiration for anyone unsure of what to wear on a first or a hundredth date with someone. What do you think?
xo