When you hear the word "fjord," you probably picture gorgeous, tall mountains and peaceful waters, just like you see in magazines. Well guess what, it's even more breathtaking in person. Some of the Fjords of Norway are even on the UNESCO World Heritage Sight list. These are all places that have been marked of importance to cultural or natural heritage. Hitting up as many of these places on the World Heritage Sight as I can is on my list of things to do!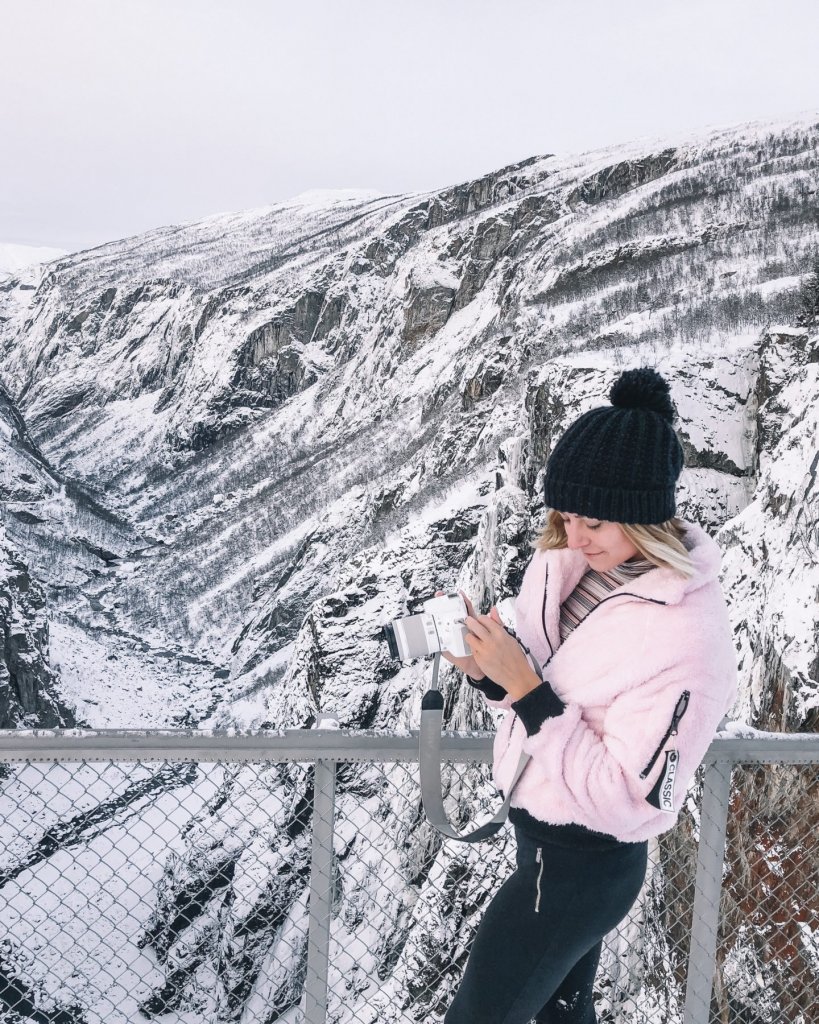 Originally I just had Oslo, the capital city of Norway on my itinerary, but once I discovered this simple Norway in a Nutshell tour, hitting up the fjords, I knew it was a must-see! Honestly, I don't think anyone should ever go to Norway and not go to Fjords. That was my favorite part of the whole trip. Because it can be a bit confusing to plan this on your own, I wanted to share with you my itinerary, best stops and some tips and tricks for doing it yourself — and making it easy!
You can start and stop your tour in different cities so there's no one way to do it, which is awesome. But it also adds a lot of options and confusion. I love everything about the way I did my trip incase you'd like a solid plan laid out for you, feel free to copy mine or use it as a start!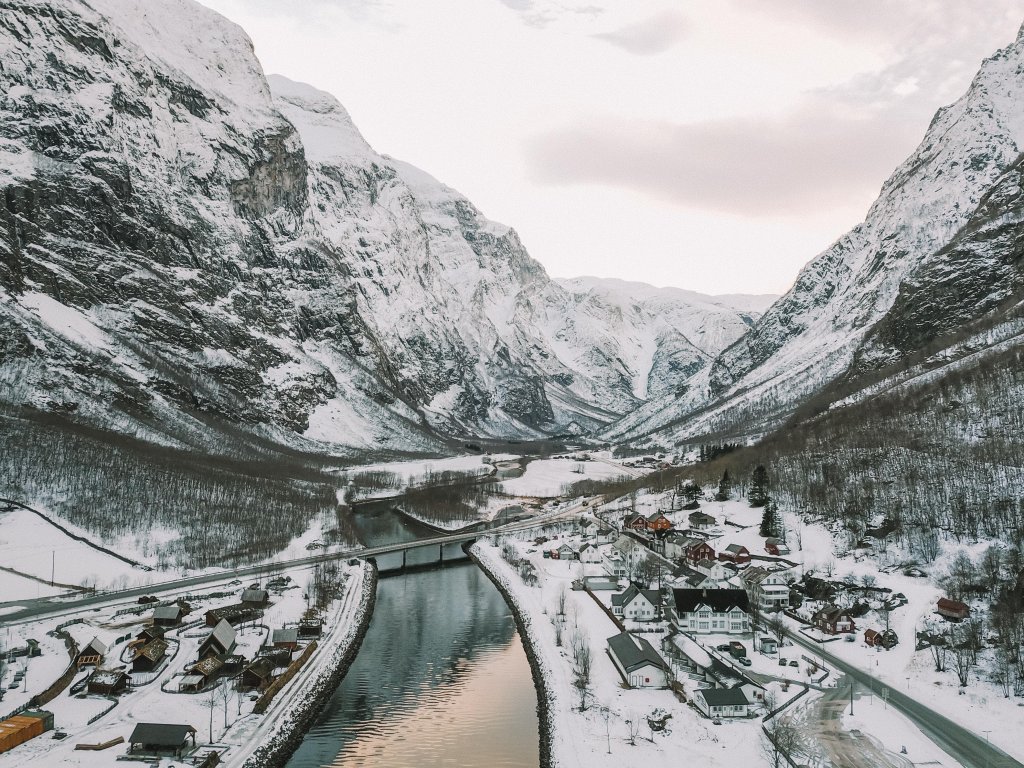 ---
Stop 1: Begin in Oslo
My trip started with a few days in Oslo, which is an easy way to start the whole tour. There are some amazing flight deals from the U.S. to Oslo happening, which has made Norway a more popular country to visit as of recently. Just about 3-4 days in Oslo were enough for me to see all of the sights, in a relaxing way. Once I had stayed there, the journey through nature really began with the first part of the Norway in a Nutshell tour — the Bergen Railway. Side note: I'm in no way paid to promote or working with Norway in a Nutshell, I just personally highly recommend it because of how affordable and easy it was to use.
The Bergen Railway between Oslo and Bergen is actually considered one of the world's most scenic train rides and I couldn't agree more. The views here went from stark white, snow-covered countrysides to deep, plunging views of the Fjords. I got some amazing photos on this trip. For the purpose of seeing snow and less people, I do recommend going in the colder months, November through March.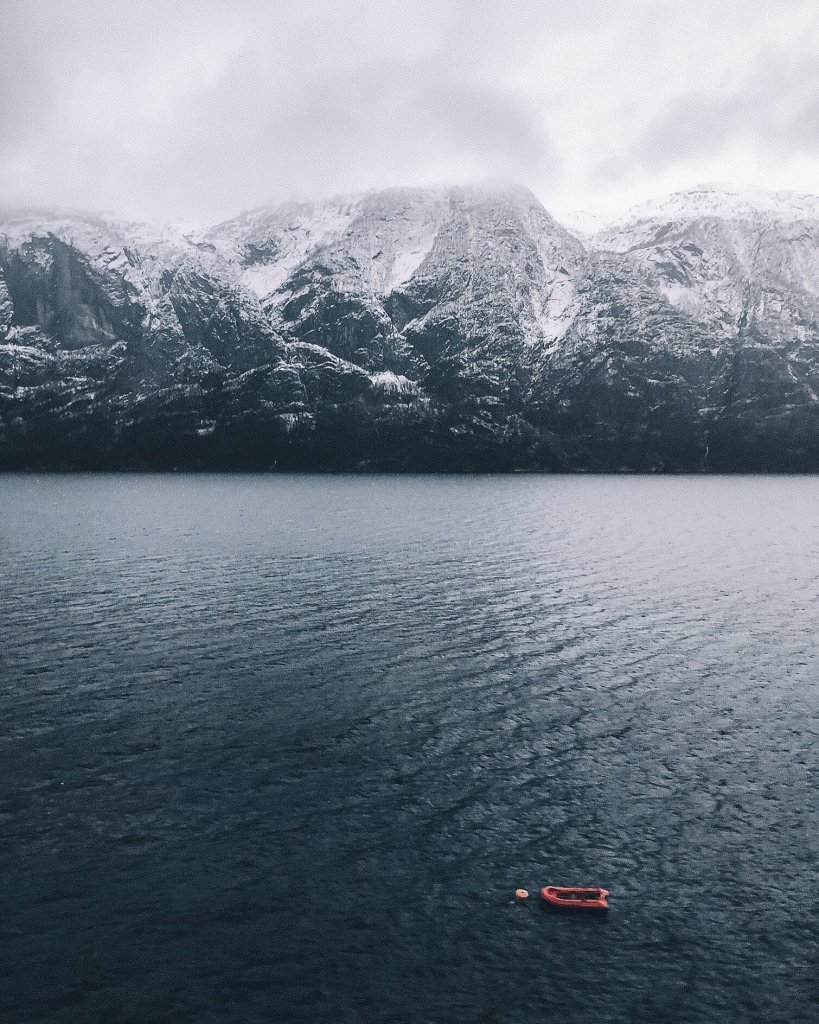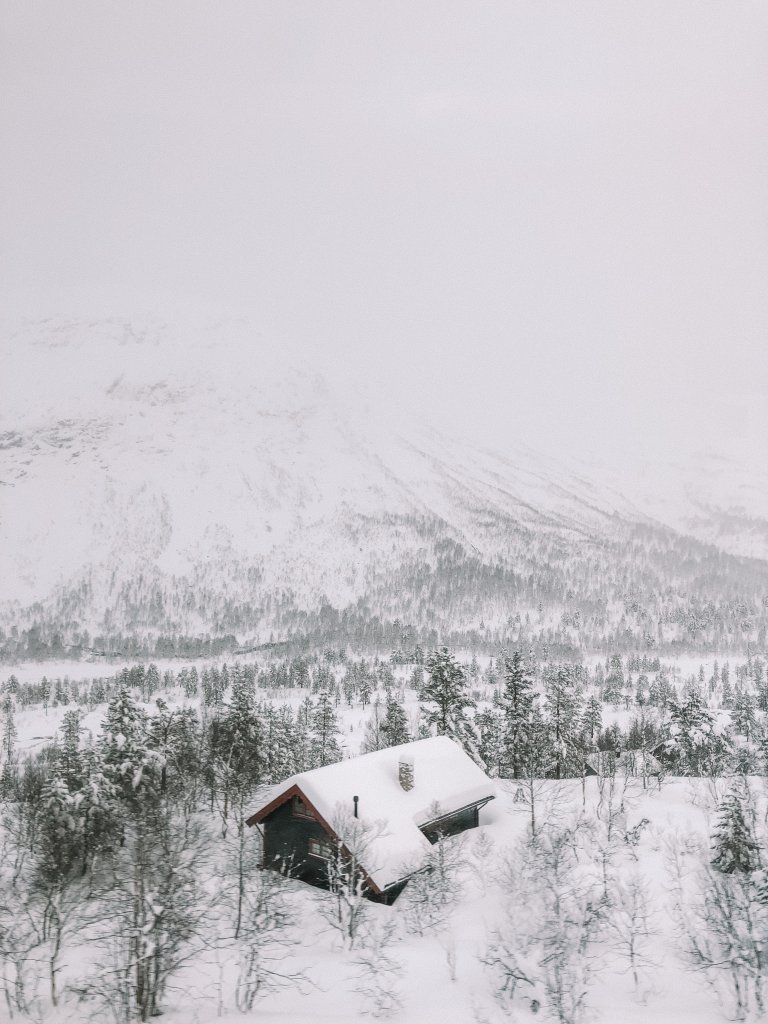 ---
Stop 2: Stay Over in Bergen
Once I arrived in Bergen, I got an Airbnb and stayed for 3 days to explore. Bergen is an adorable city that has colorful houses lined up along the water. The seafood market here is to die for. It's actually a bigger city than I realized so I definitely do recommend about 3 days here. These are some things I recommend to in Bergen.
Floibanen Funicular
This is a train you can take to the top of Mount Floyen for sweeping views of the city.
Fish Me Fish Market
Bergen is known for their fresh fish so DEFINITELY stop in the Fish Market by the harbor. There a few casual places to eat. You really can't go wrong with any one you pick in there. The lobsters are a great choice though and recommended by locals!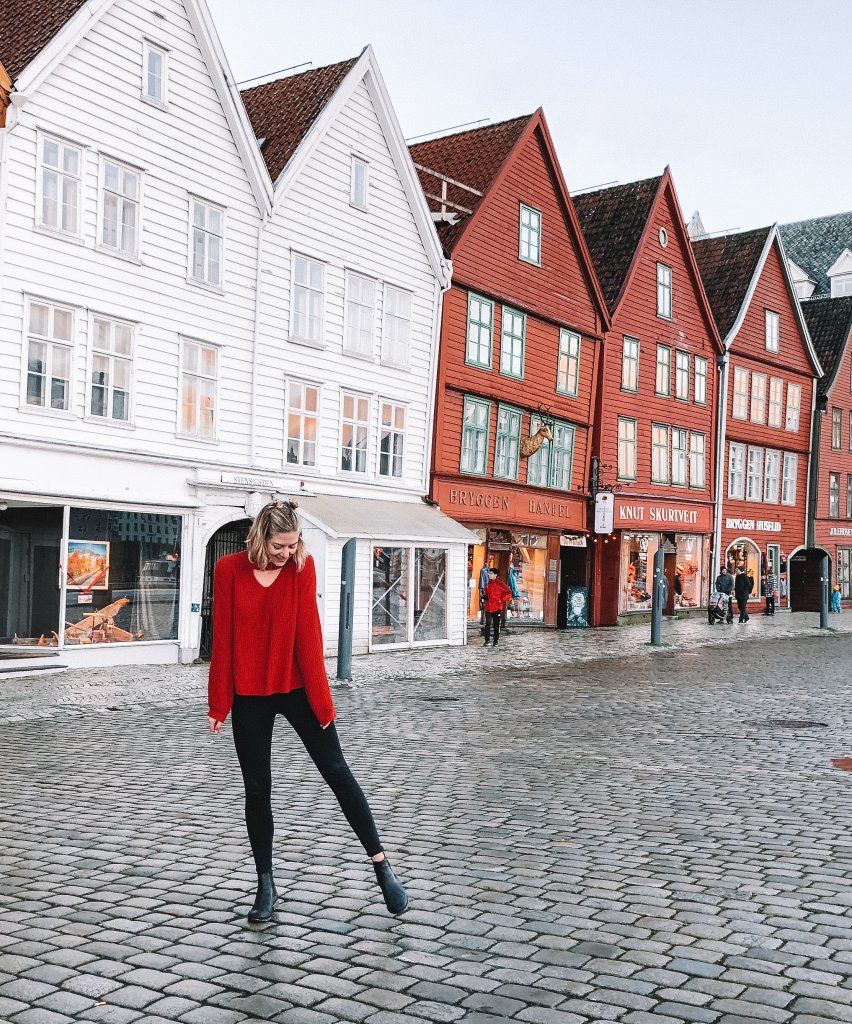 Road Trip
We took a little road trip (little, as in 3 hours) up to Vøringfossen. It's closed in the winter, though we still made the risky drive and got some gorgeous photos. The one of me in the pink coat happened up here. It's beautiful in the nicer months too and probably a better time to road trip up there.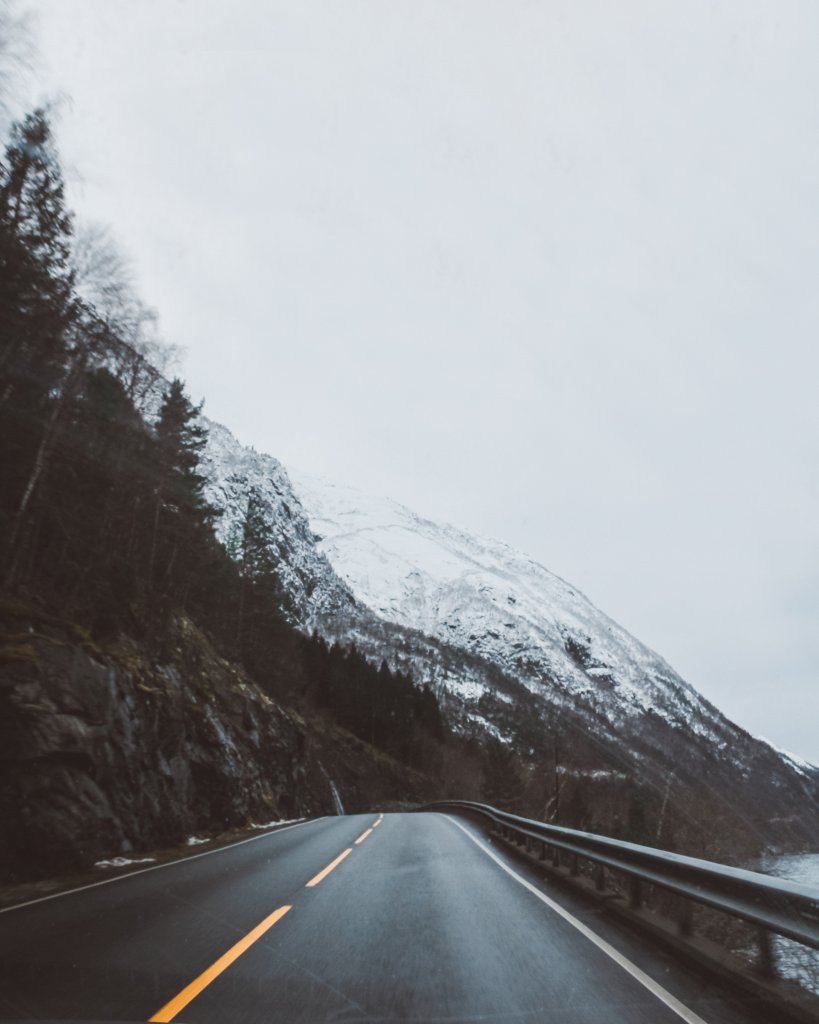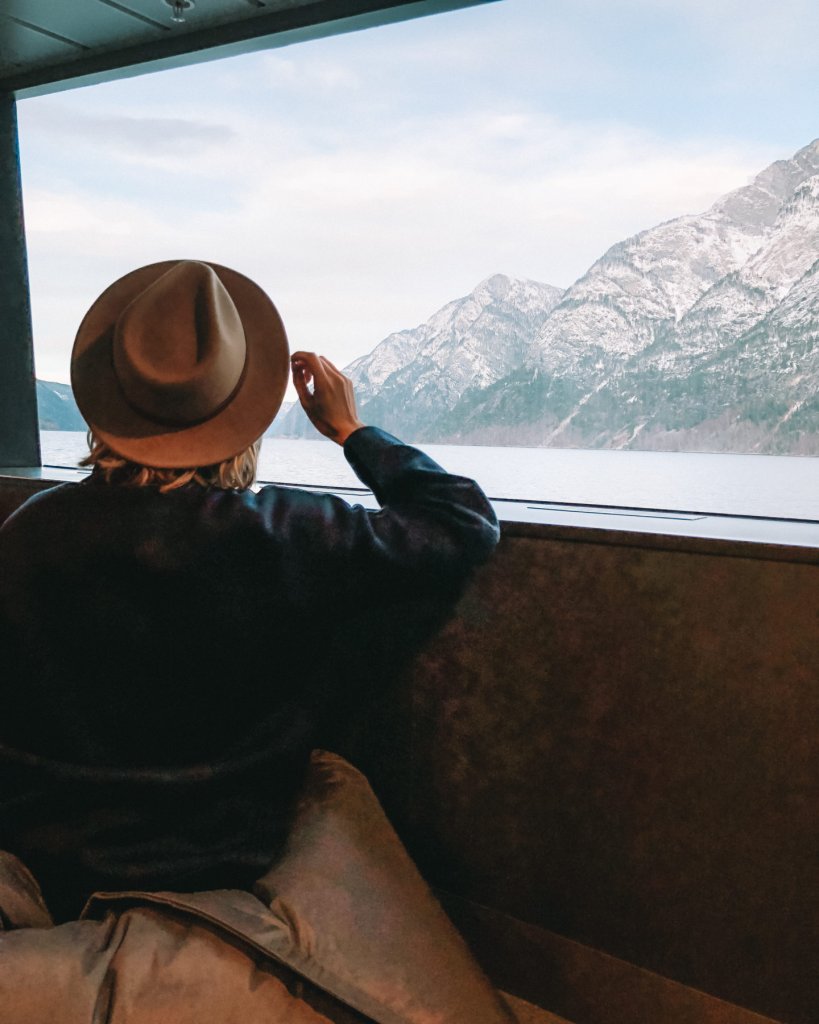 Once you've spent time in Bergen, you can continue on the journey via train to Voss and then take the bus (they have guides pointing you from the train to the bus) to the next destination, which is Gudvangen. This was a really, really small town with a hotel that you have the option of staying at. This is great if you'd like to stay here for a couple of nights and really enjoy the nature, however, I'd recommend staying in the next town Flam, like I did. From Gudvangen, we took the most beautiful boat right through the Fjords. You can't do this any other way really so it's great you can with Norway in a Nutshell. These views were gorgeous because you are literally in them.
---
Stop 3: Stay Over in Flam
Flam is a SUPER small town in the Fjords, but big enough to have its own grocery store and a couple of restaurants. I stayed in the hostel, which was really like having our own apartment. It was truly amazing. Otherwise, they have a few different nice hotels to choose from. That being said, there a couple of great things to do here in Flam.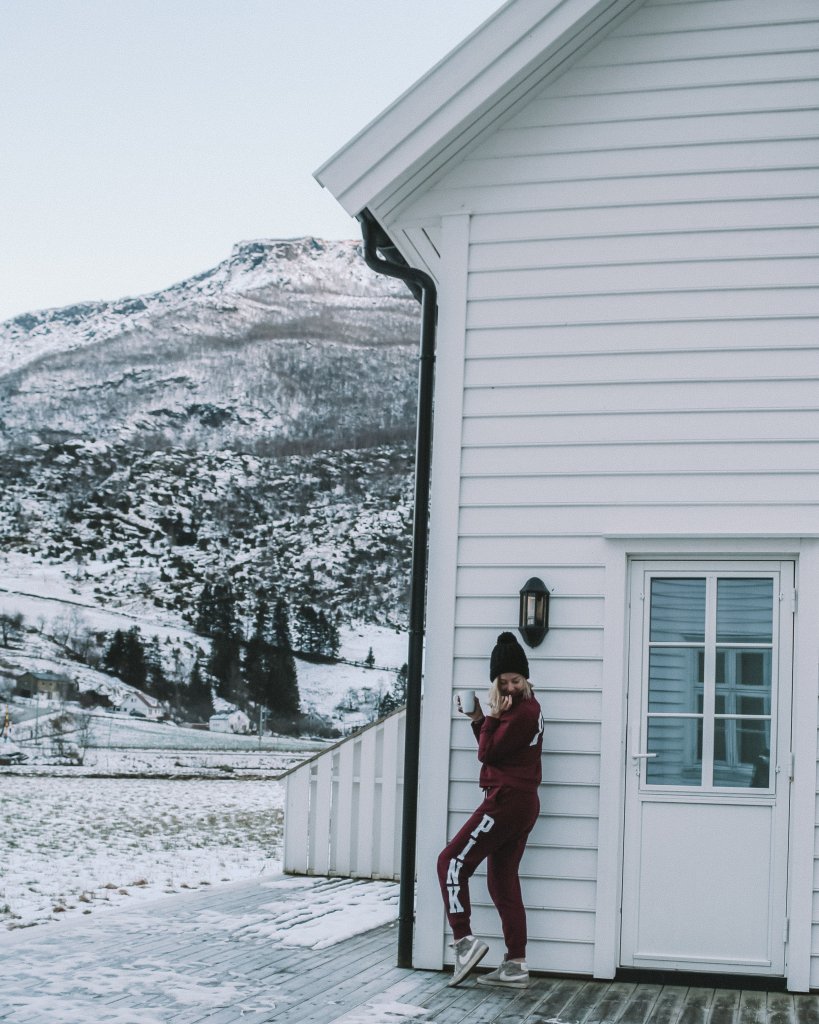 Aegir Brewery & Pub
There aren't too many places to eat in this town, especially in the wintertime. This brewery though was not only very cozy with a fireplace in the middle, but had amazing food and drinks. The beer is made there and worth a try. And our meal was one of the best of our trip!
Stegastein Viewpoint
If you do end up staying in Flam, you absolutely, no questions asked must go to the Stegastein Viewpoint. It's literally a manmade lookout point going far out into the Fjords. You can get tickets from Flam for a small van to drive you up the mountain to the viewpoint. It's a quick, easy ride to get to and the BEST view you will have of the Fjords the entire trip.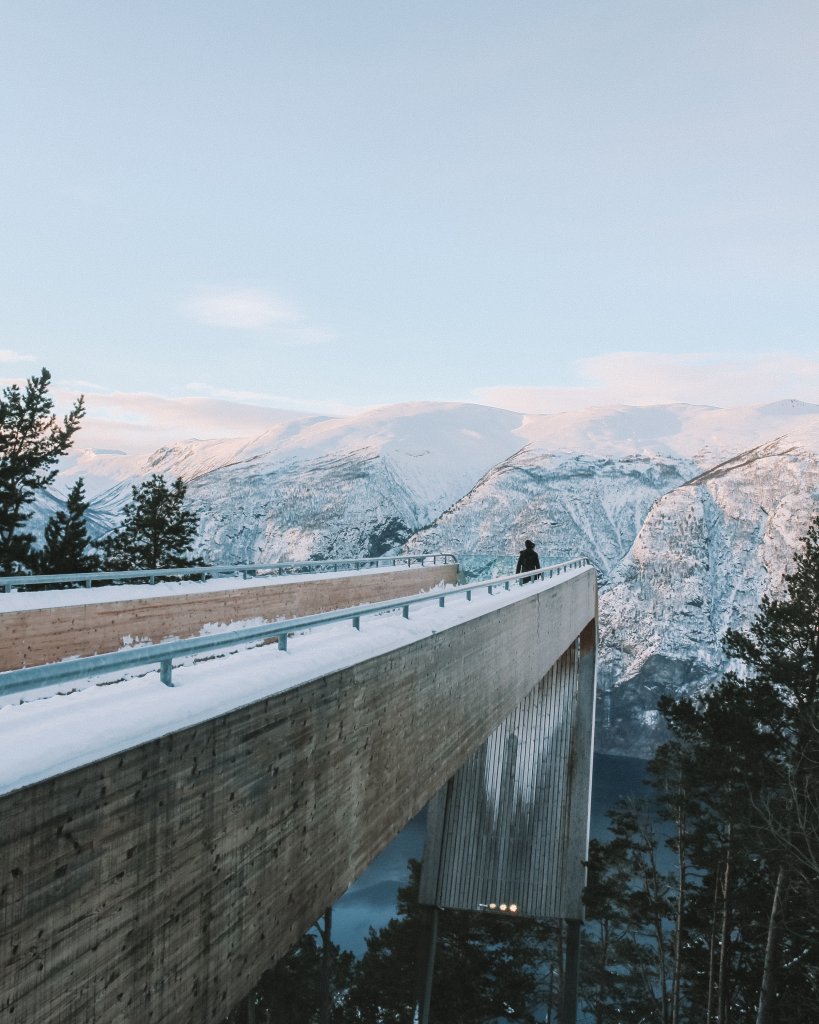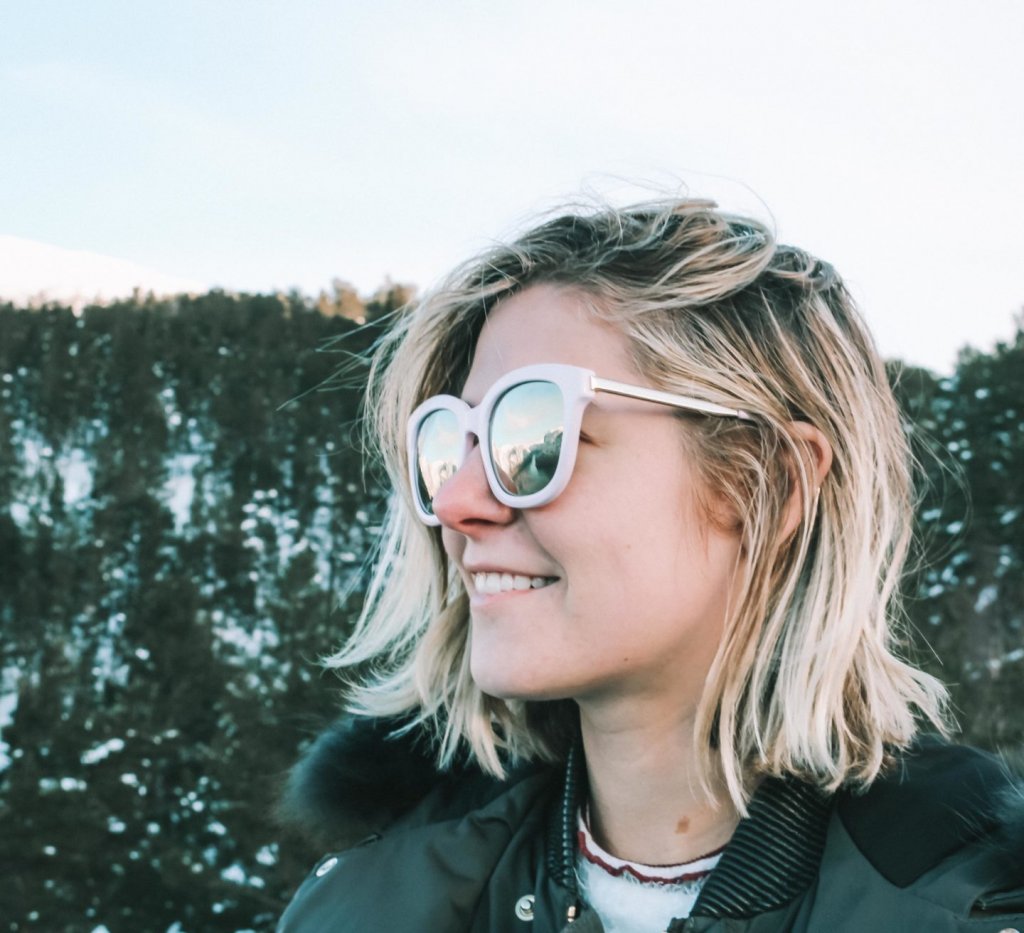 Once you leave Flam, you have a quick stopover in Myrdal (I do NOT recommend staying here as there is really not much in this town). Then you can continue back on the scenic railway back to Oslo. This really rounds out an amazing trip through the Fjords of Norway. Plus, it's all quite easy to do. You can just buy one ticket with Norway in a Nutshell. Oh and if you end up staying in a town and want to leave earlier or later, they are super flexible with changing it.
Overall, this entire trip is highly worth it for the views that you'll get to see and experience. I would absolutely do this trip again and I recommend it for anyone!
Have you ever gone to the Fjords? Do you recommend going in summer or winter?