Tulum has quickly become a hot spot for all kinds of travelers, especially the young and trendy so I put together this Guide to Tulum. The small town, located about a 1.5 hour drive south of Cancun is filled with the cutest hotels, restaurants and boutiques. It's the perfect place for a getaway with friends or with a significiant other. Honestly, the entire strip of hotels and restaurants is just so CUTE. In fact, we couldn't stop pointing and exclaiming, "LOOK! This place is so cute!" The entire time. I spent about a month there and hit most of the spots so I think I have a pretty great idea of where to go – and where to skip! I have never been to Bali, but I feel like it's got some super hippie, Bali vibes. You can read about all of my suggestions below or find them on my Google Maps Guide to Tulum with all of my suggestions — plus more — saved here!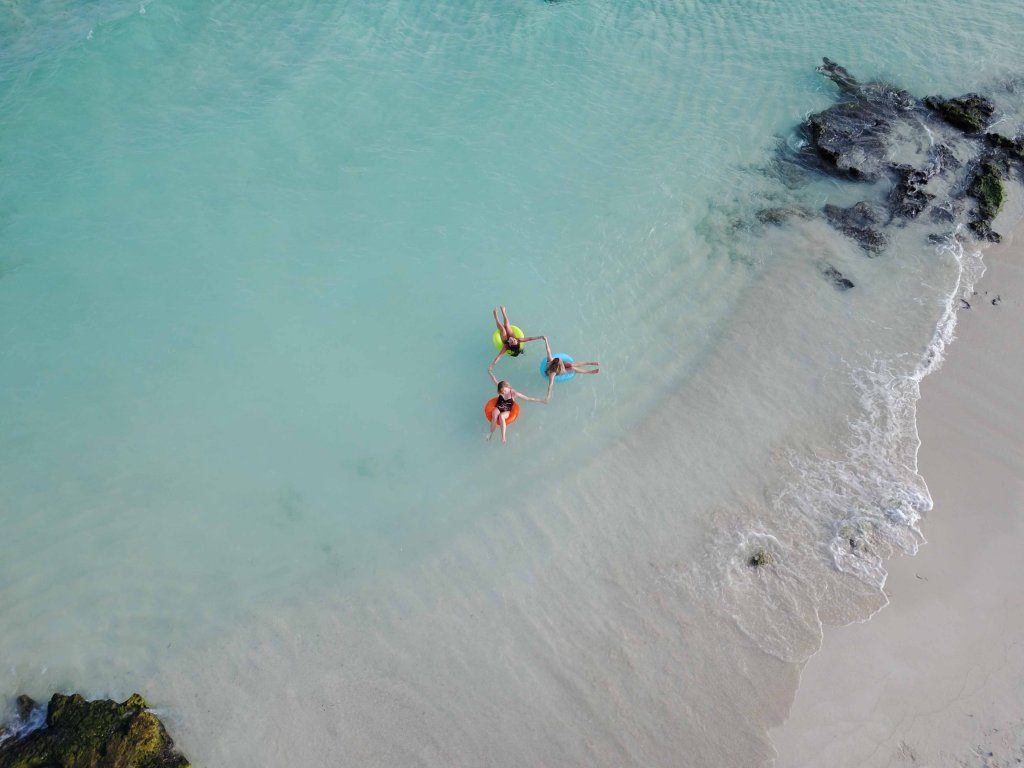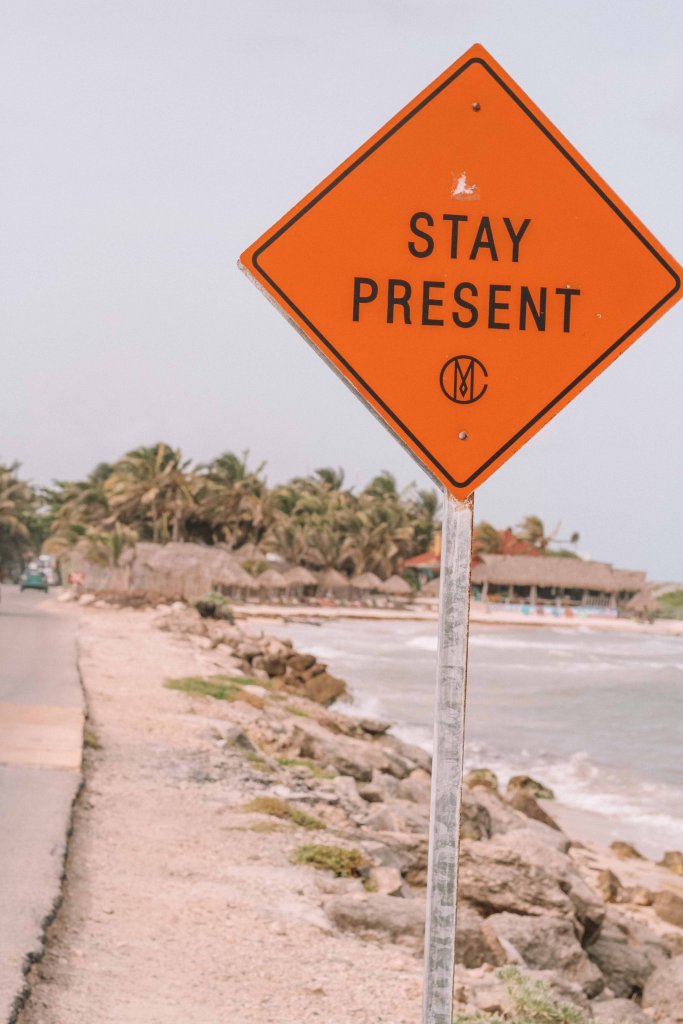 Where to Stay
You can airbnb or stay in some of the super beautiful hotels in Tulum. It's become something of a tourist destination so expect to pay high prices during the high (ok, all) seasons. High season is October through December. If you are up for splurging, definitely stay on the main strip of restaurants and hotels along the beach. This is where Nomade, Papaya Playa Project, Be Tulum and Hotel Azulik all live, along with most of my recommendations!
Personally, I stayed outside of this spot along the beach in an airbnb, then switched airbnbs half way through to a villa with a large group of us. This was about a ten minute drive from this beach area and all still in beautiful locations. If you're alone or on a budget, you can also stay in an airbnb in the town center.
---
Getting Around
Public transportation is poor in Mexico and non existent in Tulum. It's not easy to get around, or even TO Tulum, without a car.
Car
If possible, I would highly recommend renting a car from the Cancun airport and driving the hour and a half south to Tulum. Otherwise, there is a bus, but it's a pretty long trip with different stops.
Note: You have to pay cash to park most places so be prepared for that. It's also hard to find parking around the main strip, so if you see a parking lot, take it!
Taxi
Once you're in Tulum, there are taxis you can take around, but they can be hard to arrange and they get expensive.
Bike
My other favorite mode of transportation was a bike. We rented one from a place near the beach to have them for a few days. It's definitely cheaper than a car and taxis, but it does rain a lot there in the rainy season (June – end of October) so be prepared to get caught in the rain with your bikes.
---
Where to Eat
There are a lot amazing places to eat in Tulum. In fact, I have SO many and I just couldn't narrow it down. Some are casual smoothie and breakfast places, others are super nice dinner places. I included all the best, hot spots for you so you know no matter what you pick, it will be good! Note that some restaurants are closed on random days or are often closed for events so call ahead of time or make a reservation to be sure you can go.
Matcha Mama
This is the smoothie bowl spot you see Instagrammed with the swing. To be honest, the matcha smoothie bowls were pretty flavorless, but the coffee and the photos were great!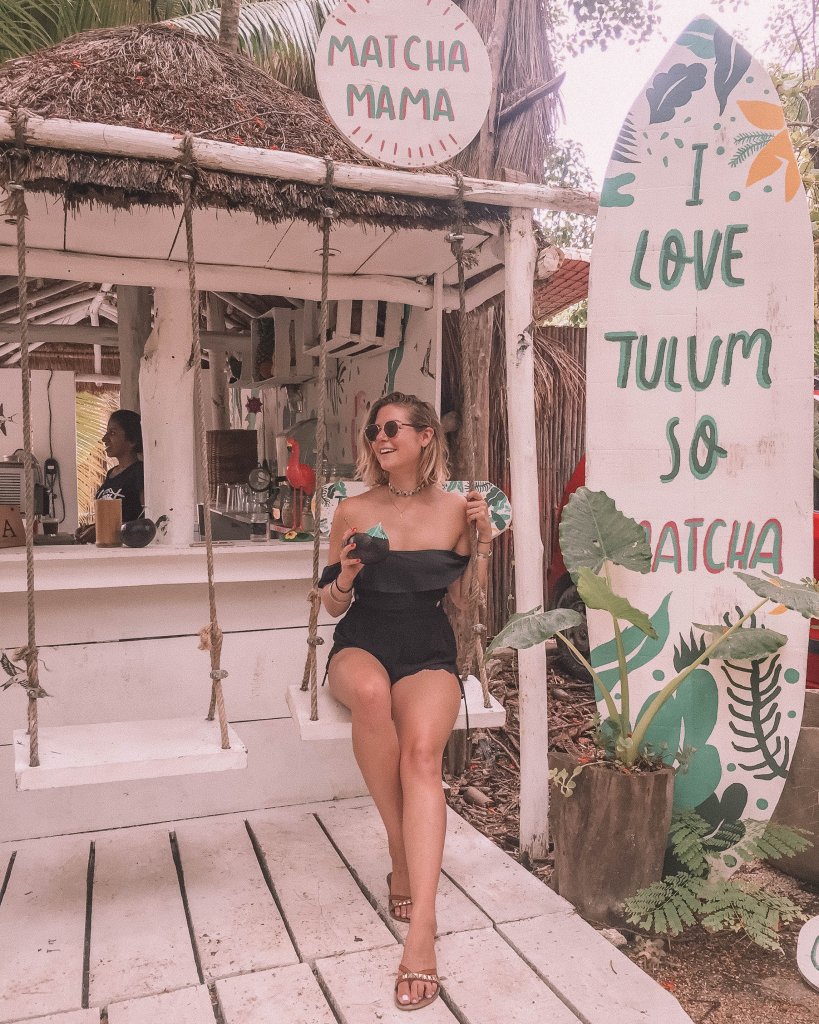 Gitano
This is a hot spot in Tulum. Great food, drinks and atmosphere. It's definitely a place to see and be seen. A definite must. They even opened up a Gitano in NYC.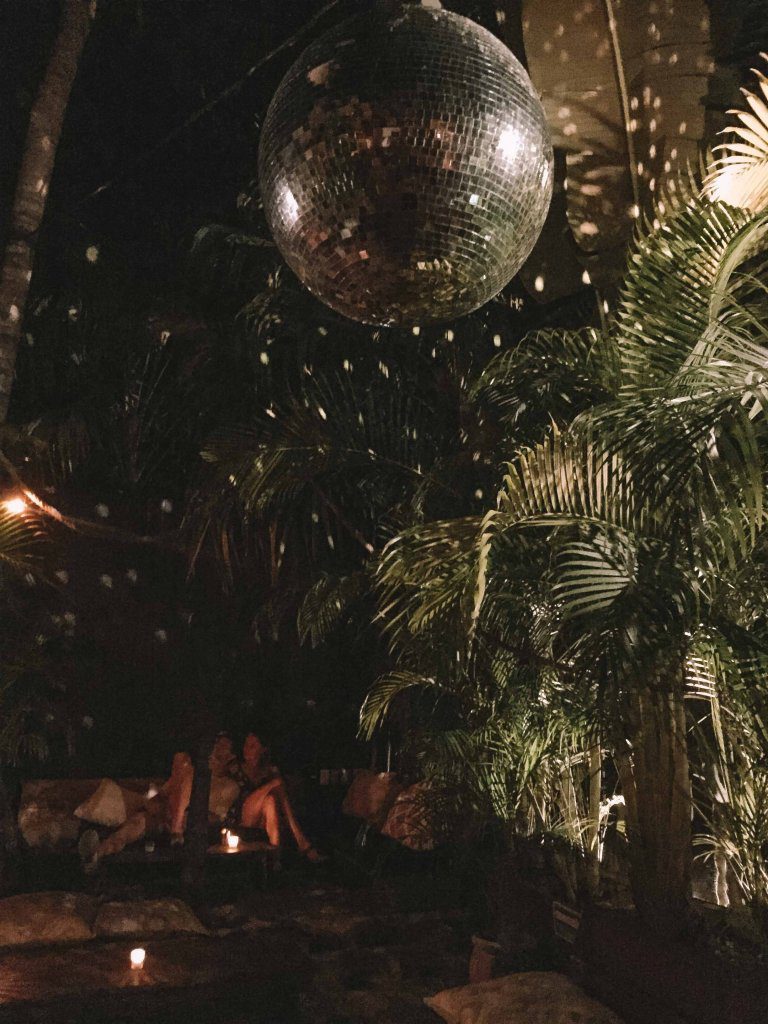 La Euphemia – UPDATE: Closed
This was one of our favorite places! The tacos and the vibes here are bomb. It's right on the beach too. Make sure to order a spicy margarita 😉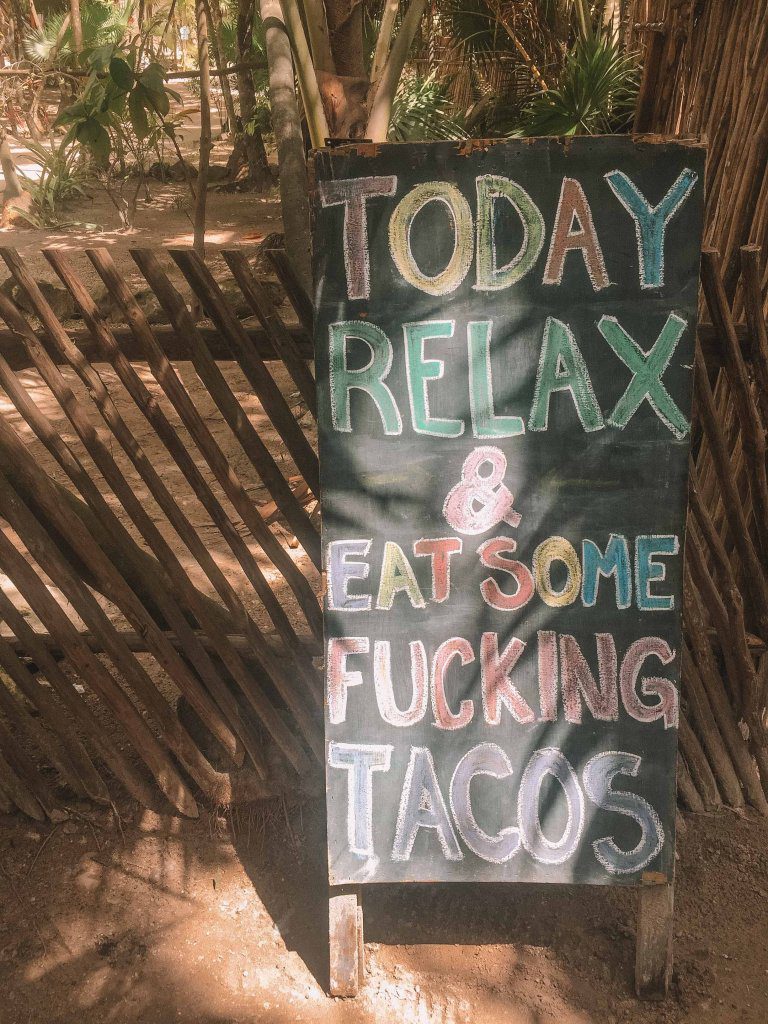 Papaya Playa Project
Food, drinks and dancing. This is the place to go at night. It's so cool and if you can stay at the hotel, do it! This was by far one of my favorite places. We kept coming back. Oh and at night they even had a girl doing glow-in-the-dark body painting. Definitely a highlight for me.
Hotel Azulik
Ok I never made it here, but this is the cutest, most Instagrammable spot! I've also heard good things about the food haha. Go here! P.S. This is not my photo, but I wish it was!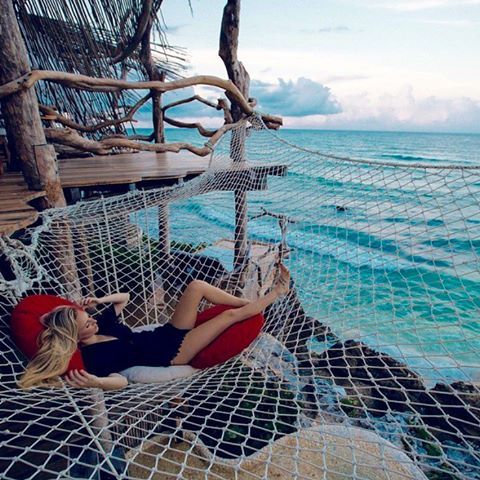 Raw Love
This place is great for smoothie bowls and light, healthy, delicious food. And, as always, it's adorable.
Charlie's Vegan Tacos
You can't even tell they're vegan! They're delicious tacos and a GREAT option whether you're vegan or not.
Posada Margherita
This restaurant is the place to go if you love Italian food. Plus, as with most places in Tulum, it's super cute! We ate on the beach at sunset and had the best time.
Nomade
This is another delicious, Instagram-popular spot. Hit it up if you have time.
Casa Jaguar
This was a super, sexy dinner spot with some nice shops. I loved the relaxed vibe and delicious drinks (ahem, there are drinks with crickets that are surprisingly tasty) here. TRY IT!
COCO Cafe 
This is a beautiful hotel where you can also get food and drinks. This is the place with the swings that you see all over Instagram! Definitely worth a visit. Though all we got here was yet another spicy marg!
Hartwood
I wanted to go here, but it's closed on random days. I've heard amazing things about the 4.6 star restaurant. Definitely the place to go for a nice meal.
Other Restaurants Worth Trying
El Camello, Sanara, Noma Mexico in La Zebra Hotel, Arca
All of these are saved on my Google Maps Guide to Tulum!
---
Things To Do
I mean you could just beach, shop, yoga and eat here. Actually, those are most of my to-do's haha – but there's a lot of historic and adventurous things to not miss too! Find them all on this Google Maps Guide to Tulum.
Cenote Hopping
Cenotes are freshwater, underground sinkholes and caves and you can find a ton of them near Tulum. I did an article here about the 5 Best Cenotes in Tulum. Check it out for the names of all of the best ones! You have to go to at least one. This was one of my favorite things to do in Tulum.
Tulum Ruins
You must, must, must check out the Tulum Ruins (find them located here) while you're there.
PRO TIP: Go before it opens to avoid lines and crowds for the best photos!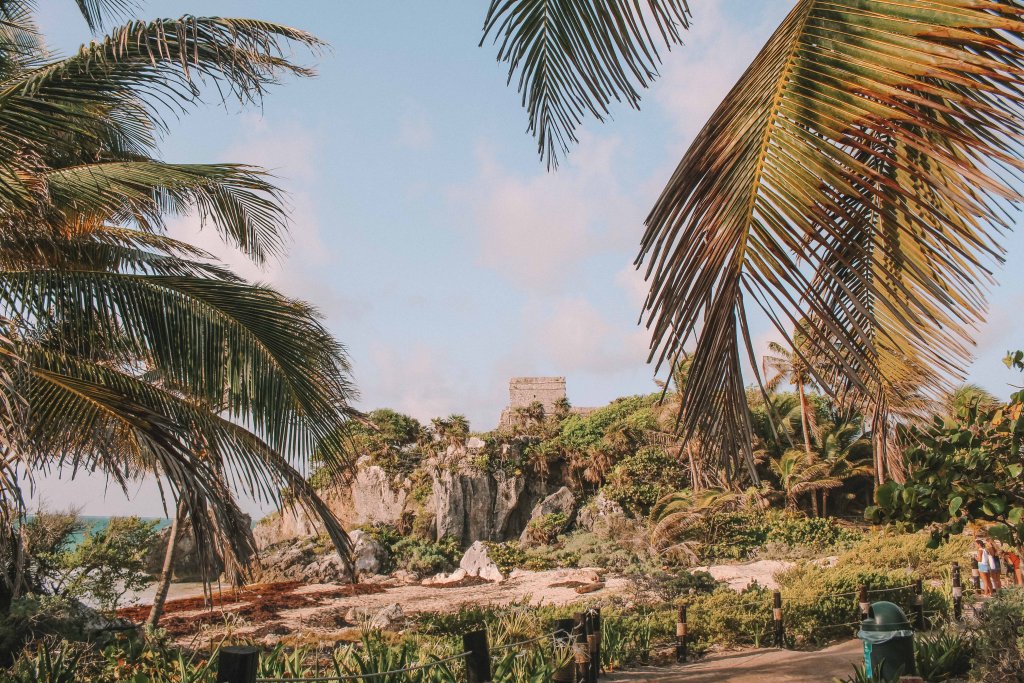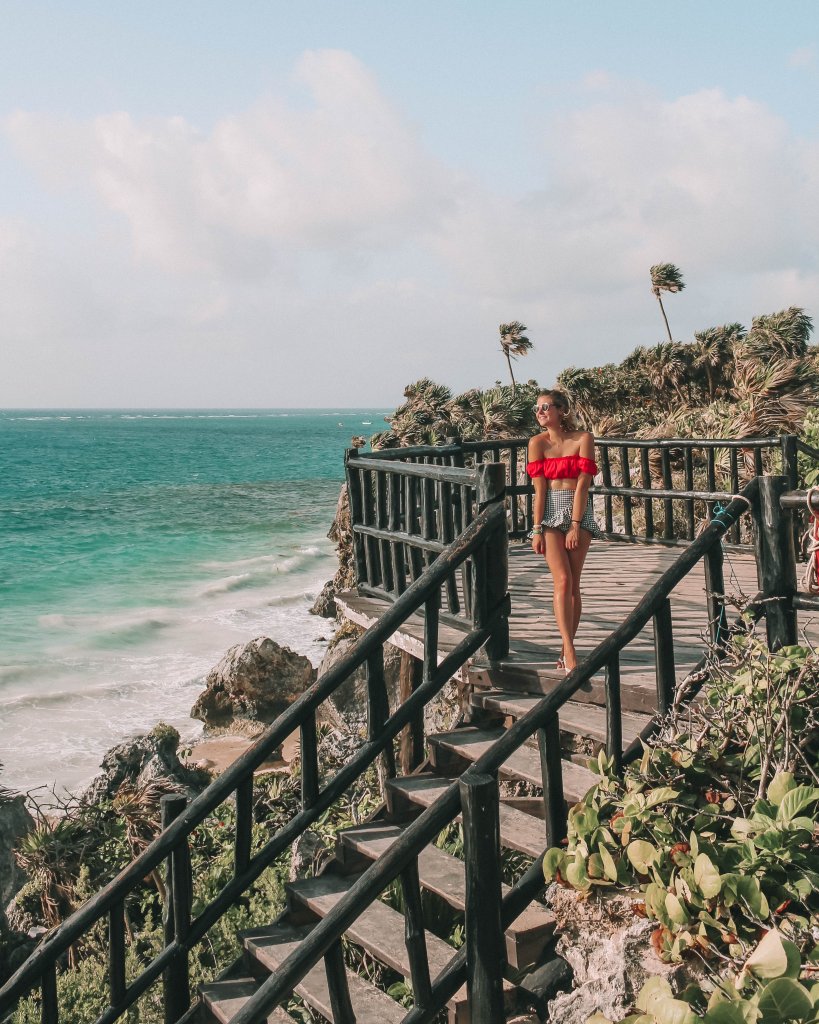 Shop
There are so many fun places to shop on the main beach strip in Tulum. You can also head to the town for more shops, especially more affordable, but still cute places.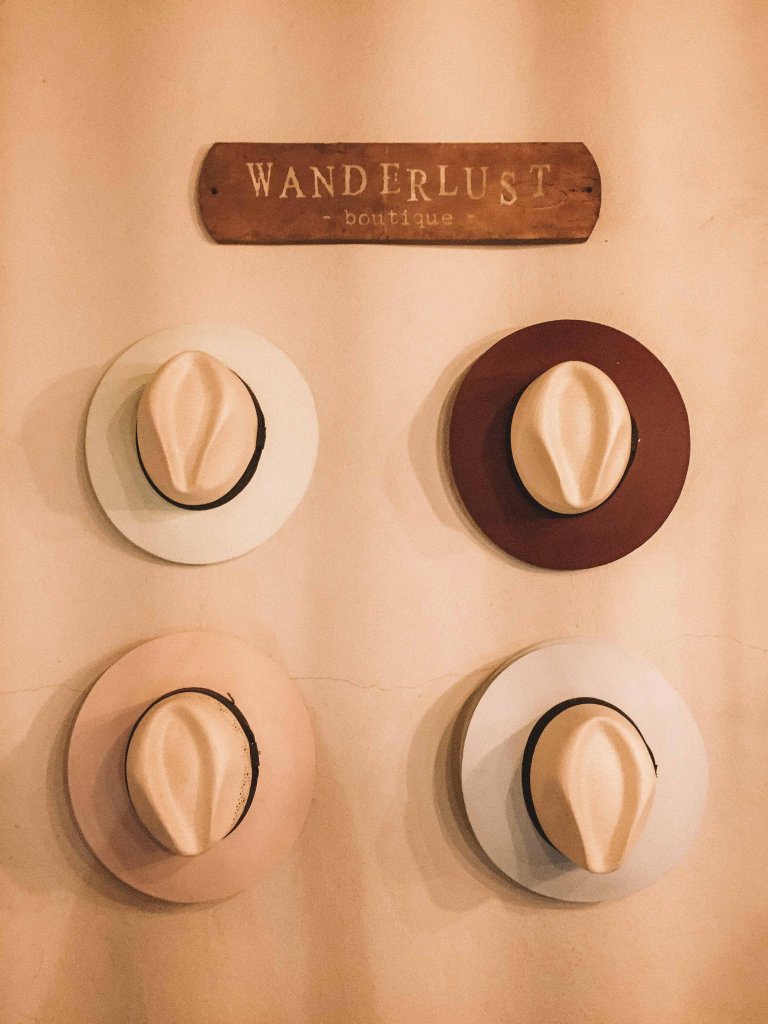 Casa Malca – Pablo Escobar's Mansion
You MUST go here for the Instagram photo. That is all. 🙂  P.S. This is not my photo, but I wish it was!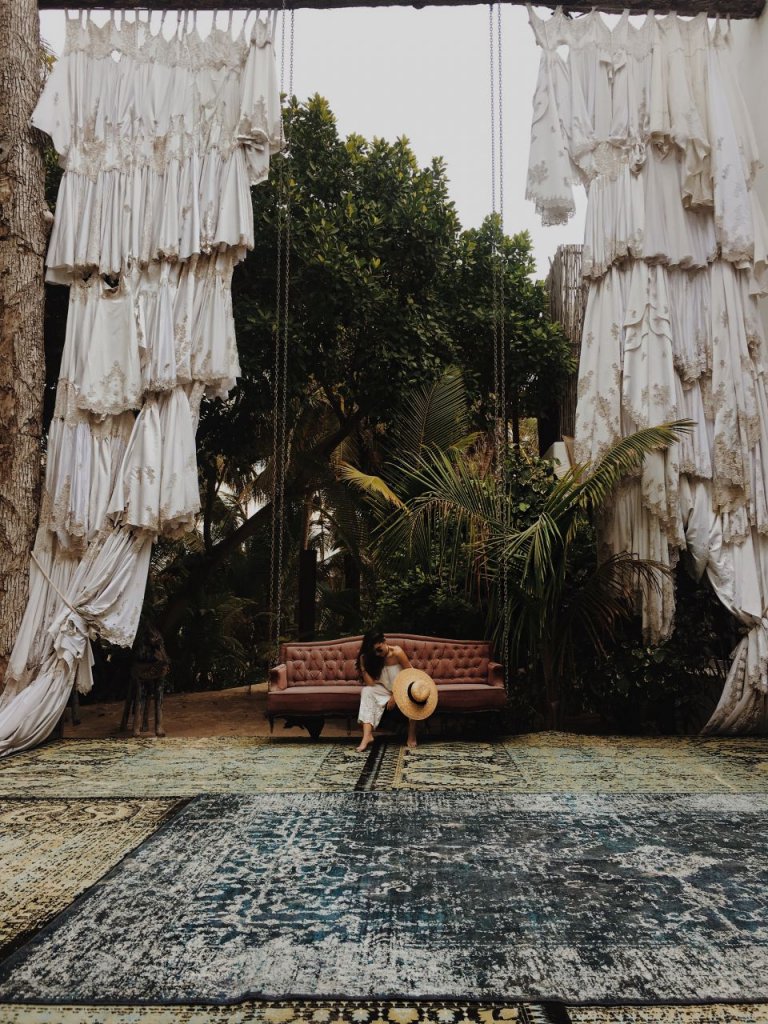 Massages at Mayan Clay
Mayan Clay has the BEST massage ever. Plus, you can purchase the clay they use during your massage to take home. That stuff does miracles for your skin and bug bites.
Snorkel or Scuba Dive
There are a ton of great places to snorkel or scuba dive if you're into either of those! Especially at the different cenotes.
---
Other Things to Note: Cash Only, Mosquitos, Humidity and Cell Service
No credit cards accepted. I must tell you that most places are cash only so exchange your money where you can. I never recommend at the airport because it's usually a ripoff, but for Mexico, that might be the best deal. It's hard to find money exchange places and if you give US dollars, expect to get completely ripped off.
CAUTION: Only use ATMs at nice, indoor establishments. Our whole party had their bank accounts drained from using the outdoor ATMs in emergency situations where we needed to pay cash for parking.
Bring bug spray. I can't say it enough. The mosquitoes are terrible, especially in the rainy season. Most places have bug spray for you, but we found it easier to just carry it around with us. Expect to get bitten.
Hot and humid. As for the weather, it is very hot and humid. Lucky for me, I love this kind of weather so I was ok with it. It reminds me of Miami. Prepare to sweat a lot.
Poor cell service. A lot of places have semi-decent wifi, which is great because Verizon and AT&T were SUPER spotty throughout most of Tulum. The worst of the cell service was along the beach and the main strip.
You can find ALL off my suggestions — PLUS EVEN MORE that aren't included here on my Google Maps Guide to Tulum.
Have you been to Tulum? Let me know if you've been to any of these places or have new recommendations since I was there last in October 2018.
XO
Kristin