Most recently, I made the road trip from Los Angeles to Death Valley, CA with my great, adventure-loving friend Sarah. We rented a Jeep, left early morning (well, around 7:30) and about 4 hours later, arrived at our first stop in Death Valley.
It's a pretty big park, as in it would take hours to drive from one end to the other. We definitely didn't get to all of the famous stops, but we did all the coolest stop offs that were close to each other, on the one end of the park. If you have a good 2-3 days, these are all of the stops I would recommend. And the reason we rented a Jeep is because we read online it would be necessary for this trip. Definitely not true. At least not for what we did. The roads are all paved, except a couple of small areas, which I still can't imagine needing more than a regular car for.
Our campsite (I'll explain more later) was right near the entrance, so we scoped it out then drove out to our farthest destination that day. This way, we could make our different stops on our way back to where we were staying that night. I also put together a Google Map so you can easily find all of the stops I mention in the article.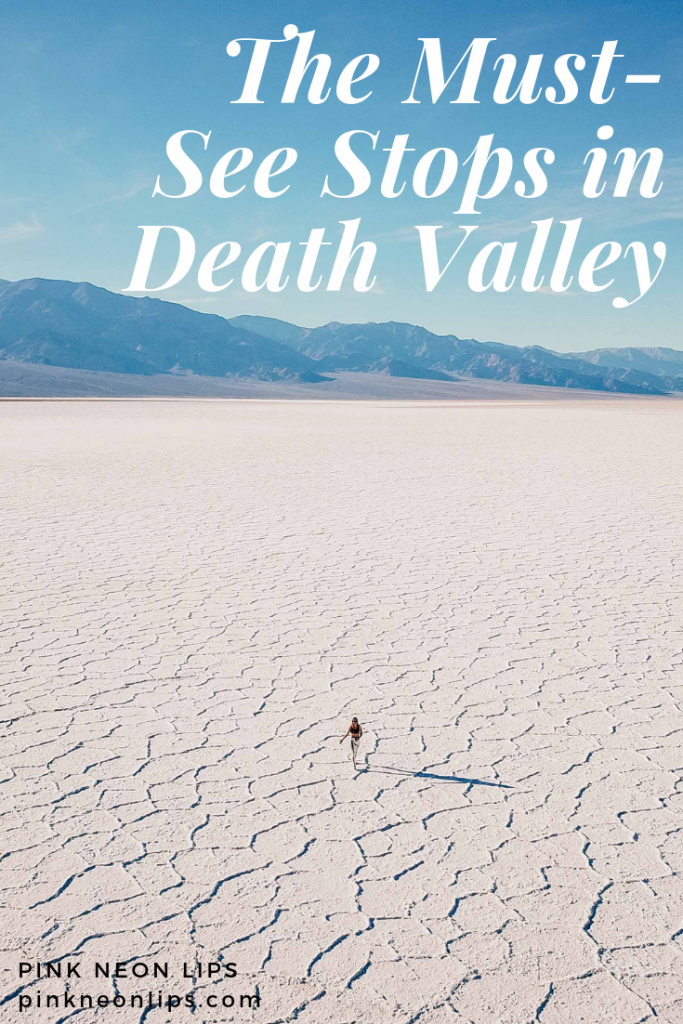 Stop 1: Badwater Basin
Our first stop of the day was breathtaking. These are salt flats of about 30 miles of long lake. Literally the entire ground is covered in sand, dried in waves. It's very hard and rough, not soft like you may think. I must pre-warn you that it's almost a mile walk to get to the heart of walking on the salt flats from where you park your car. But once you get out there, it's truly a sight to be seen. You look for miles and miles to see an unearthly-looking, white ground, with dessert mountains to the left and right. Oh and get this, it's the lowest point in America, coming in at -279 feet below surface level. This is my #1 recommended must-see stop in Death Valley.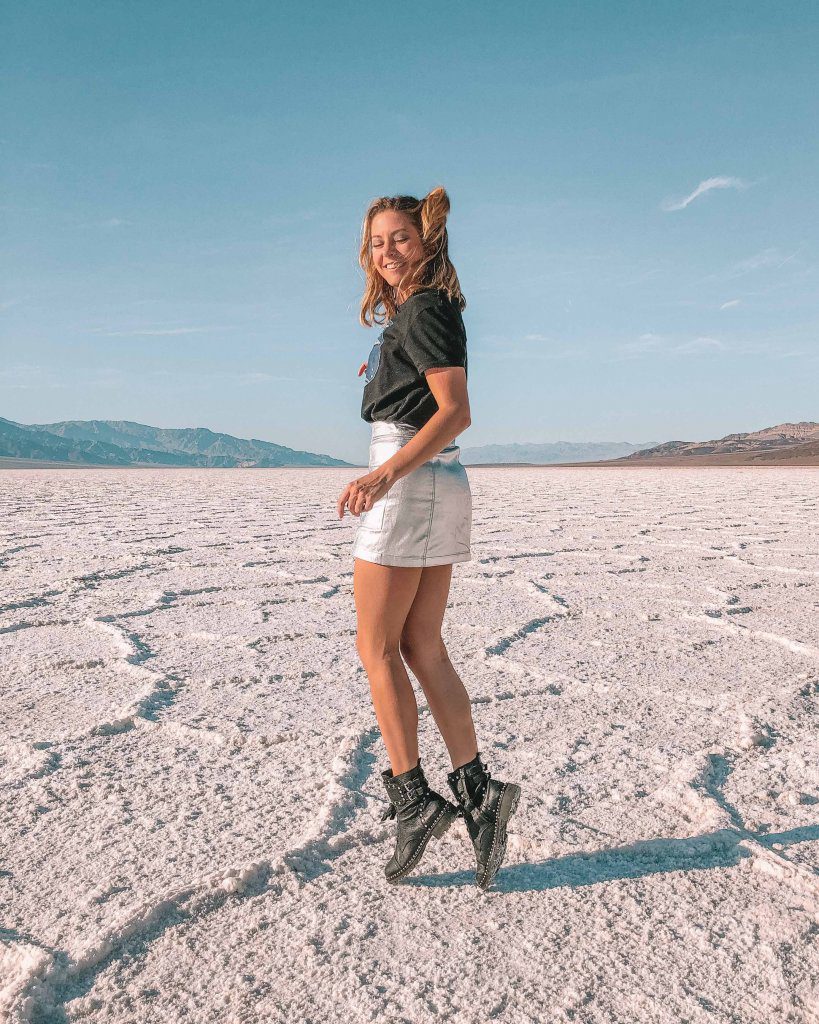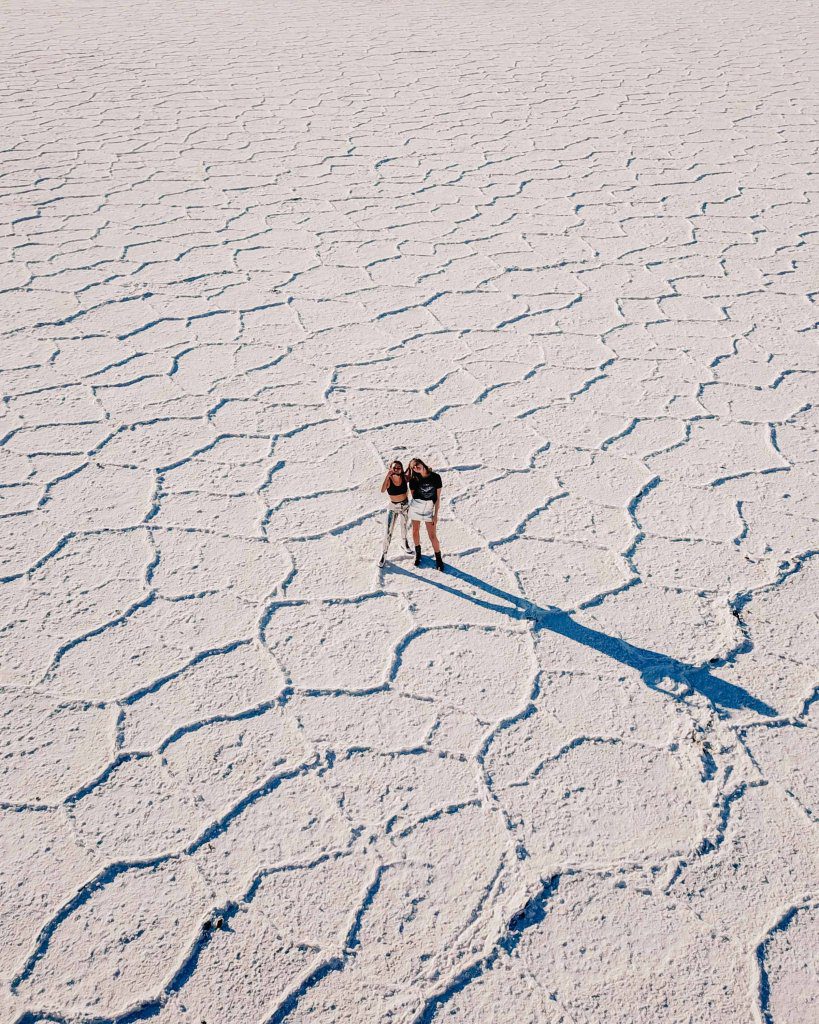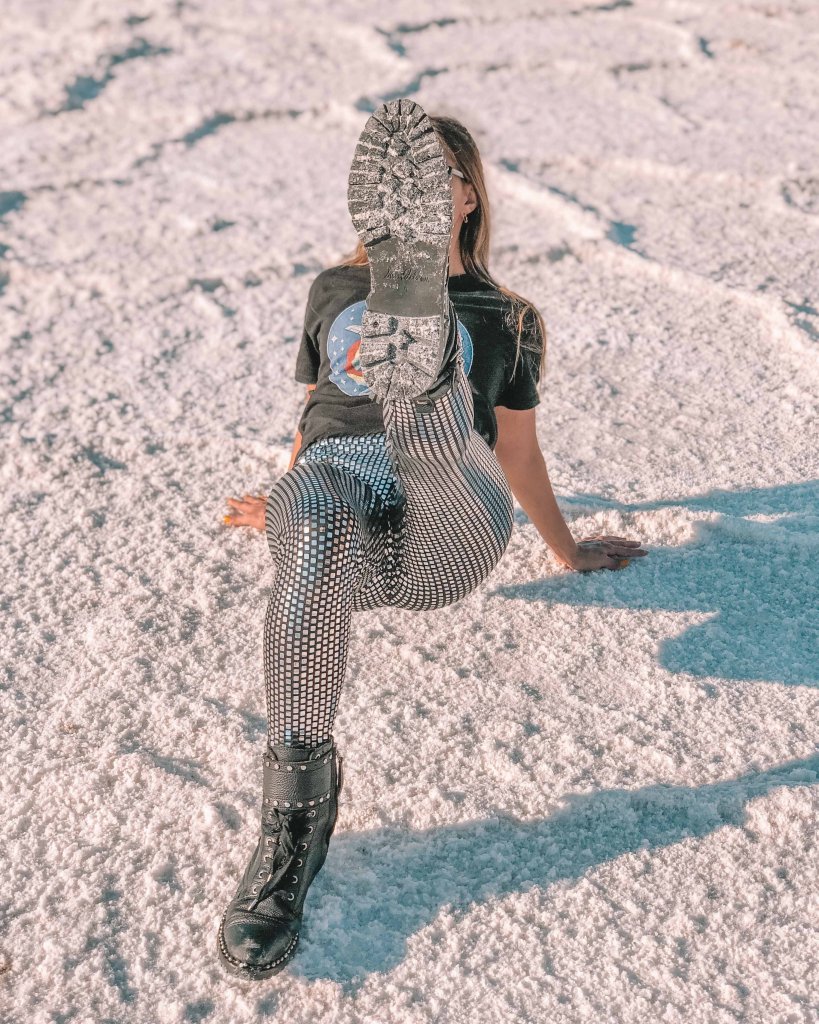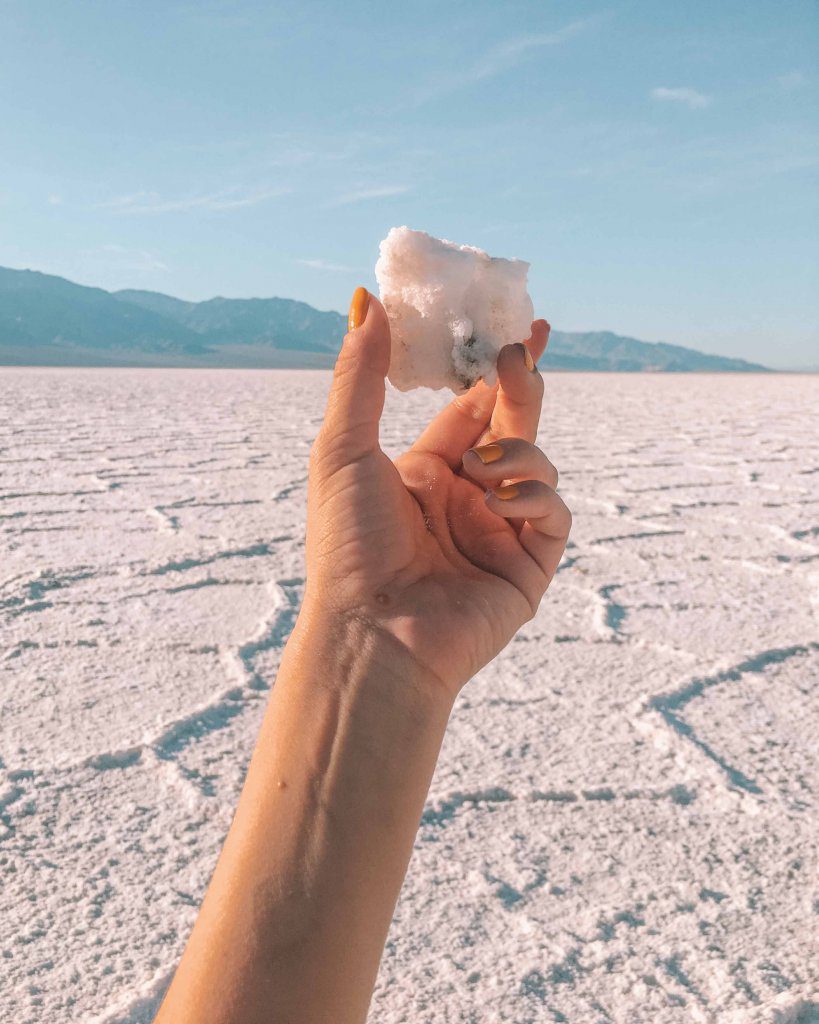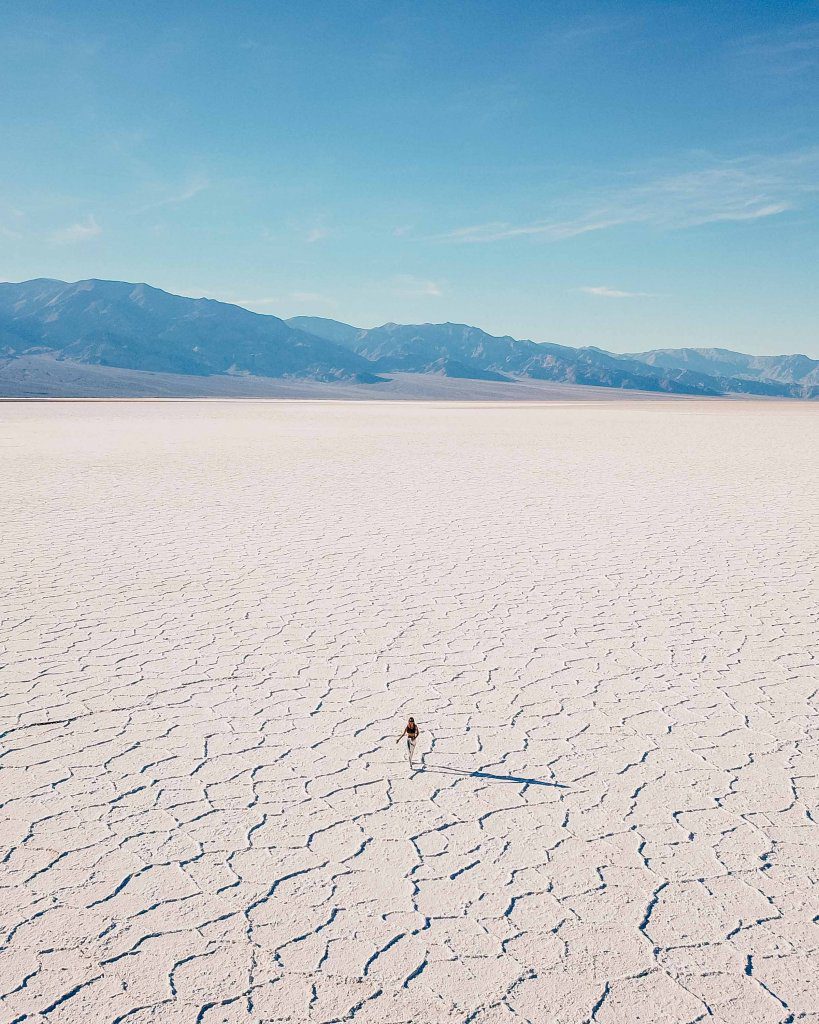 Stop 2: Devil's Golf Course
Devil's Golf Course is super close to Badwater Basin, so we made this our next stop. We got here right around sunset, as you can see from the golden hour sun. This spot is made up of large salt formations that jut out of the ground. I honestly couldn't tell it was salt, especially having just come from the saltwater flat. Definitely a site to see, as the formations stretch as far as you can see. Warning: The ground is very sharp, so don't fall!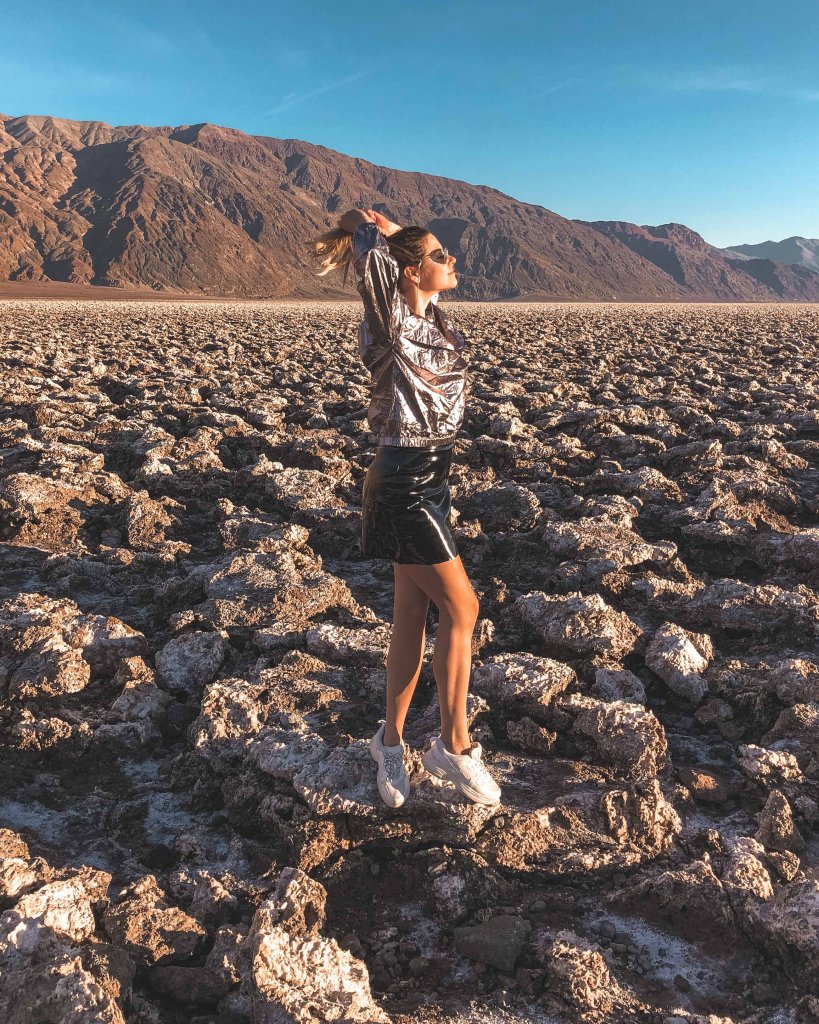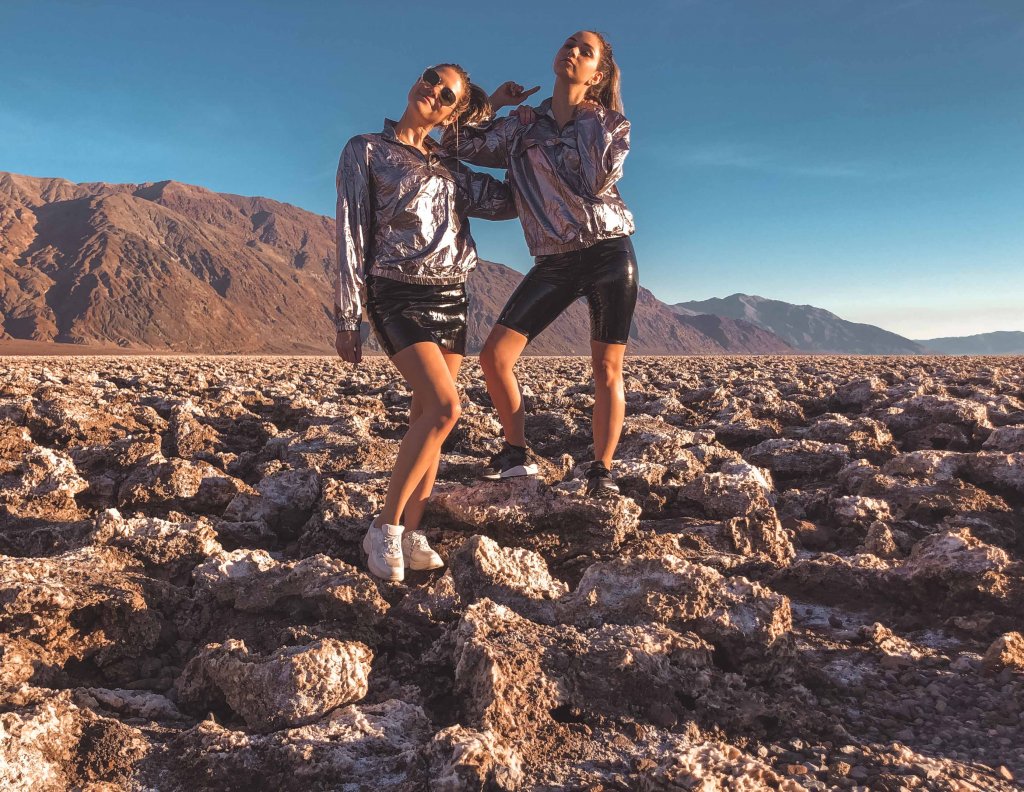 Stop 3: Artist's Palette
Is this real or is this a painting? These mountains are filled with beautiful colors. There's an entire drive of these beautiful mountains, but in the middle of the drive is the most colorful spot, the spot it's really known for. Artist's Palette was just a few miles down the road from Devil's Golf Course so we saw all three of these stops one after the next. It started to get dark and the sun had just set (it sets "early" here because of the mountains) so we didn't do the hike, but that's always an option if you have more time.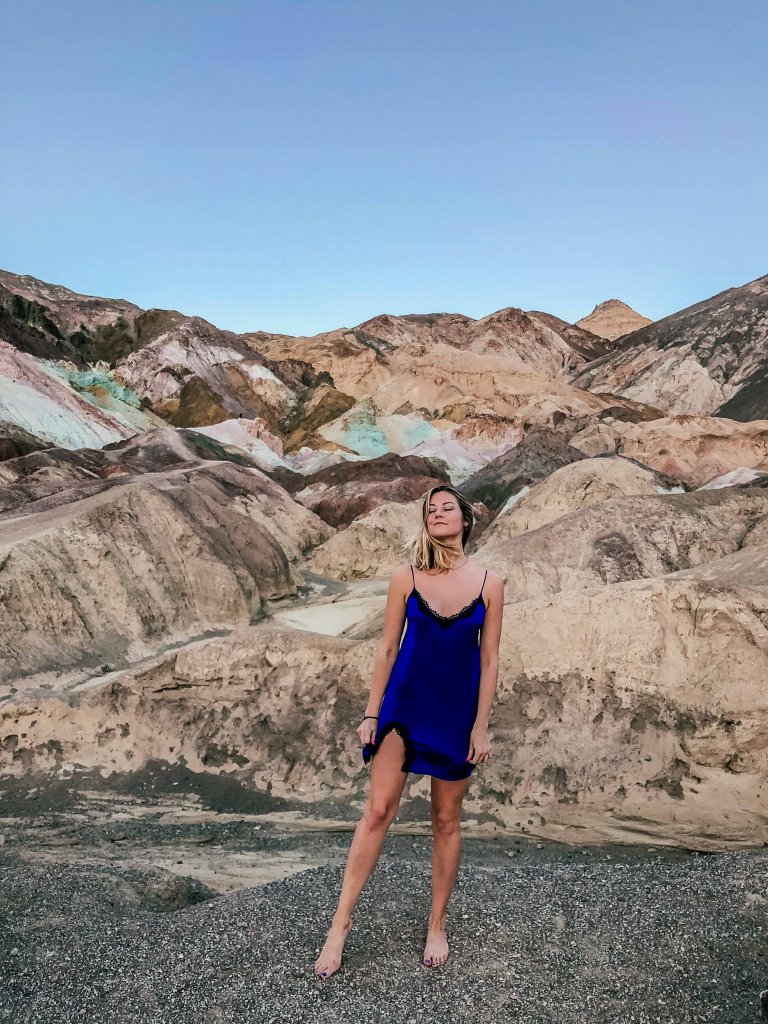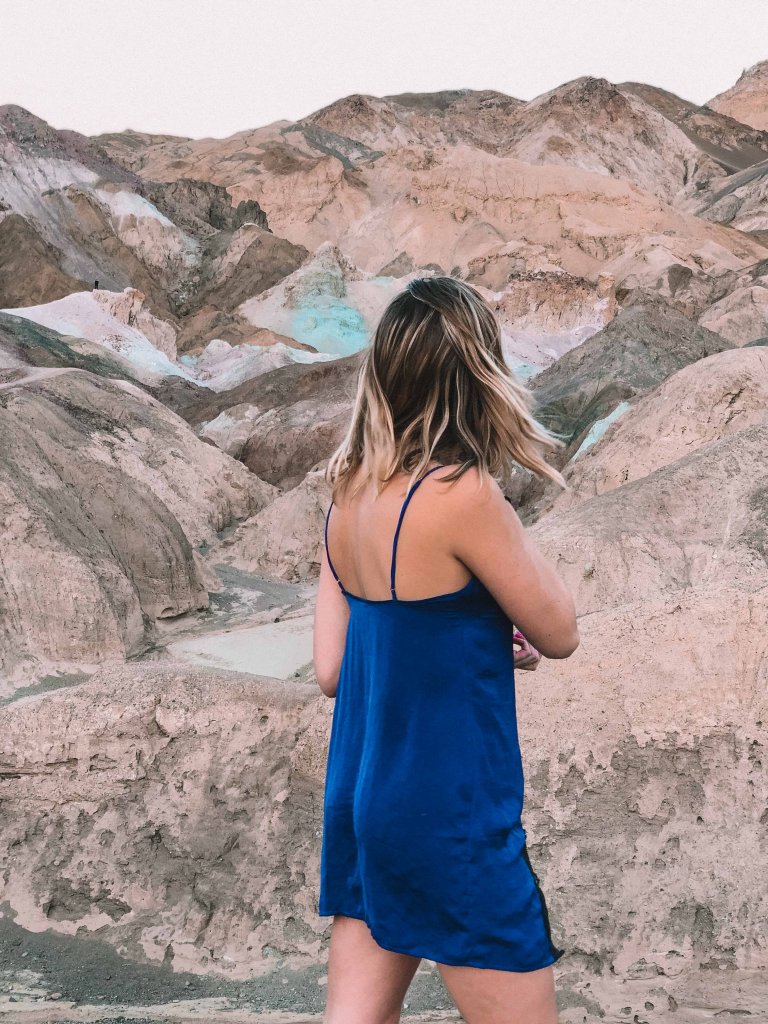 Stop 4: Panamint Springs Campsite
Ok, this isn't exactly a destination. But if you want to skip the pricey hotel (there are only a handful scattered throughout the park to even choose from), and pretend you're camping, then this is what you should do. Stay at Panamint Springs. We are by no means campers, but this place comes with a tent and cots already set up. Plus, there's a bathroom and restaurant there so you have all the amenities you really need. I was a little hesitant about this at first, but it ended up being really fun. We just had to bring our own sleeping bags — and it got COLD at night, like low 40's, so we had to dress in layers. It was fun exchanging stories, being afraid animals were going to break in, and listening to a podcast under the star-filled sky. I'd recommend it.
Stop 5: Mesquite Sand Dunes
This was my favorite place because it was the most fun. We got up early, ready to get there before the crowds. I LOVE soft sand and I LOVE sliding down sand dunes. It was spectacularly beautiful, warm and felt like Morocco. We walked quite far, up and down sand dunes to get the pictures we did. If I had more time, I would have spent the entire day climbing and walking them. In fact, I kind of want to go back to Death Valley one day and just do that.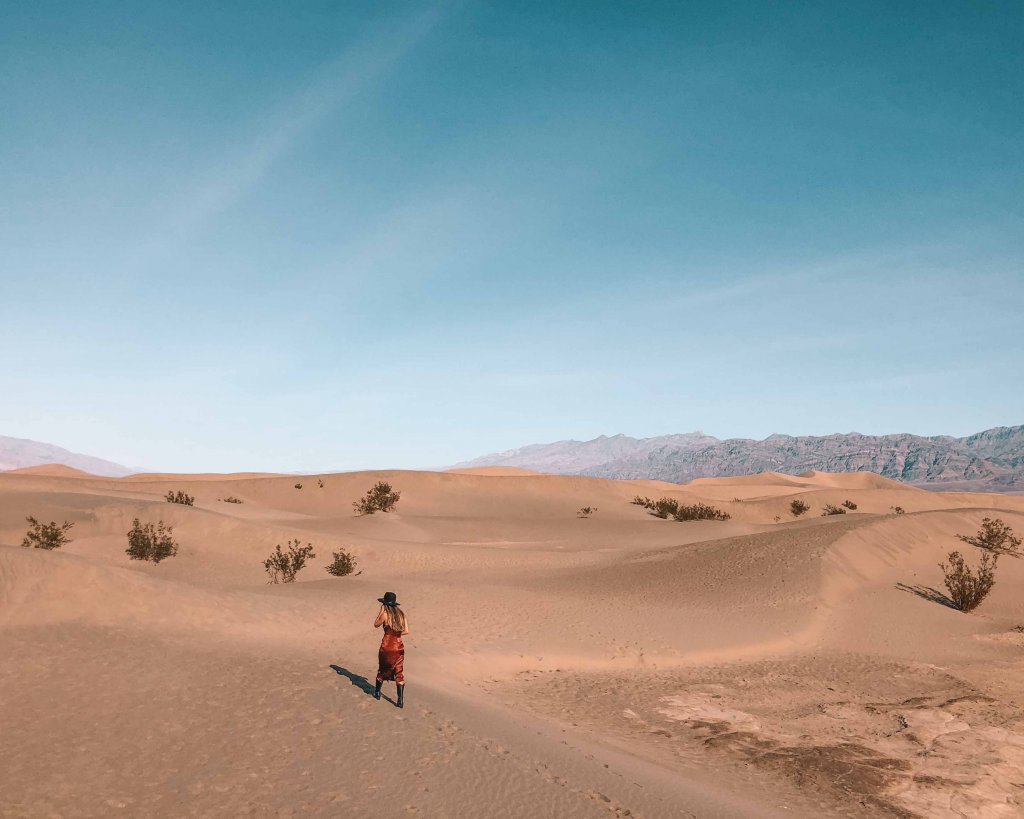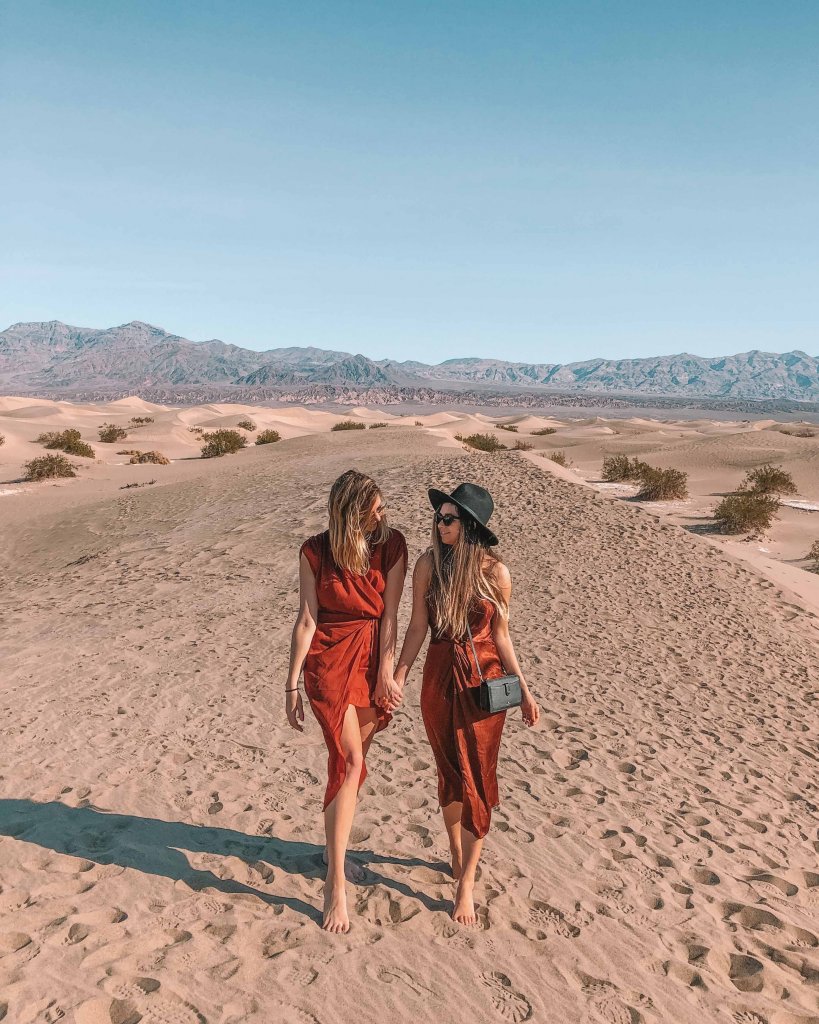 Stop 6: Rhyolite Ghost Town
We'd never been to a ghost town, so we were really excited about this one. It wasn't quite like the movies and old westerns though, which was a little sad. But the abandoned old buildings and train car were still a cool site to see. It's nearly unbelievable that Rhyolite used to be a booming town. It was a fun stop to check out. Oh, plus it's on the Atlas Obscura list, a list of cool, weird places to visit.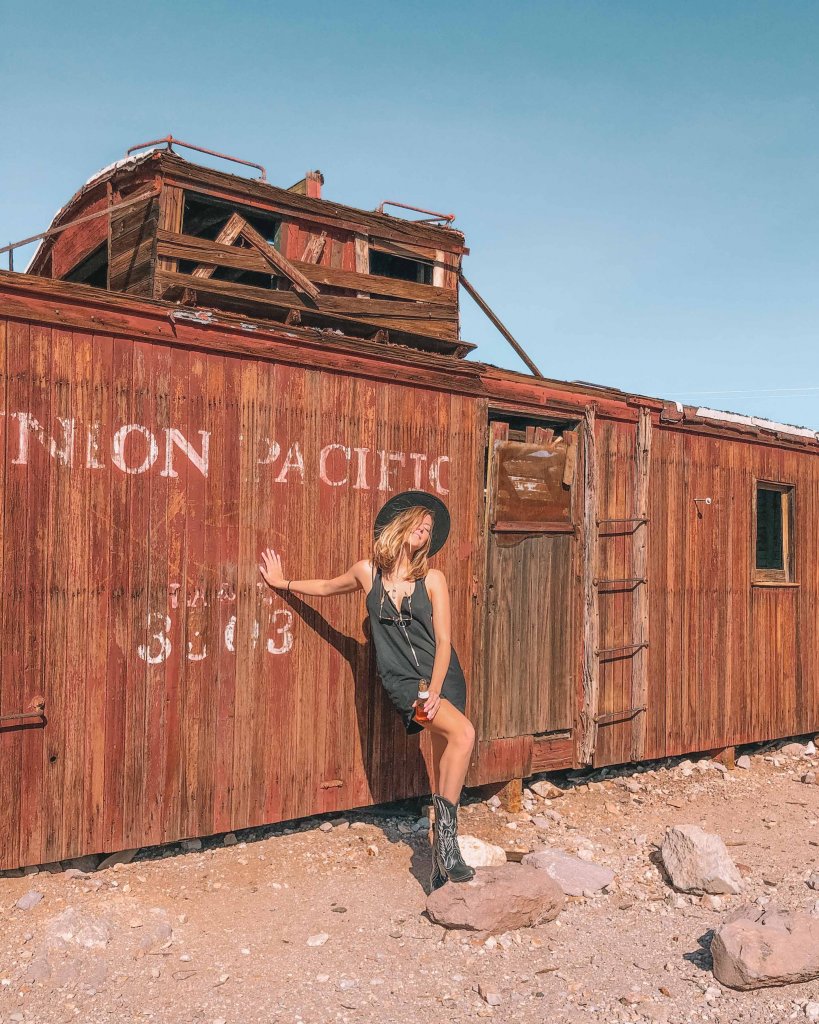 Stop 7: Area 51 Alien Center
Ok, please don't go out of your way for this one. We're kind of obsessed with aliens and Area 51 and really wanted to go to the real Area 51, or at least as close as we could go. But… it was like a 4 hour drive towards Las Vegas, so we decided against it as a last minute stop. Plus, you can't actually go to Area 51. Plus, plus it's illegal to go near it. Regardless, we got our kicks at the Alien 51 Alien Center rest area that was kind of on our way home, had a delicious diner burger, felt the alien vibe, then headed on our way home.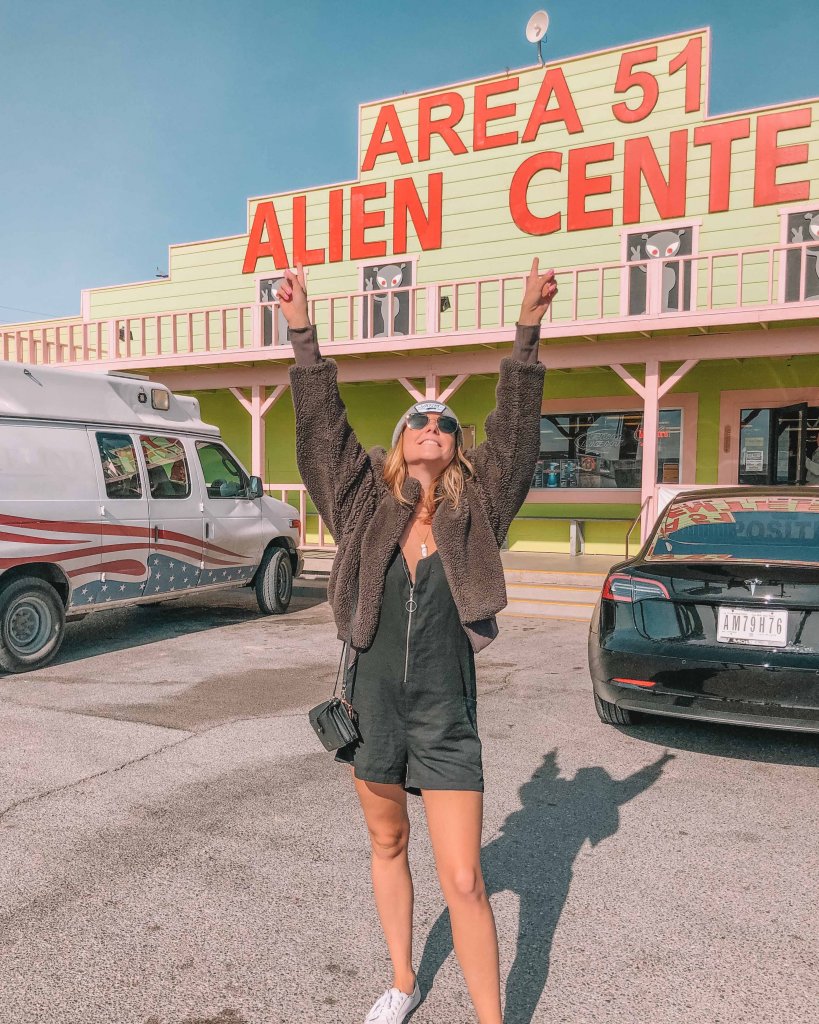 Then our trip home to LA was quite a bit longer, around 5 hours, since we were now at the top of the park and were driving down and around it this time. It was still a fun drive, but after a long weekend, and sleeping on a cot, we were ready to go home. I would do this trip again, especially considering I'm based in LA and it's not too far off. It's also worth noting that most of the time you won't have cell service or available wifi so download a map to your phone or have a paper map with you so you don't get lost.
Have you been to Death Valley or maybe you'll add it do your list of places to visit?
XO
Don't forget to follow me on IG for fun videos from the trip and follow Sarah too here!