Iceland is the trip of the moment and of course with all of its hype, I had to do it! It was definitely worth it just for seeing the beautiful country itself. Though, it was one of the most logistically challenging trips I have taken and a lot of work. My trip was 6 days, 5 nights and I went in early March to see the Northern Lights. Here is my Guide to Iceland with the best places to get around, stay, eat and do and the things that I wish I knew before I went. Oh and I also included prices of everything so you have an idea of what to expect if you do go.
Transportation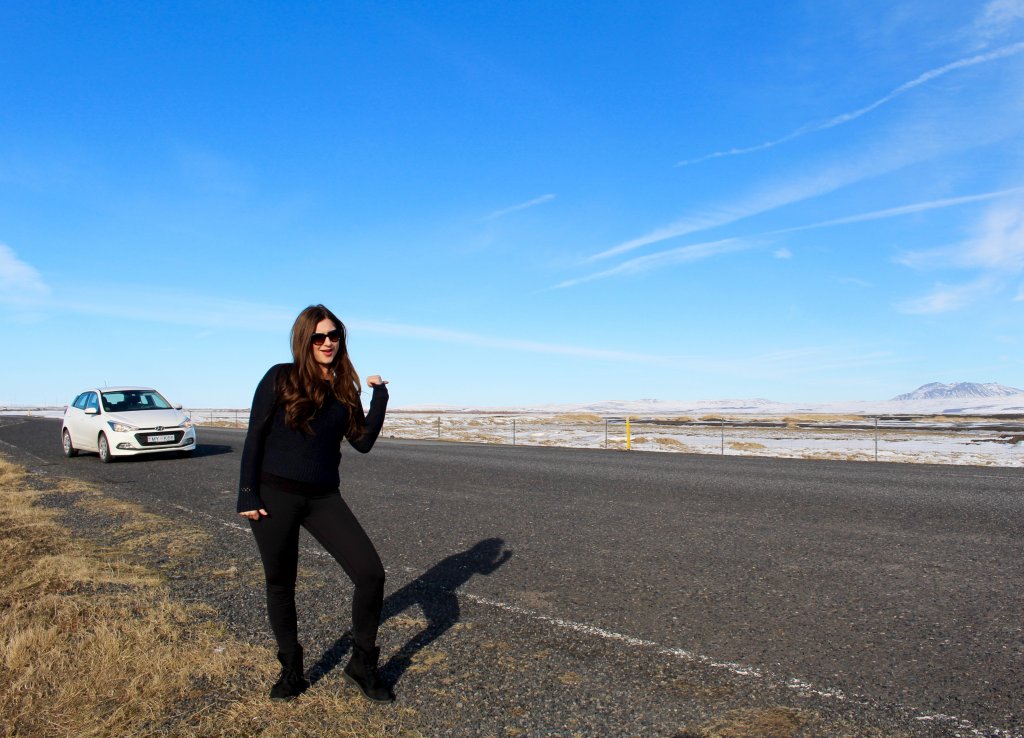 The very first thing you need to decide before planning your trip is whether you are going to rent a car or not. I have very mixed feelings on this. Just for your info, I did end up renting a car with my friend/travel partner, Ellie, who you will see in many of my photos. It was pretty darn stressful if I do say so myself. I could probably write a post on this decision alone, but here are the basic deciding factors.
Do rent a car if:
You are a confident driver. Personally, being a New Yorker means I don't drive a lot and don't feel super confident driving. If I didn't have a friend on this trip with me, then I would definitely NOT have rented a car. Roads are also not 100% clear or perfectly paved. You will run into a lot of potholes and in the winter, you'll come across snow and ice and will need to be ready to slow down in a moment's notice.
You get GPS/wifi. You WILL need Google maps to get around, unless of course you are used to using good old fashion paper maps, which as a Millennial, I am not. For every turn I missed, I would not have been able to get back on track so quickly without the help of Google maps. Ellie manned the directions and kept an extra set of eyes out for me.
You have insurance. I have heard many horror stories and even witnessed one while returning our car about the rental companies. They will try to get you for everything. I took photos of the car before AND after I returned it — just in case. If you don't have auto insurance or insurance from your credit card, like I did, then you should probably take theirs.
You really want to have a road trip type of feel. It was nice being able to stop off at any point and take photos. We blasted our music and had so much fun. We also packed snacks since there wasn't a lot along the way. A lot of the big things to see in Iceland require driving, like the Golden Circle (see below) and the trip to Vik and the Black Sand Beach. So if you don't drive these, you will be paying a lot of money on a day trip to do them.
If you do decide to forgo renting a car, calculate out the price of a bus to and from Reykjavik (about $22 each way) and the cost of each excursion. We didn't do any crazy, adventurous excursions like snorkeling or hiking (hey, it was winter), but it probably would have been more worth not renting a car and just paying for full excursions with transportation.
TRANSPORTATION COST: $300 for a car for 6 days PLUS $140 for gas (about one and a three quarter tanks of gas).
---
Lodging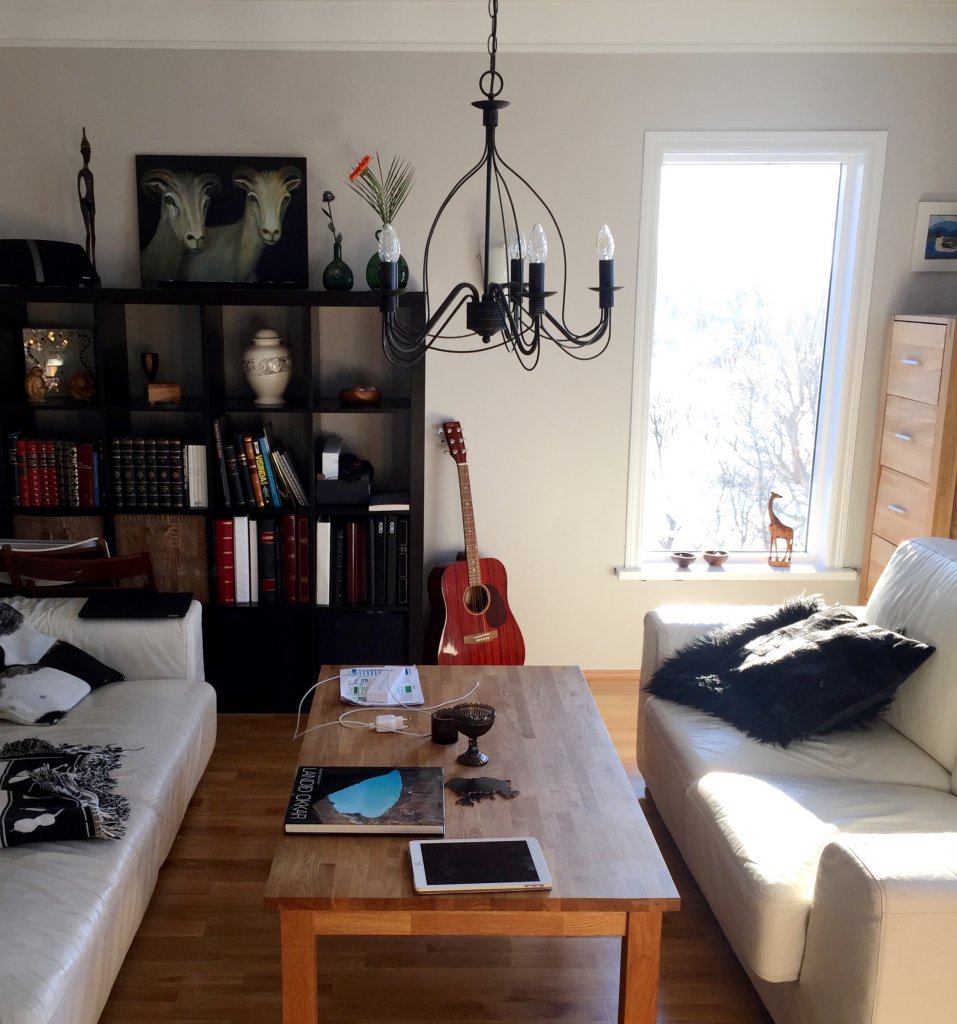 Have you decided whether or not you're renting a car? Good. If you are renting a car, I recommend staying just outside of the city center. That's what we did for 4 of the 5 nights we were there and I loved that it gave you a real chance of feeling like a local. We did Air B&B the whole time and it was quite affordable. PLUS, the homes are really cute. If you don't have a car, it would definitely be easiest to stay right in downtown Reykjavik, as many tours leave from there and you have access to food and civilization. I also love the idea of renting an Air B&B because you can cook in the house and you will want to cook here with the high price of food. See next point. Also, if you can pick one with a "breakfast" included, do it. Ours included cereal, bread, yogurt and eggs. We also turned this into our lunch, which really helped us cut down on food costs. Did I mention our Air B&B had adorable cats? Well they did.
LODGING COST: $500 for 5 nights
---
Food
Grocery Store
Ok, this isn't really a destination, but it's the best advice I can give you. I'm sure you've heard Iceland is expensive. Well, whoever told you that wasn't kidding. Everything in Iceland is expensive. I'm not talking NYC or London expensive. I'm talking 'WTF $14 for a bagel?!' expensive. If you have a car, please go to the grocery store and stock up on food. Whether its a pre-made sandwich or a microwavable dinner or just some cauliflower, buy it for your stay. Also, it was nice having a friend on this trip so we could split the cost of everything.
When you do eat out though, because it is inevitable, these are the places you MUST go.
Reykjavik Roasters for Coffee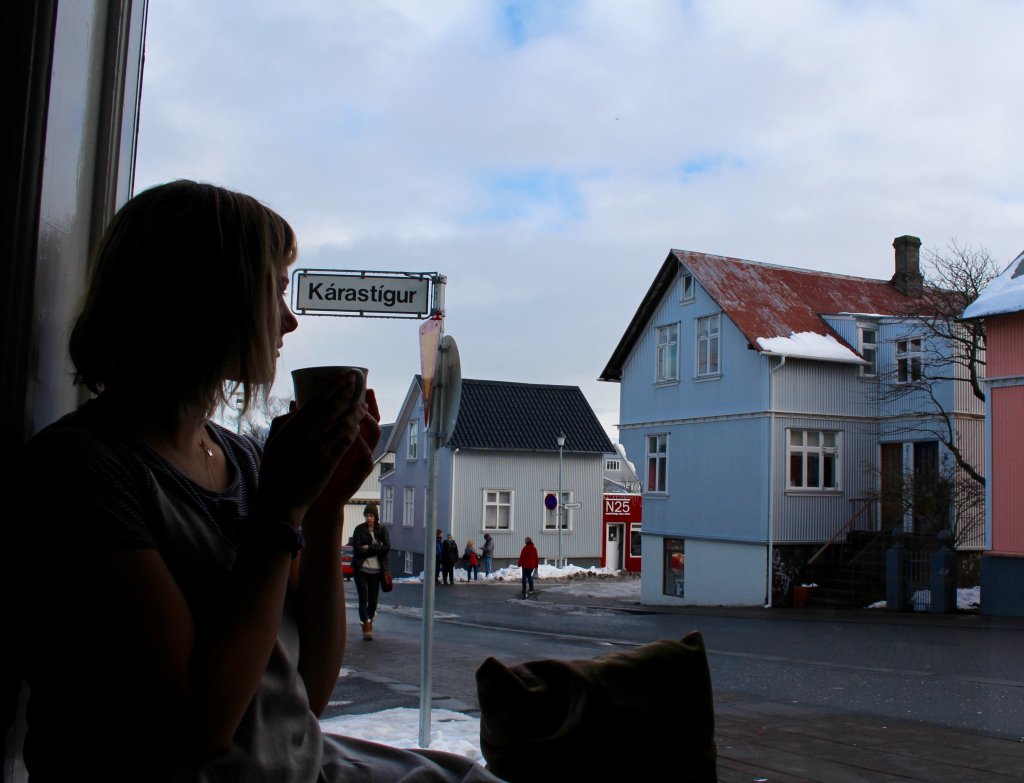 They make the coffee right there and it tastes amazing. Plus, its super cozy with lots of couches to curl up on. Bonus — it's on the way to the church and right up the street from the next place where you can pick up the BEST cinnamon roll of your life. Check out more and the location here.
Braud & Co. for Cinnamon Rolls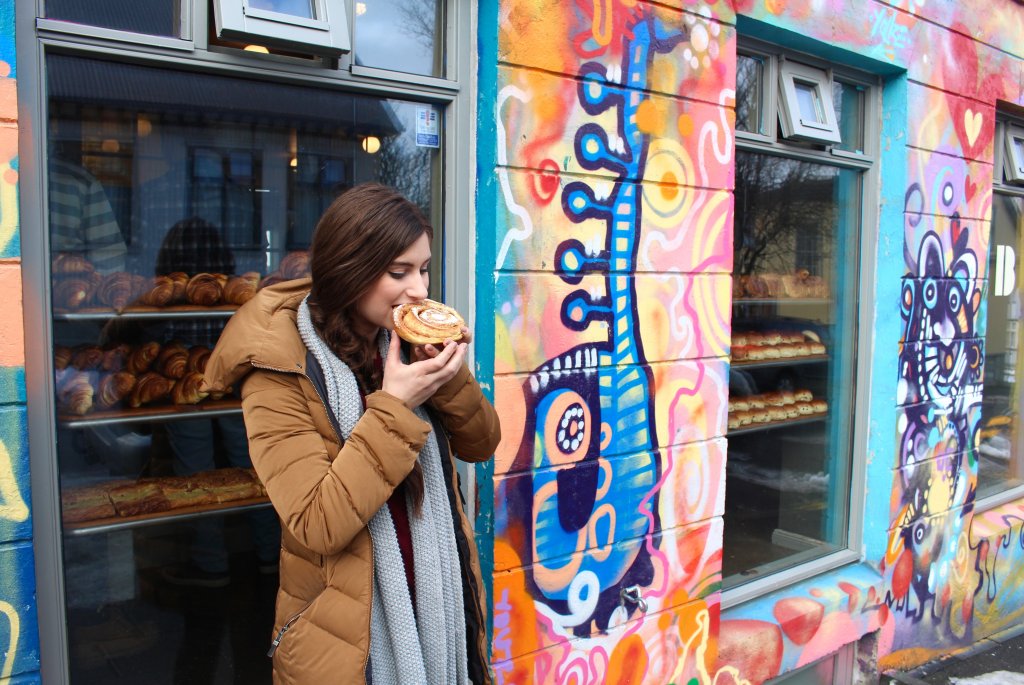 Want to try the BEST cinnamon roll of your entire life? Then come to Iceland just for this one. I can't believe I didn't see it on any other guides when I was researching my Iceland trip. You can literally see the building (hello cool graffiti) and smell the baked cinnamon roll goodness from down the street. This is a must-stop. Actually, it's so good that we went in the morning by stumbling across it and then we went back again in the afternoon. Go before the end of the day so you can grab a perfectly fresh, hot one! They go super fast and batches are constantly being made.
Pizza With No Name for Pizza
People kept saying this place was super hard to find, but it really wasn't. We saw the sign and the menu right away. They have AMAZING pizza and the place is adorable. Go stop at the upstairs bar too. We got the pizza with truffle and arugula and it was heavenly. It was also about $30 though so it's safe to say its a splurge. More info like how to find it here.
Sandholt Bakery for Sandwiches
Are you taking that ridiculously early, gets-in-at-4-am, cheap WOW Air flight? If so and even if not, this is the place for you. It opens EARLY and has delicious sandwiches. They're about $13 per sandwich, which isn't a terrible deal considering the price of everything else in this city. I also got a ham and cheese croissant which was delicious and hit the spot for breakfast. More info here.
FOOD COST: Approx. $100 including groceries, coffee and a couple meals out
---
Activities
Ellie and I pretty much did all of the basics that everyone suggests, however, I have my own opinion on each and what you should and should NOT skip.
Golden Circle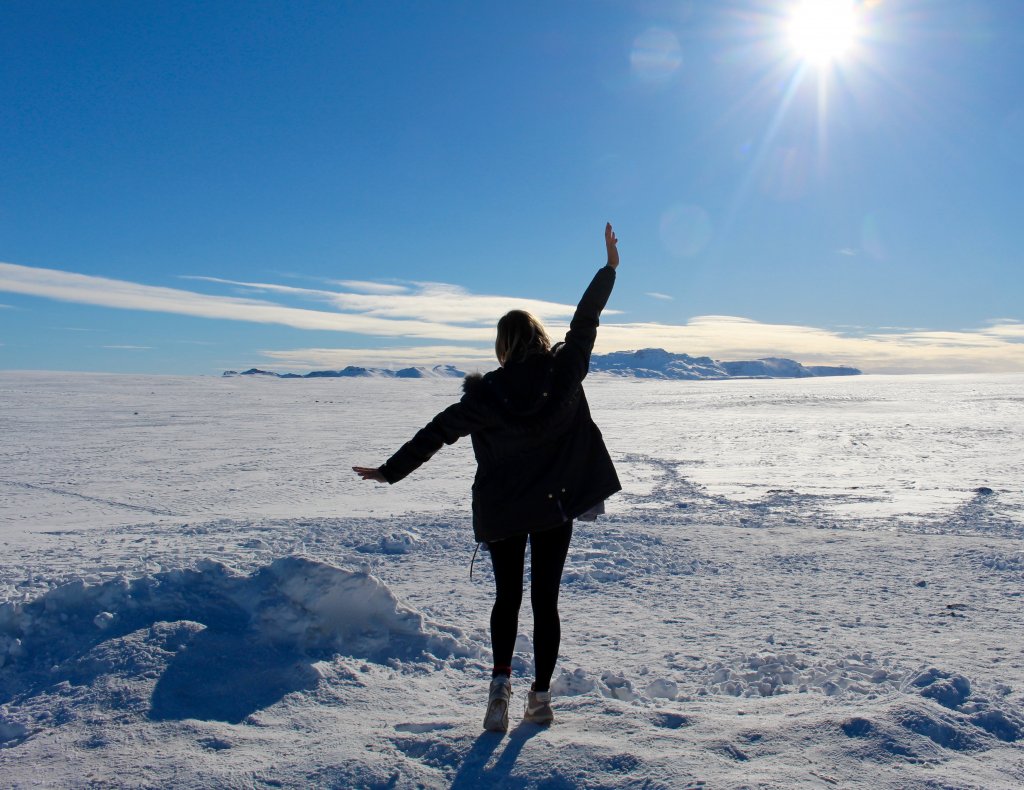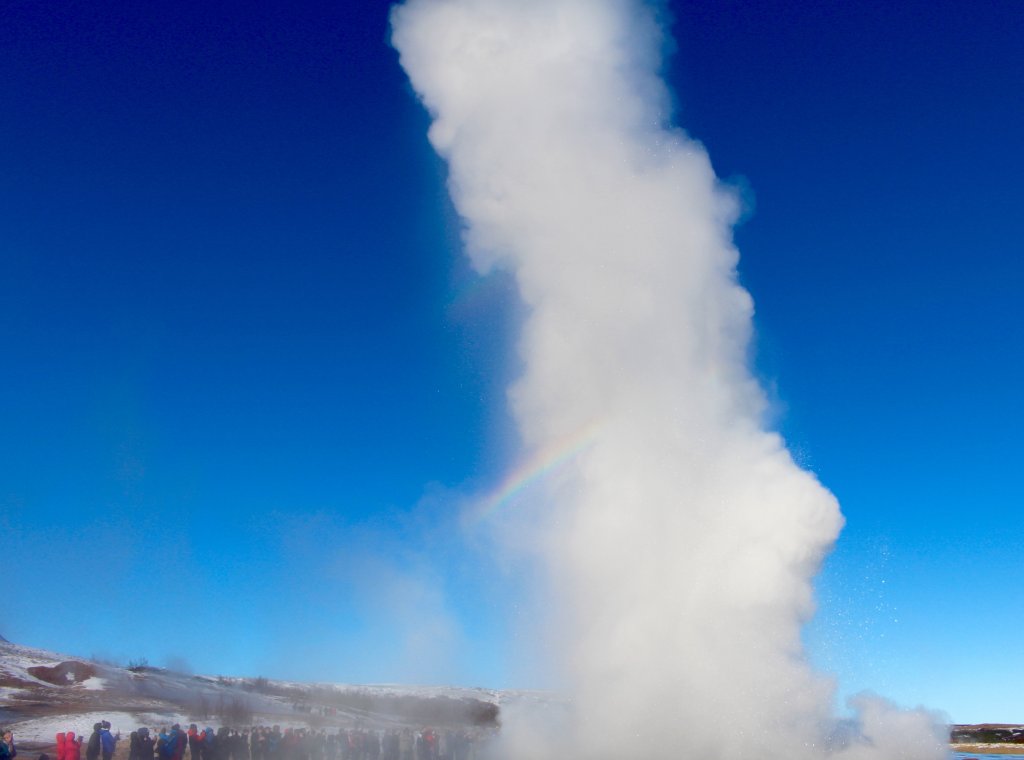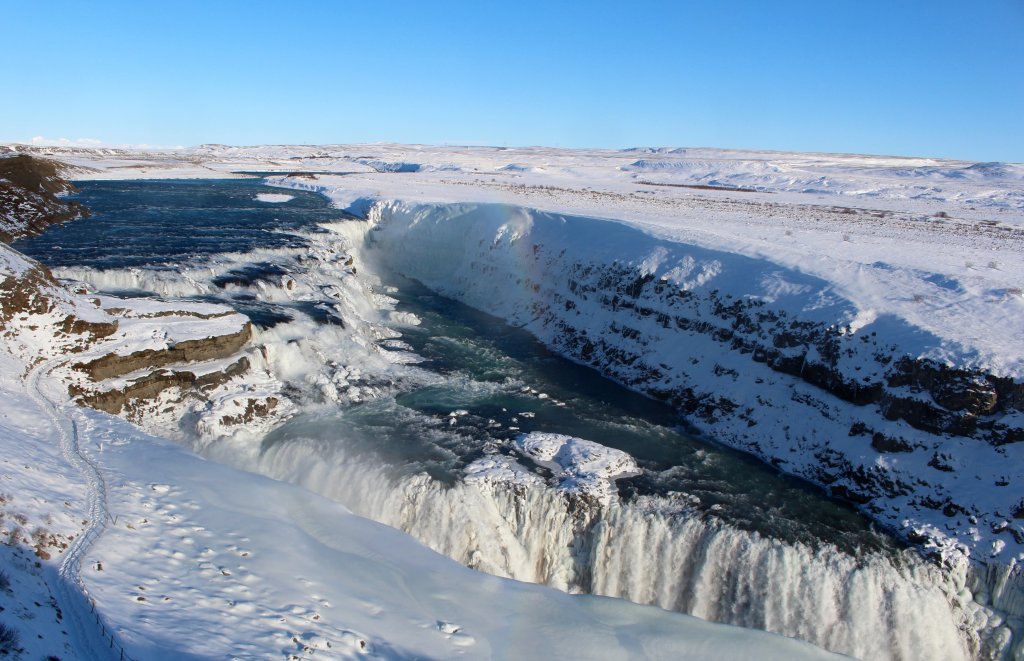 Definitely do it. We drove this the first full day we were there. It required just a bit of Google Mapping to get there, but it was a pretty easy and insanely gorgeous drive. We used the Blonde Abroad's map with places to stop on this drive and we loved all of the stops except the crater and church, which were not really of interest to us. Our favorite stops were random pull off sites along the way, along with the Geysr and the Gullfoss Waterfall.
Northern Lights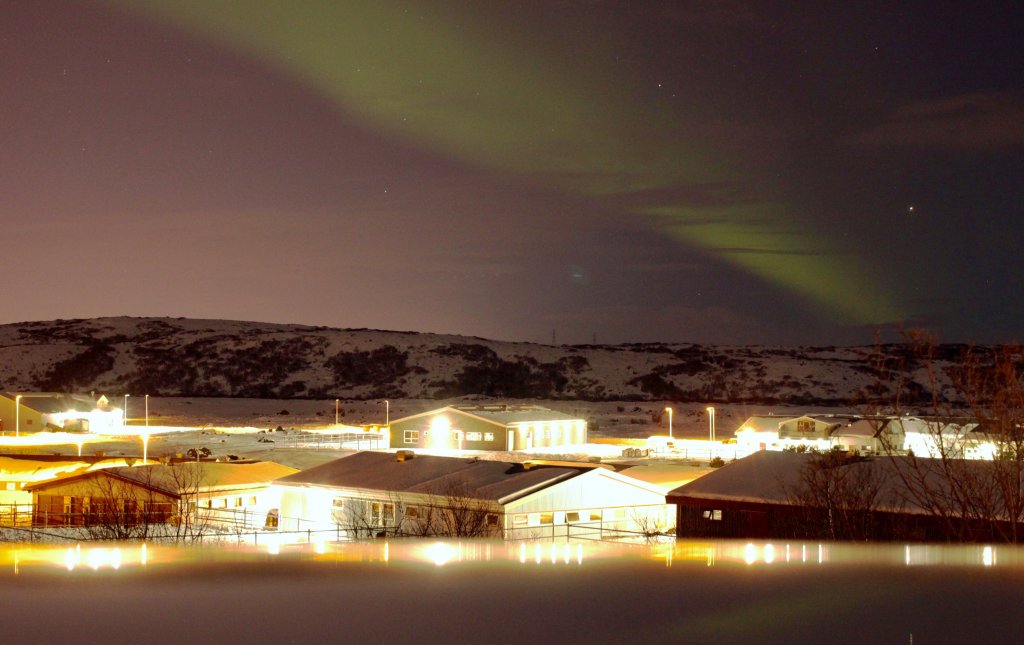 I hate putting this as an "activity" because its not something you can just go and do since its often cloudy in Iceland and hard to plan out when you'll see them. If you notice that it's a clear evening and then night (and check the weather radar), then GO look for them. Chances are if you get a clear night, that will be the only one. I know people who have been to Iceland twice and never saw them. We really lucked out and on our first night there, it was clear. We drove just outside of the city and as soon as we did, we started to see the green lights in the sky. We actually almost couldn't tell what they were at first so just keep an eye out. Oh, and it's hard to capture on your phone so it took me some practice and research, but I capture it here and some other great shots with my Canon DSLR. Message me if you want any quick tips!
Black Sand Beach of Vik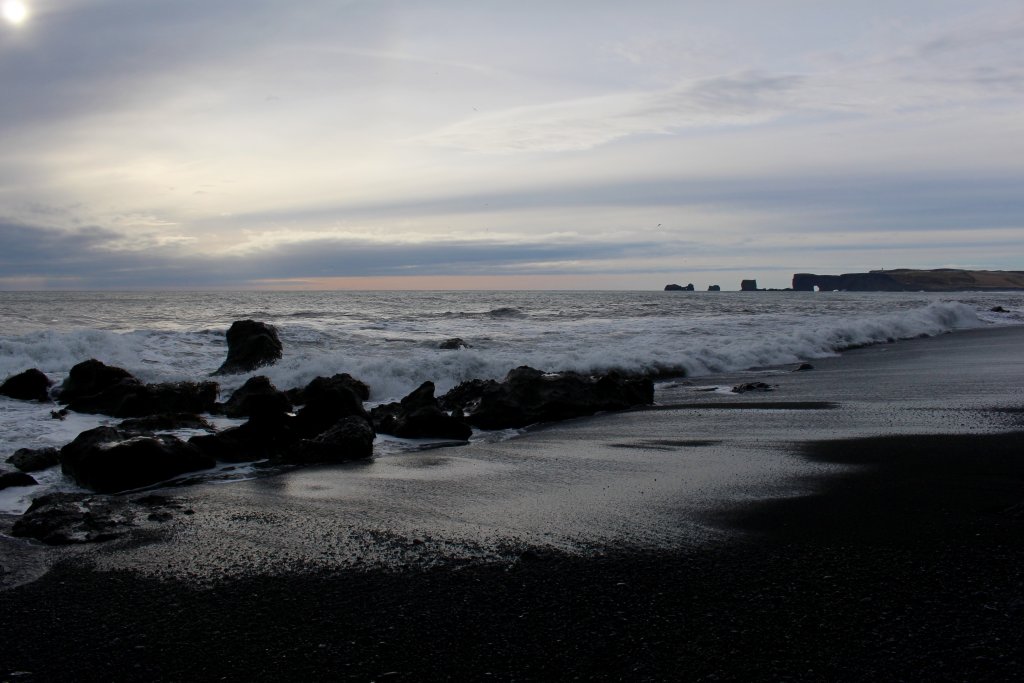 Are you a beach lover like me? Take me to any beach any time of the year and I will instantly be happy. Vik was no exception. These black sand beaches are breathtaking and even if you somehow don't love the beach, you will still want to see this. The contrast of the black sand against the sky was gorgeous. They say at least one tourist each year dies from the strong waters that come out of nowhere though so just be on the look out.
Skógafoss & Seljalandsfoss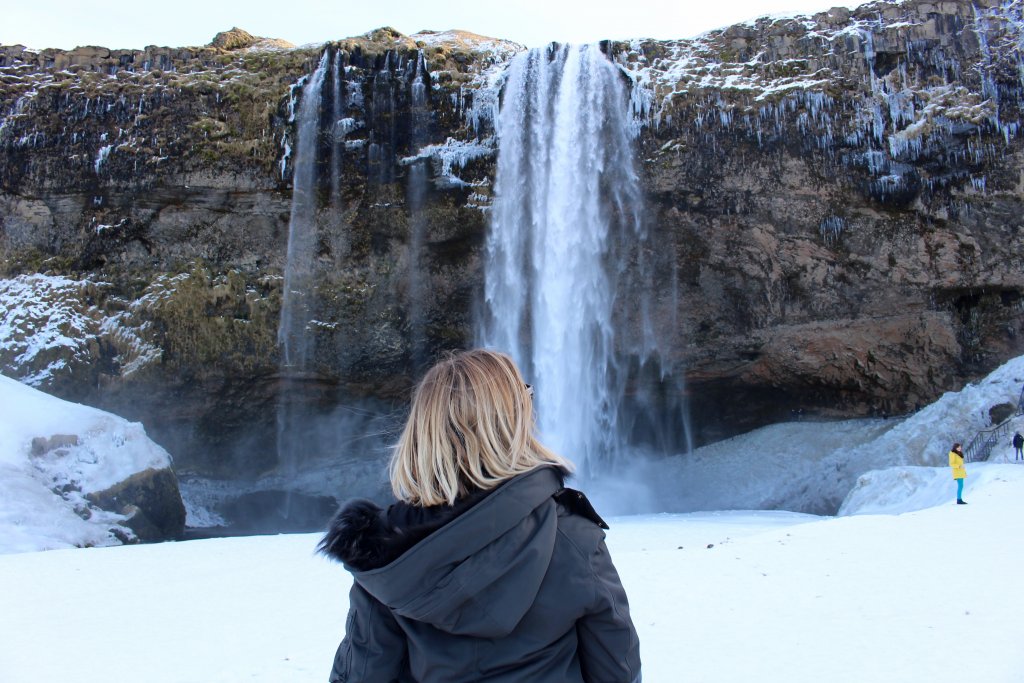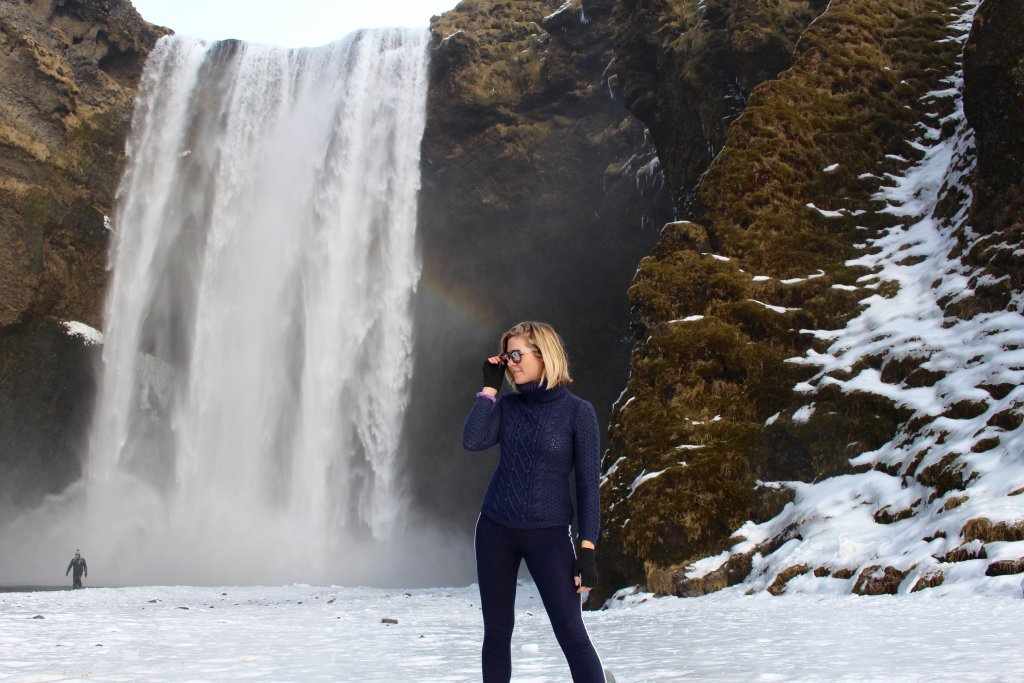 On the drive down to Vik, we stopped at both of these waterfalls. They seem to be all over Iceland and these are two really big ones. The first photo is Seljalandsfoss. It was too icy to hike behind, but in the warmer months you can! It was nice to look at, but so cold so only stayed for the photo. The second photo is Skógafoss. You can hike to the top of it for another really great view. See the rainbow? 🙂
Hallgrímskirkja Church
AKA Best Views
This church was definitely worth it for the views. It's the only high point in the city where you can see it like this. It cost about $9, but honestly, no one took our tickets or anyone elses. In fact, no one was monitoring it so my advice is to not spend your money on that and then play dumb if someone were to ask. Also, the day you do the church, I suggest a day to just walk around Reykjavik and explore. The graffiti and street art is everywhere and really cool to look at.
The Blue Lagoon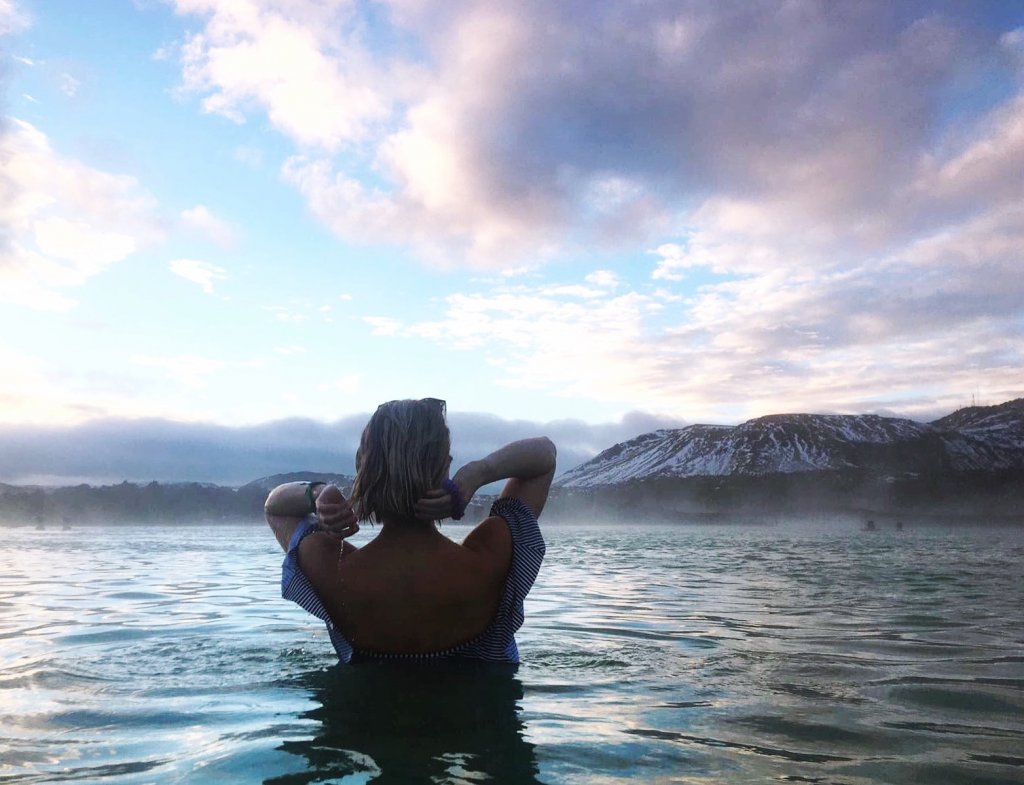 I've read some guides that said to skip this because it's overrated. Well, they are wrong. If you like beautiful things and feeling luxurious, then this is for you. Honestly, it's not that expensive. We did the second tier, which included a towel (good idea, unless you want to worry about bringing your own towel), a drink and a second face mask. Also, it's Instagram gold. My advice is to go at sunrise when it's pretty empty if you want some peace and some great photos.
Laugar Spa
One day we had a free afternoon and evening and found this gem of a place. It's mostly all locals and it's an amazing gym with tons of classes AND outdoor pools and hot tubs. Yes, pools as in plural. This was such a great relaxation day. We took a spin class, worked out then finished it all with the warm pool (with slide), hot tubs, saunas, steam rooms and cold showers. ALL of that cost about $60 pp. If you find yourself with some free time, wanting to work out and then wanting to relax, do it! Plus, it's right in the downtown area. Find out more here.
ACTIVITIES COST: $150 (Blue Lagoon, Laugar Spa, Church & Crater — don't ask, don't go)
---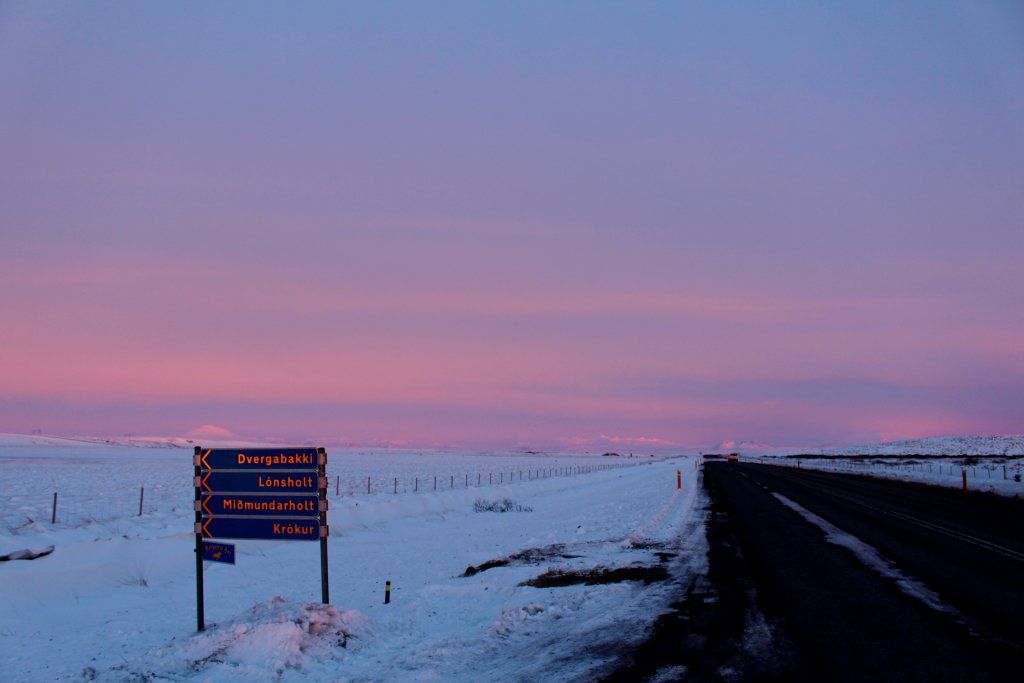 TOTAL TRIP COST: Approx. $1190 BUT divided by 2 because I went with a friend = $595. 
Overall, the trip supplied me with some amazing photographs and memories with a great friend. Just about anywhere you turn, you can take a great photo. I almost forgot to mention the HORSES just chilling on the side of the road (well they're fenced in). Stop and see them because they LOVE to be pet. They act like dogs.
My take away is to go with a friend just to save money. PLUS, who else is going to take all of the cute photos of you? I definitely would recommend visiting Iceland for about 5 days, but I probably honestly wouldn't go back. At the end of the day, you will find me returning to some place like Rome or Paris instead. 🙂 Have you been to Iceland or have any other tips? Also, feel free to ask me any questions I may not have put in my Guide to Iceland in the comments or email.
XO