Hello, spring! You are looking and feeling so lovely on my skin. I chase warm weather so you won't find me in New York unless it's spring, summer or fall. BUT now that it's spring, I'm back here for a bit and loving these 70 degree days, hoping it lasts. Now is the time to take advantage of the sun, the light jackets and the longer days before it gets too hot, humid and sticky. And what better way to enjoy this weather than a cocktail at one of these 10 NYC rooftop bars? (First, a little infographic to sum up my findings).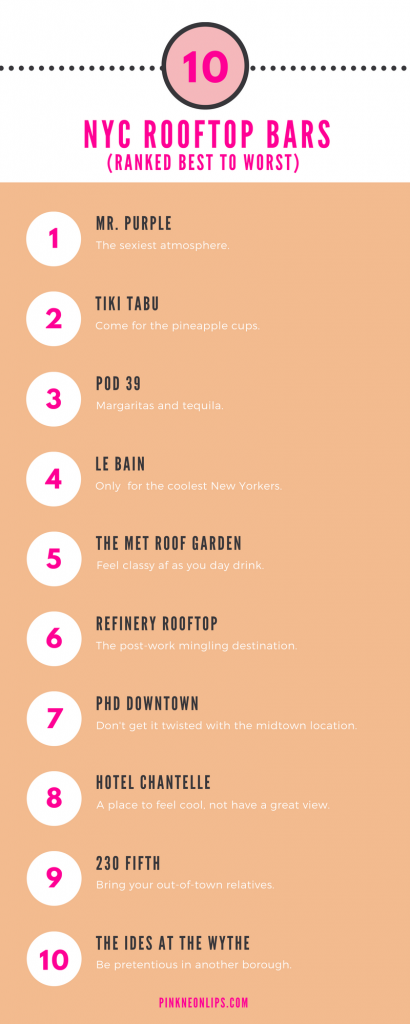 I have tried almost every rooftop bar and restaurant there is in NYC. I've done all of the searching and googling and those results are very hit or miss. I was just going to write about all of my favorite rooftops, but then I realized some are really overhyped and you should know which ones those are too. My criteria is based on an insider's opinion and not just the best view. I want the bars that are perfect to enjoy the outdoors with the best time, which includes the type of crowd and atmosphere. You'll find many articles about rooftop bars in NYC, all with the same suggestions for the most part, so I sorted out the actual good ones for you. This is, of course, based on the opinion of a 26 year old girl who likes to have a good time and scope out cute guys. Anyway, here's my list of rooftop bars worth mentioning, with a little info about each from my experiences, in order from my favorite to not-so-favorite.
Note: Being that these are rooftops and it is New York City, drinks are pricey at all of these places — happy hours are also non-existent.
Best to Worst
1. Mr. Purple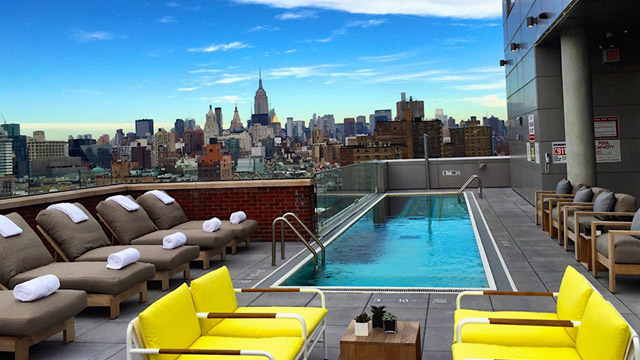 I love this place! The view is my favorite and the entire place is so well designed while maintaining a sexy atmosphere, which is why it's first on my list of 10 NYC rooftop bars. I've never had a crazy night here or anything, but it's perfect for an appetizer and cocktail. Definitely come early if you want a coveted spot outside on one of the comfy couches — which I have only been able to snatch once. This place is on the 15th floor of the Indigo Hotel, with a pool reflecting the view of the Empire State Building. Goal: Stay at this hotel and casually come up for a swim.
Great for: a trendy evening cocktail
Location: LES
Website
2. Tiki Tabu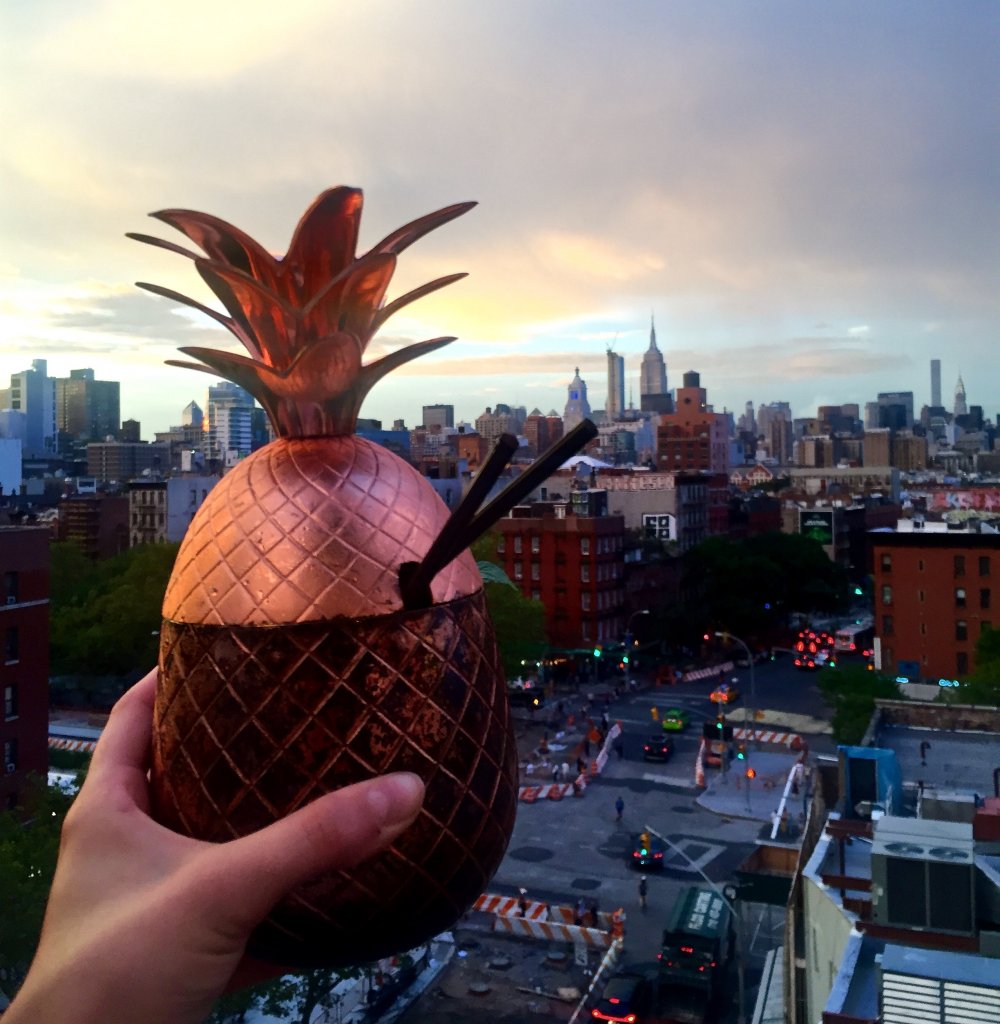 Amazing cocktails in a gold pineapple cup and stunning views of the city? Count me in. This was my favorite spot last summer and if you don't have one of those epic pictures from here, you should go.right.now. There's only one drink offered in the Absolute pineapple cup, but it's worth it. I think they've had a lot of thefts of these cups because some of the bartenders will ask to hold on to your ID until you return it. So besides the Instagram photo, this place, located in SIXTY LES Hotel, is fun, has a good crowd and is great any evening of the week.
NOTE: It doesn't open for the season until May 18, 2017.
Great for: sunset cocktails in a pineapple cup
Location: LES
Website
3. Pod 39
I love the vibe of this place and it's great if you're in midtown or on the east side. It has a Mexican restaurant at the bottom so its all about the margaritas. It's super relaxed, casual and perfect to go with the after-work crew. The caveat: you cannot bring your food or drinks from the downstairs up to the roof. So if you're going to eat, do it before you go here or plan on waiting downstairs. Also, I repeat, you cannot bring your drinks up from downstairs. Something about not having glass on a rooftop. Order your drinks once you get to the roof. And order a margarita. 😉
Great for: chill, post-work drinks
Location: Midtown East
Website
4. Le Bain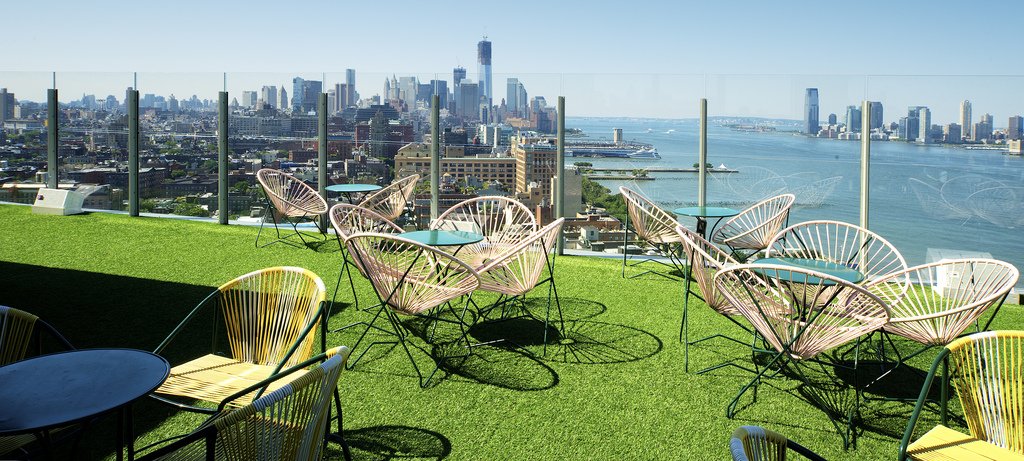 I feel like I should be over this place by now. I have been coming here since before I was even 21 when I was going to school in NYC. It's a classic though, filled with pretty people and it feels oh-so-New York. Le Bain is great night or day. This is probably my visited rooftop, not simply because its a rooftop, but because it's a common nightlife destination in NYC. I have attended events and birthday parties and come here on random nights when we're in the area and just know it'll be a good time. I love coming here on a Saturday or Sunday and day drinking. They also have crepes so you can set up shop to hold your seat and won't have to worry about starving. The caveat: dress code can be strict at night. Sometimes they'll have events and "guest list" only. Just dress well and know the line usually goes really fast. Once you get upstairs though, there's no real annoying club vibe unless its like 1 am on a weekend.
Great for: Weekend day drinks and late night clubbing
Location: Meatpacking
Website
5. The Met Roof Garden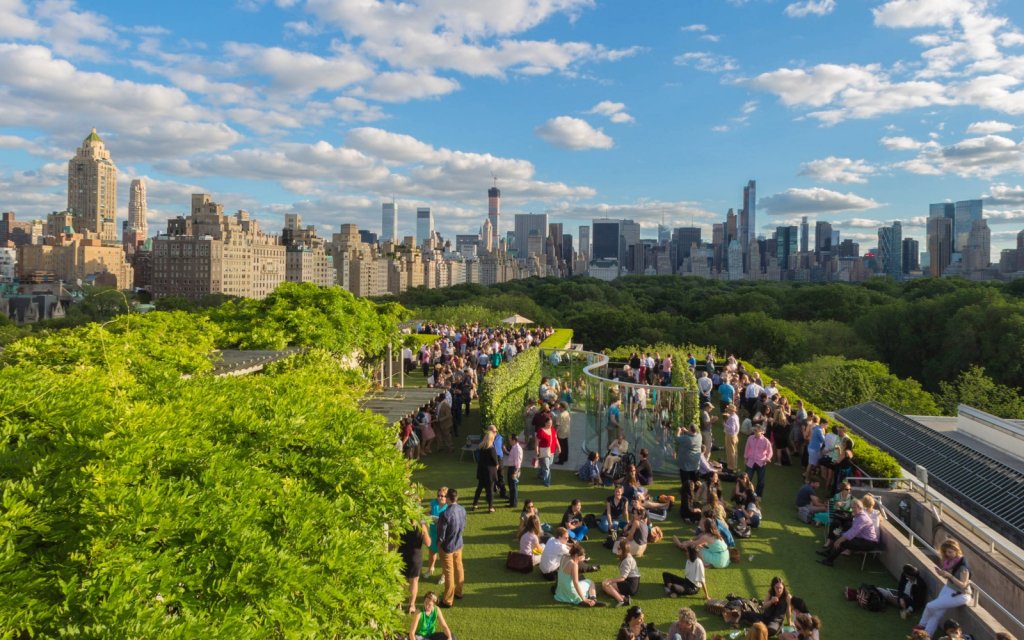 I love the rooftop of The Met! It's great after spending a day exploring this amazing museum. It's kind of hard to find though so I always end up having to ask a million times how to get there. If you just want to go to the roof though, you can just enter into the museum (it's pay what you wish so essentially you can pay nothing to enter), but it's a lot of work just to go to the roof. It's pretty chill and they have some great canned, cool cocktails. I like the view of Central Park too. It can get pretty crowded, but I do love this for a Saturday museum and day drink kind of a day.
Great for: a classy day soaking in art and ending it tipsy on a beautiful roof
Location: Upper East Side
Website
6. Refinery Rooftop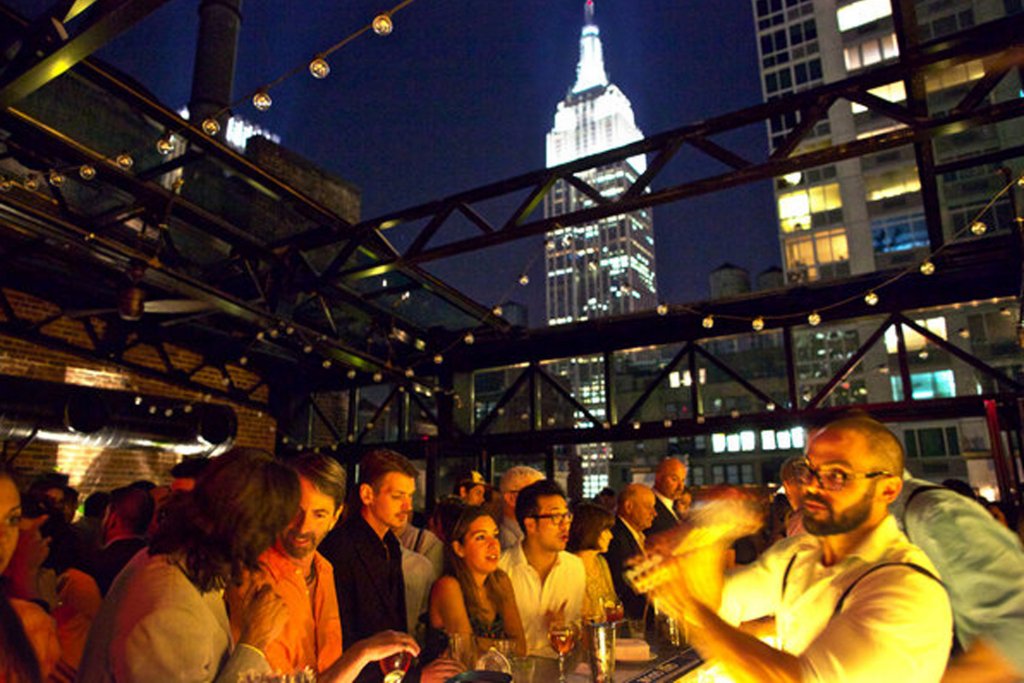 This is a trendy cocktail spot. It's in midtown so after work you will find everyone wanting to enjoy their evening with a drink here. It can get REALLY crowded, like so crowded you can't walk through the thick of people. Plus, its a small venue and there can be a wait to go up. That's why it's not at the top of my list. So if you go, go a little later after the fresh-out-of-work crowd dies down or in the beginning of the week.
Great for: post-work drinks & men in suits
Location: Midtown
Website
7. PhD Downtown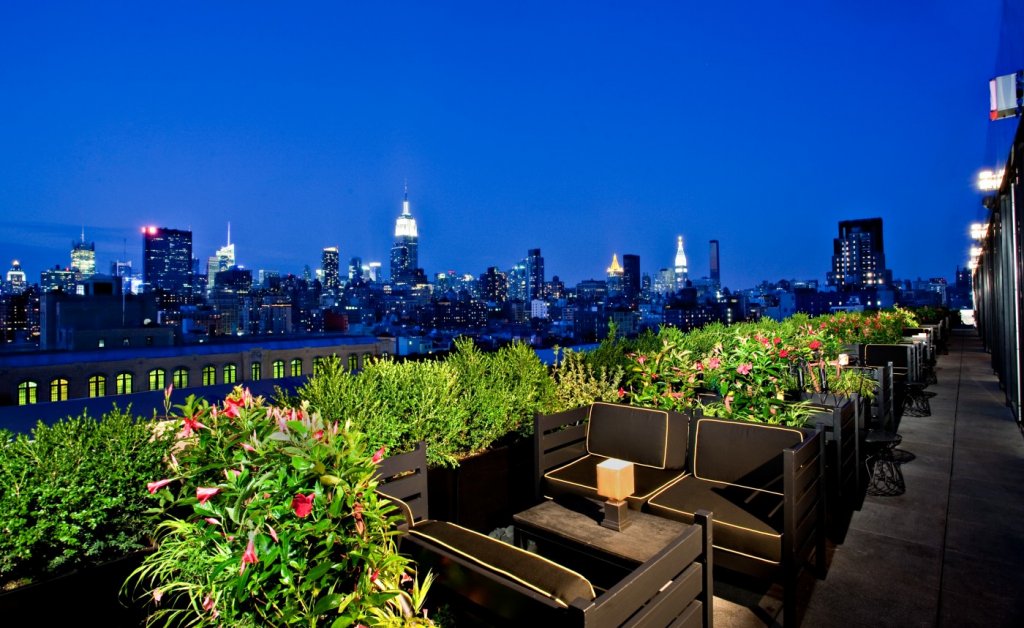 There are two Dream Hotels with views, but the downtown is more of the place to be. I've been here for day drinking parties and fashion week events alike. It's always a good time with a fun crowd ready to party. Definitely a lively place so don't go here for a calm, relaxing evening.
Great for: a day party or a fun night out
Location: Meatpacking
Website
8. Hotel Chantelle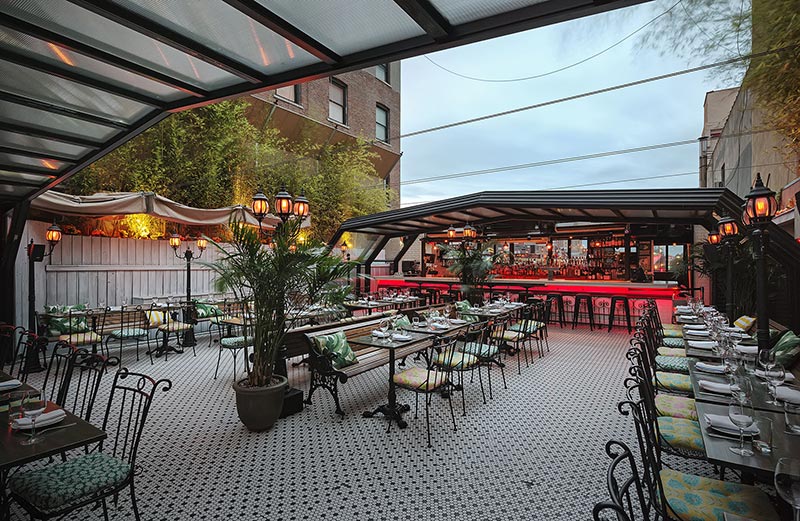 This place is always fun when I go here, though I'm old and maybe it's not as cool as it used to be once upon a time. Either way, it's worth a bite to eat or a delicious cocktail. There aren't any "views" of the city skyline, but it's a decent place to go sans any touristy vibe. Later in the evening, they usually have a DJ and it turns into more of a party scene.
Great for: a chill, evening drink or a night out
Location: LES
Website
9. 230 Fifth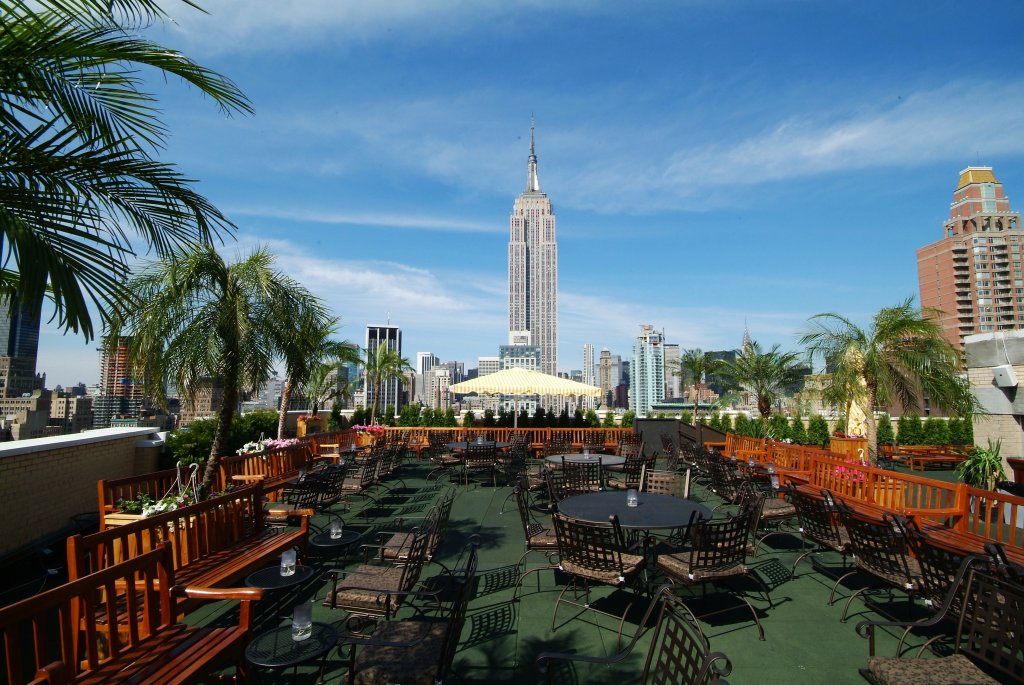 Ok, this is the most touristy rooftop you can ever visit. However, the view is the best with a full-on portrait of the Empire State Building. If I have a friend from out of town, I will take them here. It's a great place to come after work or even during the day. It's pretty big so there's usually space to at least stand, though seating can be harder to come by. They also have good music, but turns into more of a tourist club at night. Not the kind of place I would like to be once the sun goes down.
Great for: an epic view of the Empire State Building
Location: Midtown
Website
 10. The Ides At The Wythe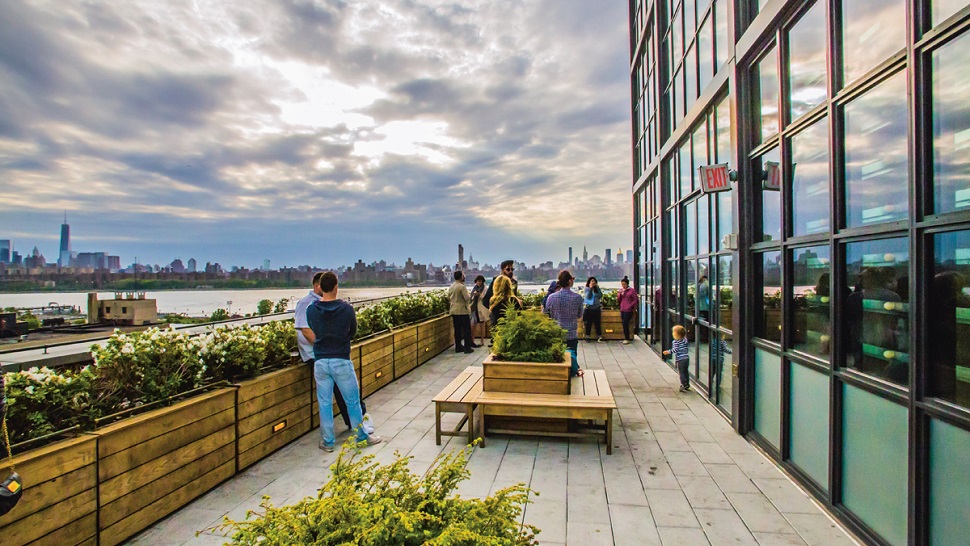 I can deal with pretentious places and people even though I hate it. For some reason though, I really can't deal with this place. I've probably somehow still been about 5 times and each time I'm hoping for a better experience, but sadly it just doesn't happen. First problem: it's almost always closed. What I mean is, it is common for there to be a private event happening. If that is not the case, then there WILL be a long line. No exceptions. It's one of those places that keeps a line going out the door just to look cool, I swear. Once you do go up though, if you make it through the thirty minute wait, please enjoy the priciest cocktails of all. I went when I wasn't drinking and just ordered tonic. It was $8. After you have received your cocktail, there is an insanely gorgeous view of the Manhattan skyline — it's the view you get when you stand by the river, but you're a couple (6 to be exact) floors higher. The vibe is always super stuffy and I have yet to have a "fun" night out here. But hey why not do it for the view! Or if you live nearby.
Great for: pretentious people and a mediocre time
Location: Williamsburg
Website
Well, there you have it! My 10 NYC rooftop bars you need to know about. Anything else you find online from these "best nyc rooftop bar" Google searches is, in my opinion, completely mediocre. For example The Kimberly, Berry Park, Gallow Green, The Roof at Park South, Rare View, Gansevoort Park Avenue, Catch, The Press Lounge, Hotel Americano, etc. I would be okay never going back to any of those places (except Catch or Hotel Americano for a fun party). I totally could have missed some great rooftop bars so let me know! Comment if you've been to any of these and if you agree or disagree with any of my choices!
XO
Note: Some photos are not mine and link to the credit source.