Who isn't obsessed with Paris? As a New Yorker, there is only one city that can be seen as superior and that is Paris. I studied abroad in Paris years ago and looking back, it was magical. It seems to have a je ne sais qui that no other city can match. Though, what I realized is that to me, Paris is best as a memory or a place for a short vacation and not a place for an American girl to live. Only after returning to live in France for almost a month did I remember how hard it can be to communicate knowing very little French and how frustrating of an experience it can be. Selective memory. Kind of like my memories of New York. You tend to forget how dirty and gross these cities actually are and just remember things like Eiffel Tower picnics and nutella crepes. Not to knock living in Paris, I just think it's hard for someone who doesn't speak French or know anyone to get started living in the city.
I traveled to Nice, Monaco, Cannes and Paris, staying in Paris for three weeks. I relearned a lot more about the French culture since I had been there and after having lived there for three weeks, I feel like I really have a good understanding of the city and would love to share my experiences. Overall, Paris felt super safe for me as a (mostly) solo female traveler and I would recommend it for such a trip. Paris is also such a romantic city that I think it could be more fun under those circumstances. I put together this Guide to Paris for the basics of traveling to this city. It's a pretty long overview since I stayed there for so long, and I'm even leaving things out (saving them for another post)! But now you have a lot of options for food and things to do. 🙂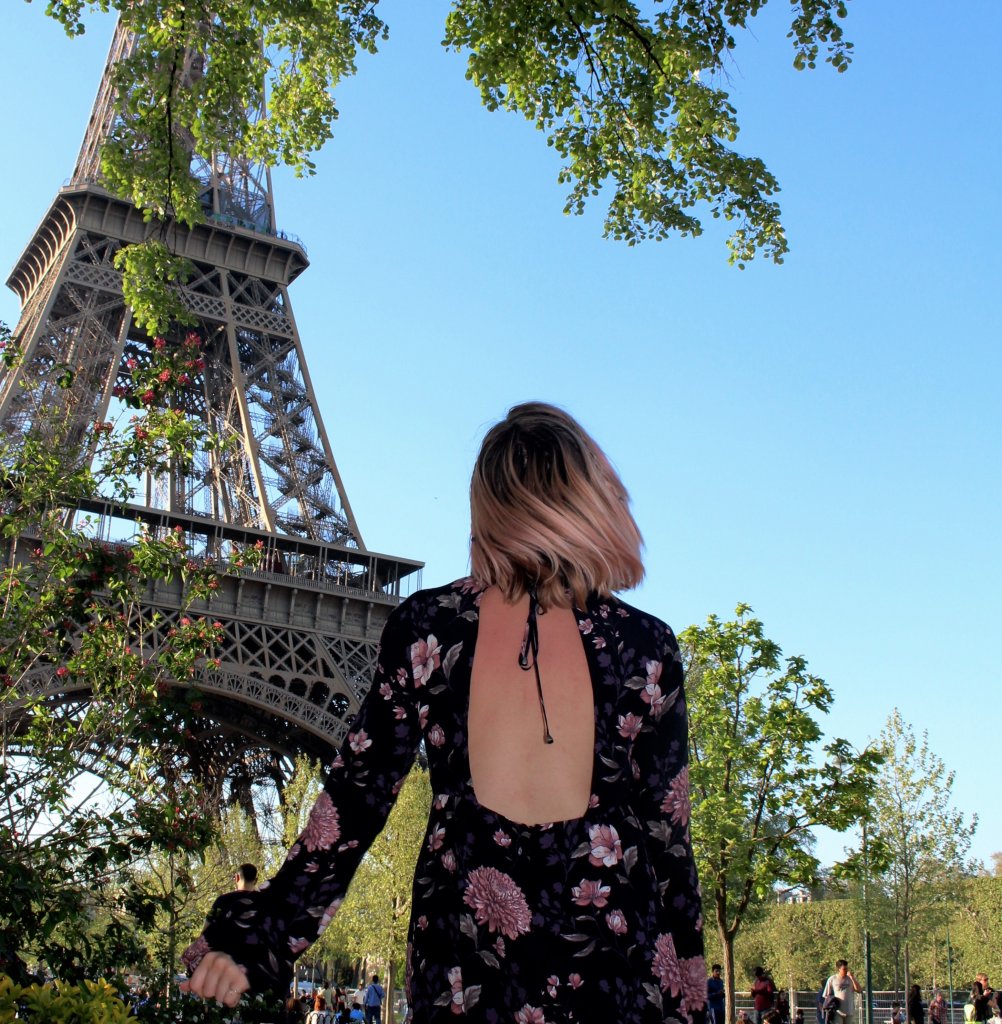 Transportation
Paris has an amazing metro system. The city seems to be so small and it's so quick to get from place to place with the metro. The only thing that seems to always be a bit far out of the way is the Eiffel Tower. It seems like it takes 30-45 minutes to get there along with a transfer, no matter where in the city you are. Then for the times when you just don't feel like taking a metro, you can use Uber which is priced similarly as it is in New York City.
TRANSPORTATION COST: $40 for 3 weeks of taking the subway (approx. 2 euros per ride) and a couple of ubers.
---
Lodging
I had a tough time deciding where I wanted to stay in Paris and asked my friends that were from there every time I found a promising-looking Airbnb. I would highly recommend Airbnb, especially for an extended stay. You may hear people saying "left bank" or "right bank" which basically means which side of the river something is on. Both are great with different vibes. Paris neighborhoods are broken into arrondissements 1-20. Basically, the lower numbers are closer to the city center and are generally the safest areas. This guide really helped me get a complete understanding of each one, though it was a little too overwhelming for what I needed.
6th & 7th (and 5th)
My recommendation is to stay on the left bank in the 6th because of the slightly more homey, less touristy vibe. I just couldn't find something there in my price range. Here, you're close to the Luxembourg Gardens and many great places to shop and eat. I also have a friend that lives in the 7th and it felt super quiet, safe and chic there too. The 5th is a little farther east, but still safe and with a similar vibe as the 6th.
1st & 4th (and 2nd & 3rd)
I actually stayed in the 4th near Centre Pompidou, which was too touristy for my liking, but also super close to shopping and museums. It's right next to the 1st and has the same busy, tourist vibe. Definitely not a homey feeling, but great if you're just there a few days and want to be central to everything. The 2nd and 3rd are north of these slightly farther out of the city, but still great, safe areas to stay. They might even be a little less busy.
8th
I actually really like this part of the right bank near the Arc de Triomphe. It felt so classy and quiet. A little farther removed from the rest of the city, but I would stay here for a longer trip or period of time for sure.
LODGING COST: $1,600 for 3 weeks which is definitely more than I would normally pay for rent, but I wanted my own place in the center of Paris so it was worth it to me. Paris is an expensive city, so don't expect a budget trip here.
---
Food & Drink
I tried all kinds of places to eat while I was here and honestly if I were you, I would kind of do my own thing based on the neighborhood I'm staying in. That being said, there were a few key places that I would definitely go back to!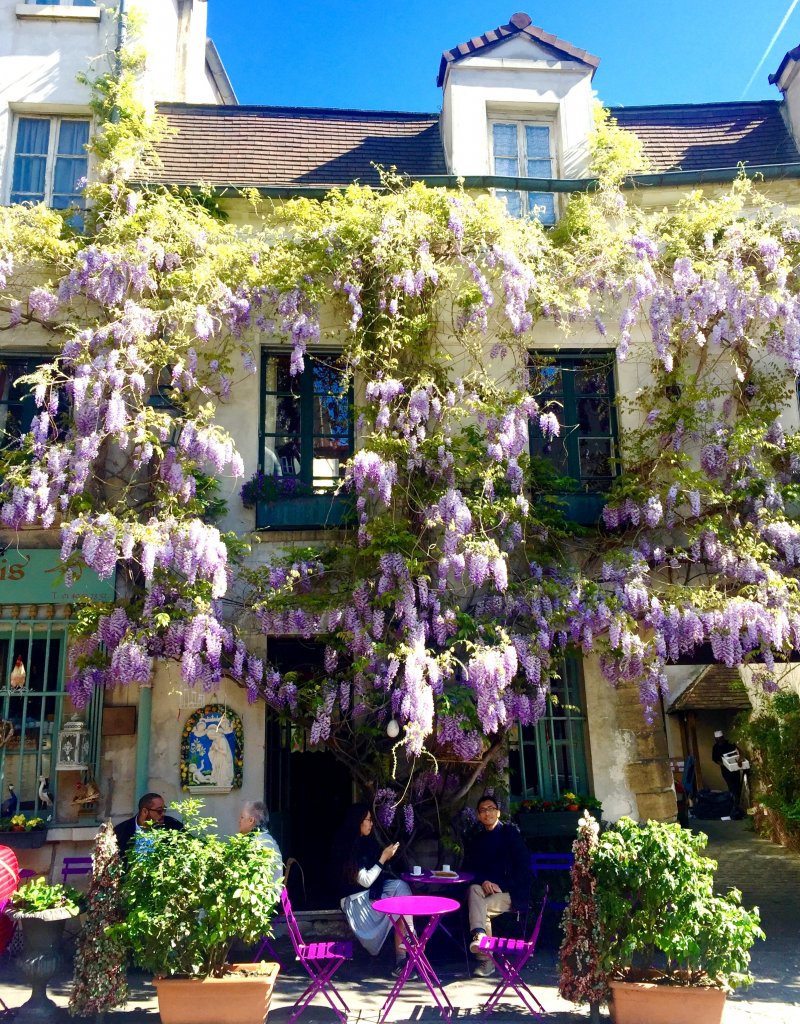 This is my number one place to go in Paris because it is the most beautiful, yet casual restaurant. It is completely covered in flowers. I just sat here drinking a glass of rose enjoying the view for over a hour. This place is pure magic to me and I want to go back here ASAP.
Fresh juices and vegan foods? Check. This place is my yogi-boho dream. I stopped here after my spin class and fell in love. Everything is amazing (and expensive). Try their speciality coffees, like a bulletproof or lavender latte. Their foods, smoothies and juices are great too. The whole ambience feels very LA to me, which I loved. It's always busy, but you can sit down at a cozy communal table to enjoy your freshly prepared food.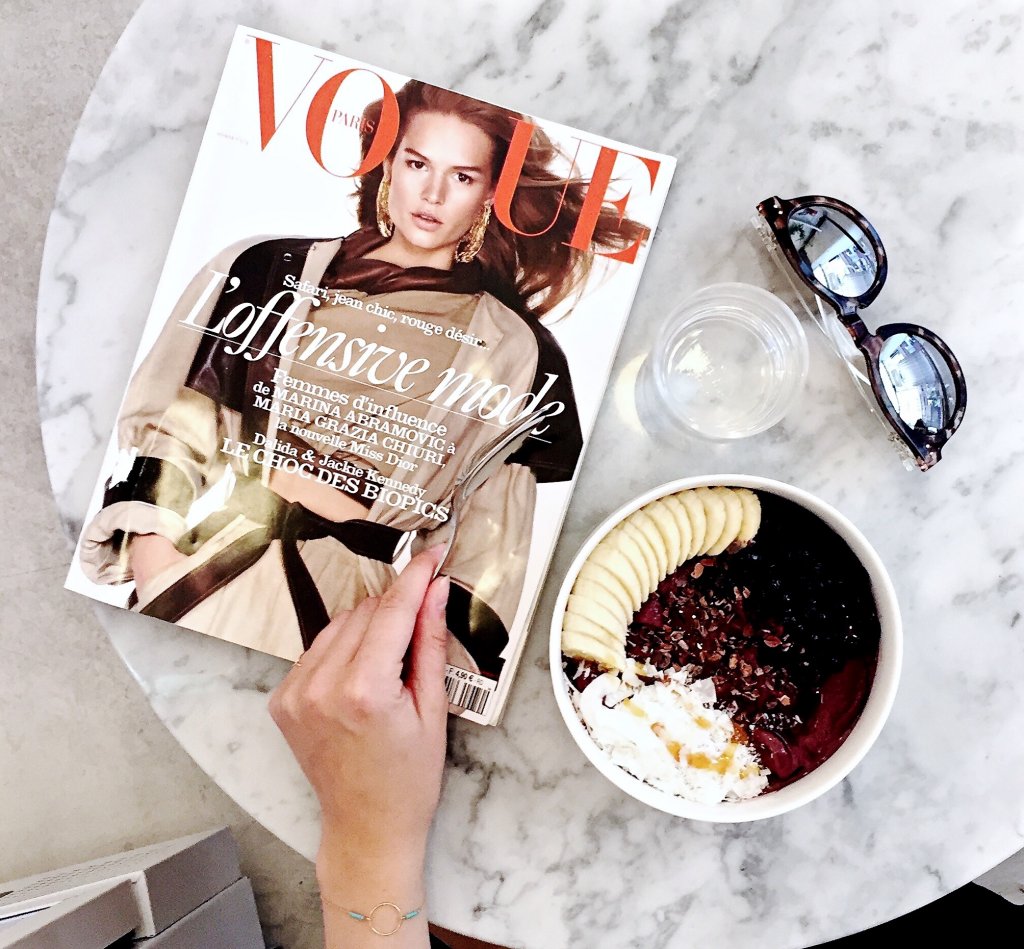 This place had one of the best acai bowls I've ever eaten. It was reasonably priced and so good. They also have juices (of course, judging by the name) if that's what you're looking for. I sat down here for lunch with my bowl and read a magazine in this quiet little cafe.
Ok, is Paris known for their burgers and fries? I don't think so, but this was seriously one of the best burgers I've had anywhere — let alone France. I actually liked this whole area on Rue Leopold Bellan for places to eat. Just walk along here and you will find many different options.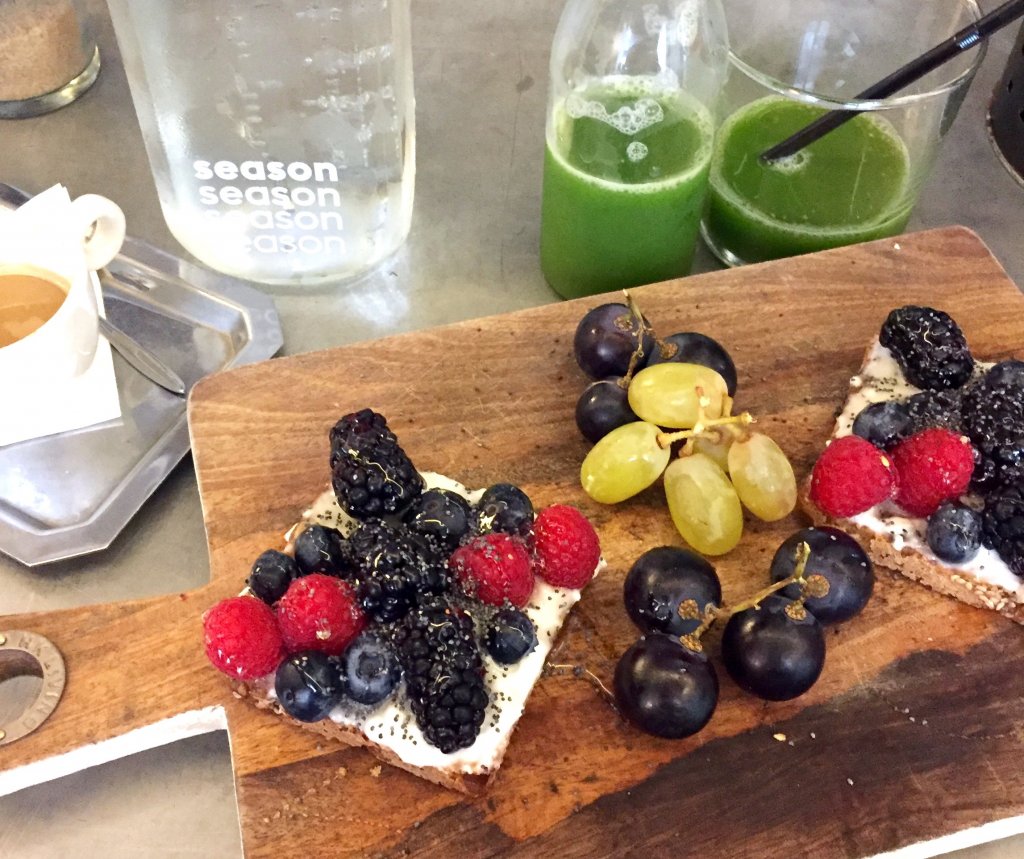 I had the best brunch here. Everything is fresh from avocado toast to juices. It's all gluten-free too. You can't go wrong with a meal from here. I like the minimalistic vibe of the place and it was packed so I'd say that's a testament to how great it is.
I went here the first time I went to Paris and it is hands down the best hot chocolate you will ever taste. It is SUPER rich though so go in knowing that. I never sat down and had hot chocolate, but you can order it to go AND you can order it in a sealed glass container that you can take home with you or gift to someone. It's definitely worth a visit even just for that take-home hot chocolate.
In my opinion, you cannot go to Paris and not stop at Laudureé. It is so cute and classic French. Make sure you go to a location with a restaurant, rather than just the macaron shop. I went to Laudureé Paris Royale for tea and macarons. Go a little earlier in the day to avoid any crowds. (Hint: Pierre Hermé has equally amazing macarons, just no cute place to have tea.)
This place is great for unique and sexy cocktails. There's a New York ECC, but this one is my favorite. They mixologists are like magicians and if you tell them what kind of drinks you like, they can make your own custom drink that is right on point. There were some cute bars on this street that I would also like to check out so if you go here, wander around for more places (or get a burger at Big Fernand up the street first). This bar is even on the "World's Best Bars" list.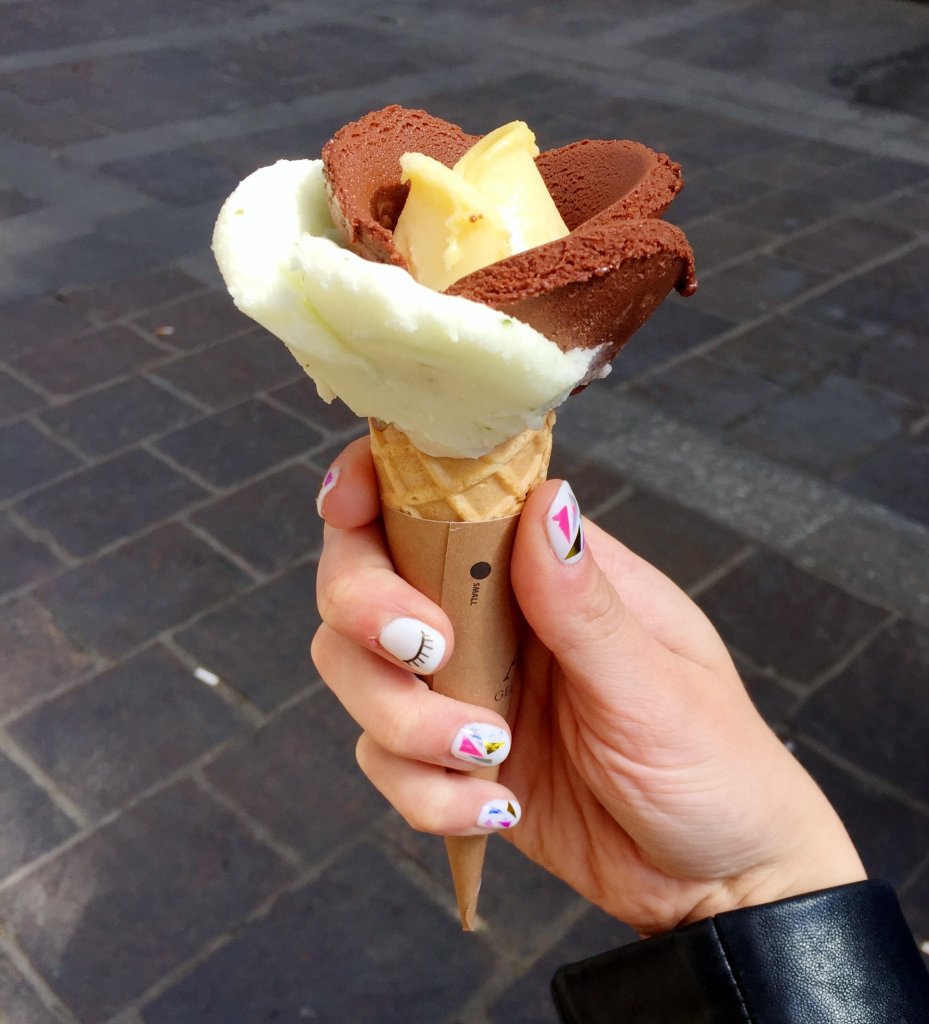 I'm sure anywhere you find gelato in Paris is amazing. I love Amorino though for the way they serve the gelato in a flower shape. It literally takes them a few seconds and it looks so cool! They also give you an unlimited number of flavors so naturally I tried four different ones and they were all equally good. Pretty sure they have it in NYC and other cities too.
I did not eat here only because I did not have time, but my friend that lives in Paris highly recommends it! I walked by and it was so cute, I wish I had time so if you are looking for a cool restaurant, this would be it.
 Any Street Cafe
I mean maybe not ANY street cafe, but what I love about Paris is how casual the French are. Even during the week, you will always see these cafes and restaurants full of the French taking a break from work. They take long lunch breaks involving alcohol. That's something the U.S. could really learn from. I loved just walking around and seeing these cafes with outdoor seating and just basking in the sun with a croque madame, wine and espresso. This is also where I had (surprisingly) tasty foie gras aka snails in butter.
FOOD & DRINK COST: $300 I honestly cannot give you an accurate number for this and it could have been more. I grocery shopped for my breakfasts and lunches, which I ate at home. Overall, the price of food, drinks and eating out in Paris is similar to NYC (slightly above average).
---
Things To Do
I have a pretty extensive list of things I like to do in Paris so I tried to keep the most important things you should do when coming here. Some things are pretty touristy, but hey they're worth it! And in all honesty, most of the city is pretty touristy, but it won't stop you from enjoying these activities!
Picnic At The Eiffel Tower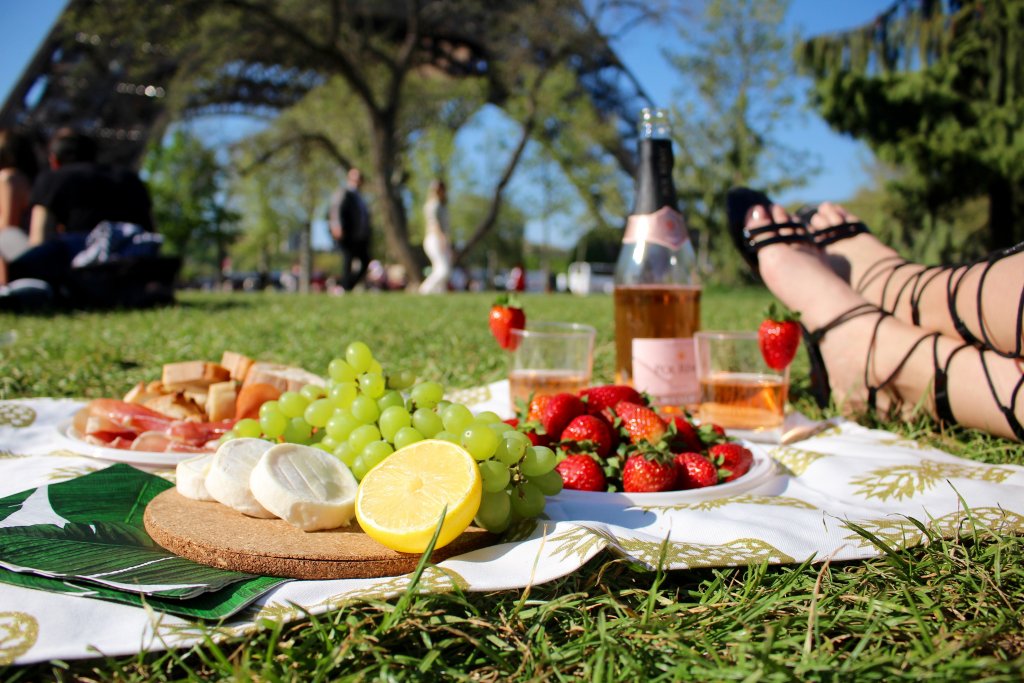 Of course you are going to visit the Eiffel Tower so why not make a cute afternoon picnic out of it?! We had so much fun finding a spot in the lawn and drinking champagne and eating bread, cheese and prosciutto. Definitely a highlight of my trip. I have never been to the top of the Eiffel Tower and I never hear good things about the experience, considering it is a very long wait and the view that you want to see — well you're standing in it.
Sunset At The Basilique du Sacré-Coeur de Montmartre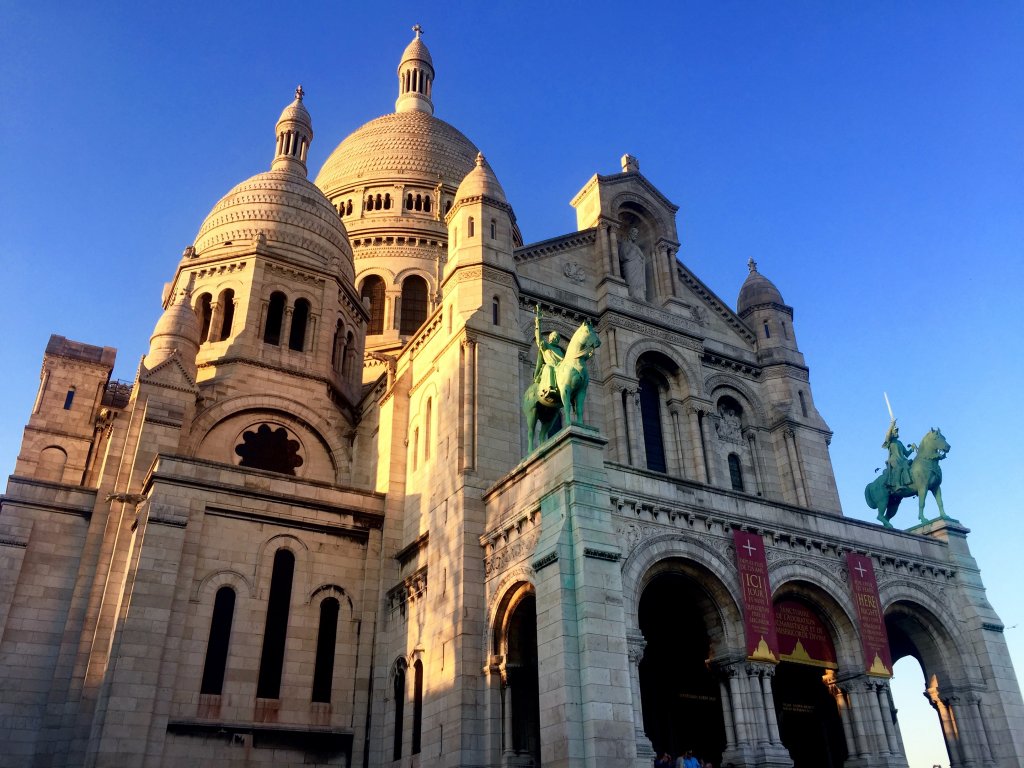 Even if you don't go here for the sunset, you need to come here just to see this beautiful part of Paris. Sitting along the steps with a beer makes for a great evening. People are playing live music and it gets pretty crowded. It can feel a bit touristy and I think it's one of the highest places for pickpocketing though so just be aware. Start in the Montmartre neighborhood and walk your way up! There's an "I Love You" Wall on the way up, covered in the phrase, you guessed it, "I love you" written in every (or maybe 80) language. It's also pretty close to Moulin Rouge if I remember correctly. It's really nothing to see, but if you want to, you should just do these both on the same day.
Go To The Top Of The Arc De Triomphe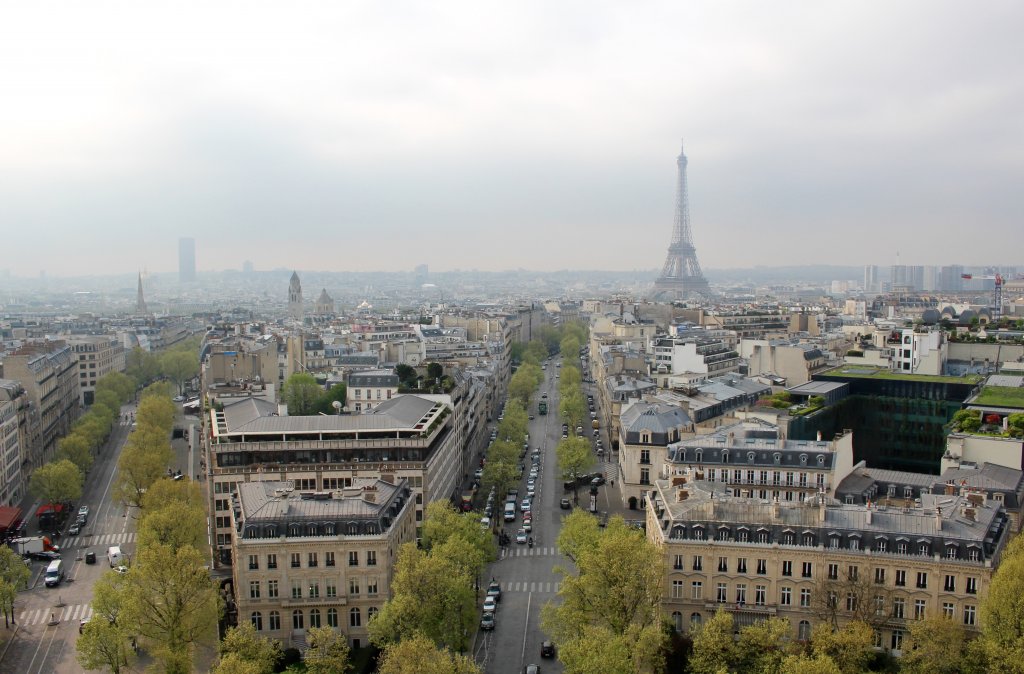 I seem to be naming all of the most common touristic things, but it's because they are worth it! I love the walk down the Champs-Élysées to the Arc de Triomphe. Definitely climb to the top. Though it's an exhausting amount of stairs. It's my favorite view of Paris and I could stay there forever looking out. You can see everything with 360 degree views. Hint: I pre-purchased my ticket and went on a weekday morning to avoid lines.
Visit Shakespeare & Co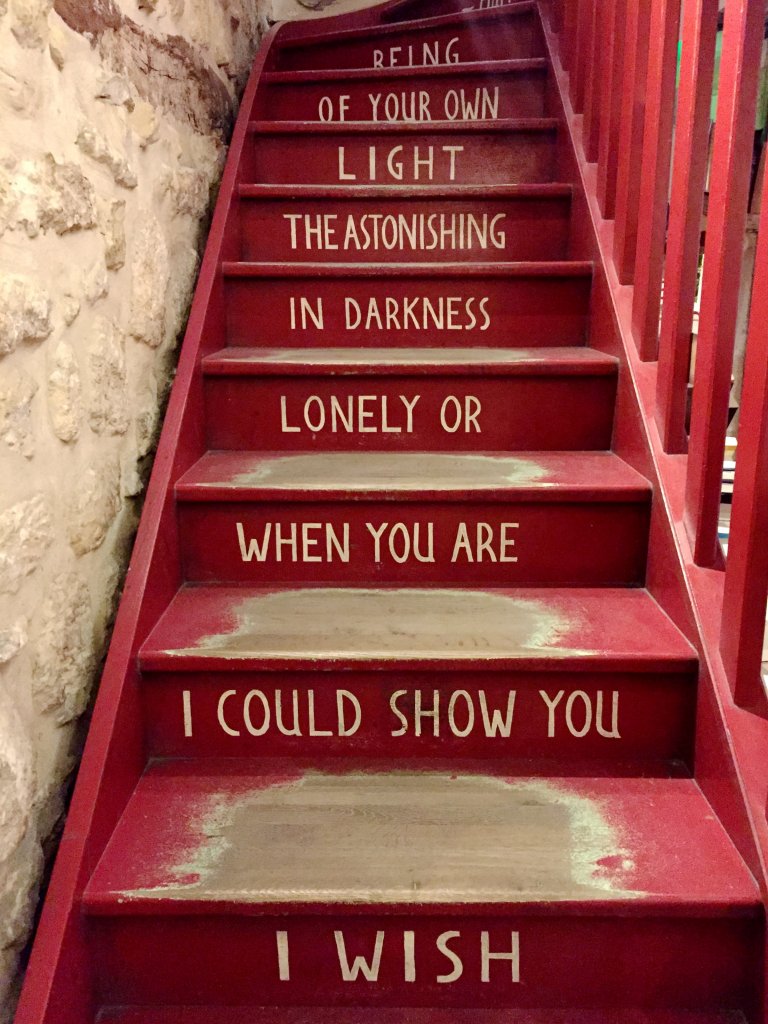 This American bookstore is a sight to see. I went upon recommendation of pretty much everyone I know telling me to do so. I was skeptical at first, but I'm so glad I went! It's on the way to Notre Dame (another place you should go) and my above suggestion Au Vieux Paris d'Arcole. This place makes you feel like you're in a movie. It has two stories with walls filled with books. No photos are allowed, but its one of the cutest spots! I could spend an afternoon reading a book in one of the nooks here. Plus, try to find the sleeping cat that seems to always be there. More info here.
Walk Through Luxembourg Gardens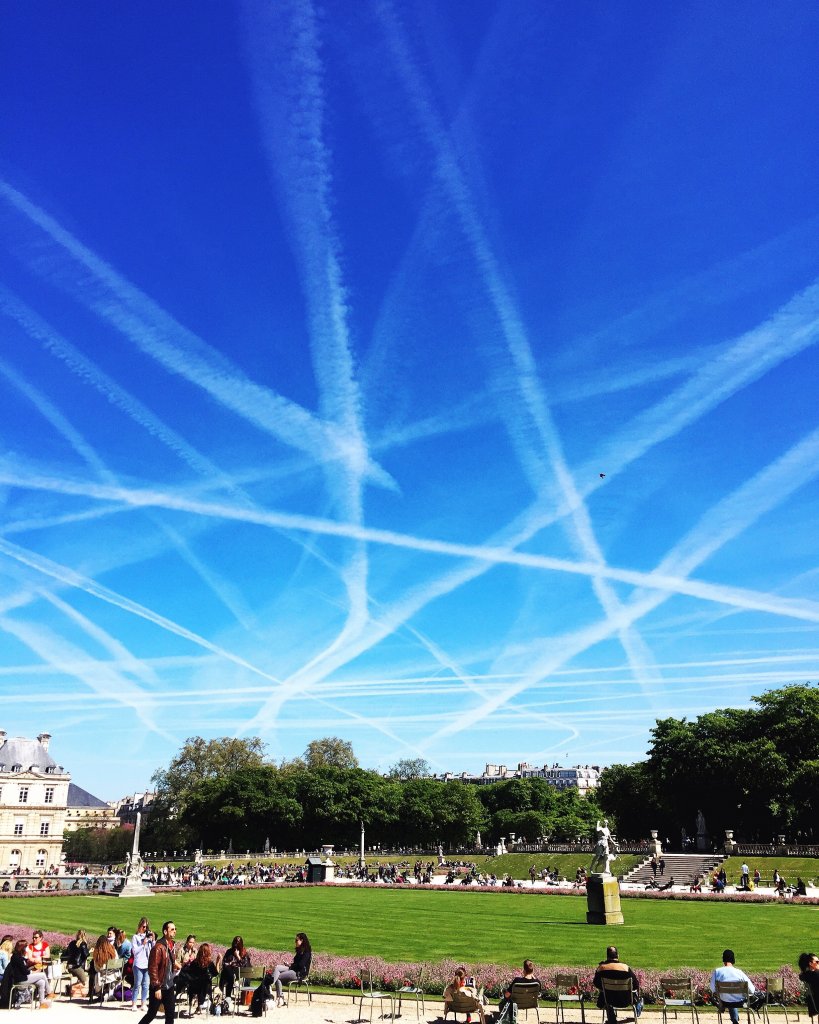 It's like the Central Park of Paris. It's located in the 6th and if you want to keep walking after Shakespeare & Co., you can easily end up here! It's full of flowers and fountains. I come here just to relax in the grass and read a book. It's a beautiful escape in the city that you just must visit.
Visit The Trocadéro
I love this area simply for photos of the Eiffel Tower! It's gorgeous and you can get the not as typical photo of the landmark.  Otherwise, I didn't find too much to do in this area.
Visit The Louvre & Jardin des Tuileries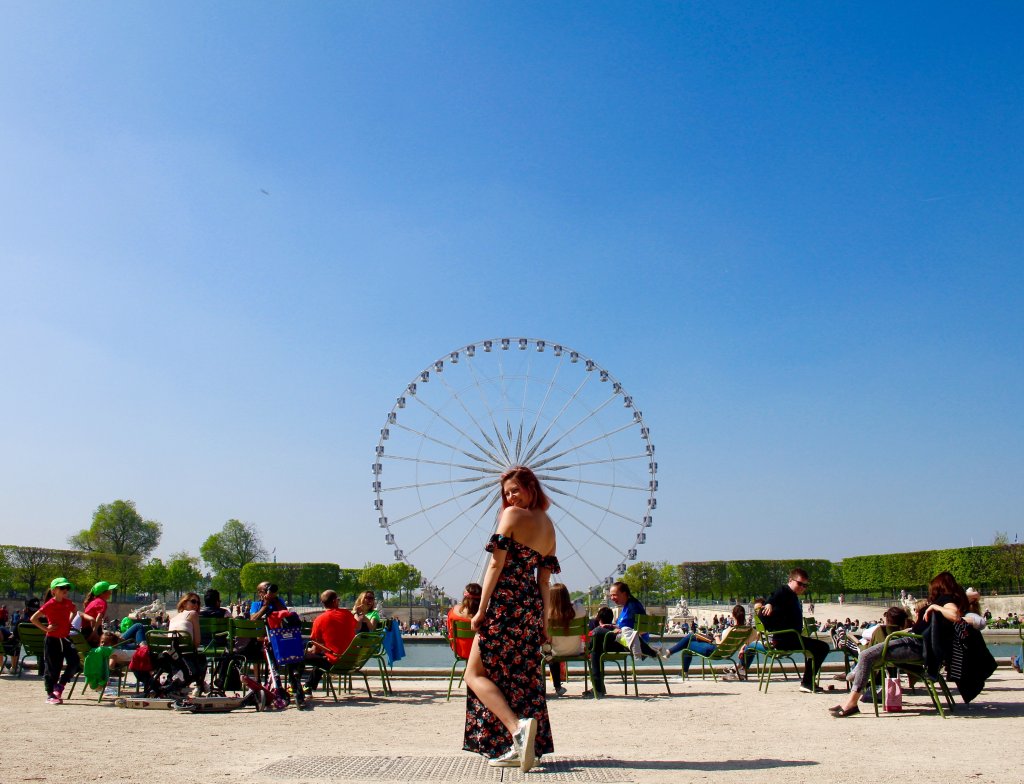 I love this area. Start your day visiting The Louvre (or just stay outside of it and enjoy the beautiful views and landmark) then stroll through the Jardin des Tuileries. Once you get to the end of the garden walkway, there's a ferris wheel and a pond. I love taking photos here!
Go To Museums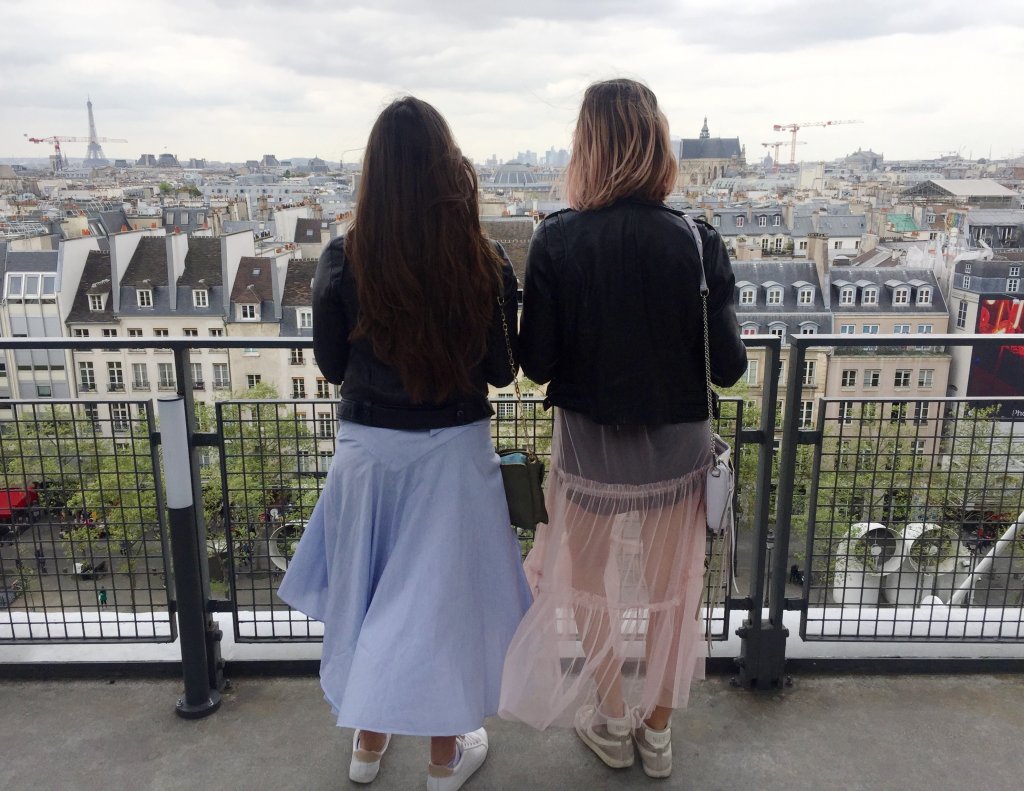 There are so many interesting museums in Paris and you should probably go to all of them if you have time. Most recently I visited Centre Pompidou which is a modern art museum. I always have fun trying to decipher modern art so I really enjoyed it. Plus, the building was super cool and different, with great views (above). You must also go to The Louvre (last suggestion), Musee de Orsay, Musee de l'Orangerie (go see the Monet's Water Lillies painting), Musee Rodin and Musee des Arts Decoratifs. Those are my favorites!
Shopping & Rooftop Drinks At Galleries Lafayette Paris Haussmann
Kill two birds with one stone here! Not only is this the most gorgeous "mall" I have ever been to, but there is a rooftop with spectacular views that you much have a drink at! It's all pretty high end shopping, but I think it's a must-stop.
ACTIVITIES COST: $0 — because I pulled out my student ID at the museums I went to and every thing else was a public landmark. If we're talking shopping cost, well we just won't. I shopped SO much in Paris. That is for another post.
---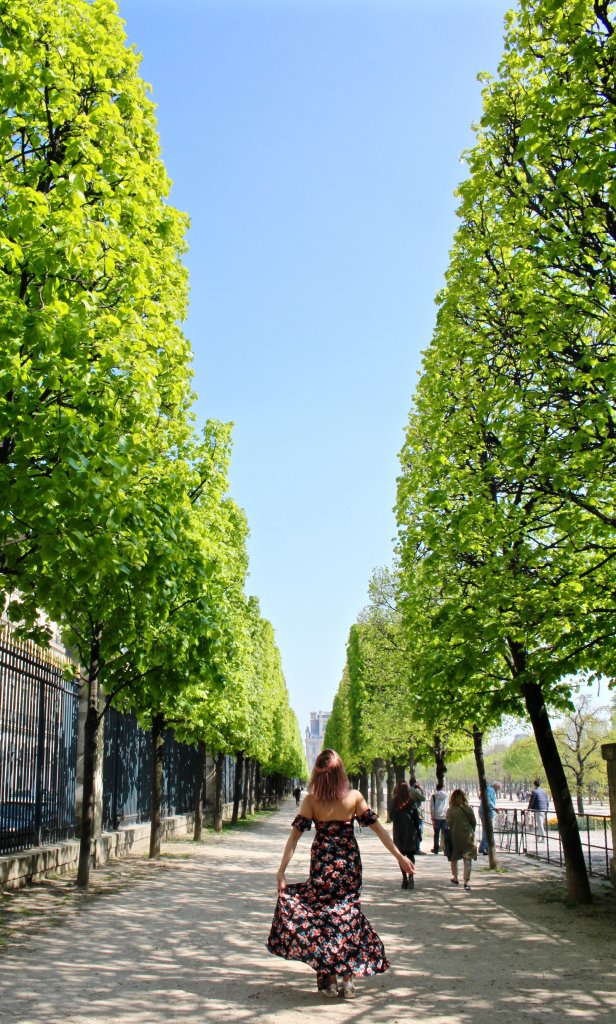 TOTAL TRIP COST: approx. $1940 but again that is not an exact count of what I ate during those 3 weeks. Considering I was there for so long, I think that's a pretty great price, most thanks to Airbnb.
Paris is a beautiful city with so much to discover. Three weeks is a great amount of time to just get the hang of the city and learn a few key French phrases. Have you ever been to Paris? What are some of your favorite places to eat or things to do?
XO