As most of you know, I'm a digital nomad, so I've been living all over. This means I know a few cities quite well, including Miami. Florida is fine, but Miami is where I love to go! If you're curious about other great places to go in Florida, check out this guide, since I'm only discussing my love, Miami. I've spent my past 3 birthdays in this city, if that says anything. Having been there so much, I have my own favorite spots that I want to share with you.
I literally JUST got back from a trip there and I'm even considering living in Miami for a month this coming year thanks to using ForRent.com. In case you haven't heard of it, ForRent is an apartment rental listing service where potential renters can search for professionally managed apartments so you don't get anything sketchy. It's a great, safe site to use if you're moving and looking for a new place. Plus, rent in Miami and the cost of living is pretty affordable compared to the New York and Santa Monica rents I'm used to. Now back to Miami, if you haven't been, you should go now. Keep reading to see if it's the city for you and why you will love it too. Plus, this guide will give you an even better idea of the overall vibe of the city.
Perfect Weather
This is my favorite thing about Miami. The weather is always beautiful. Some days it may rain, but it only lasts for a few minutes. In fact, that's quite normal. It's a super humid heat though, since it's by the water, but I love humidity. It makes you feel cleansed and detoxed to sweat a lot. Seriously. Hate the cold winters of the north? Those are non-existent here. I don't care if it's the middle of the hot Miami summer, I still love the heat more than I hate the cold.  I like that you know you can go swimming any day and not be depending on the weather. Plus, every place is air conditioned so you can easily escape the humidity if it gets to be too much. You can find out more about the weather here, including the fact that they have 295 sunny days a year!!!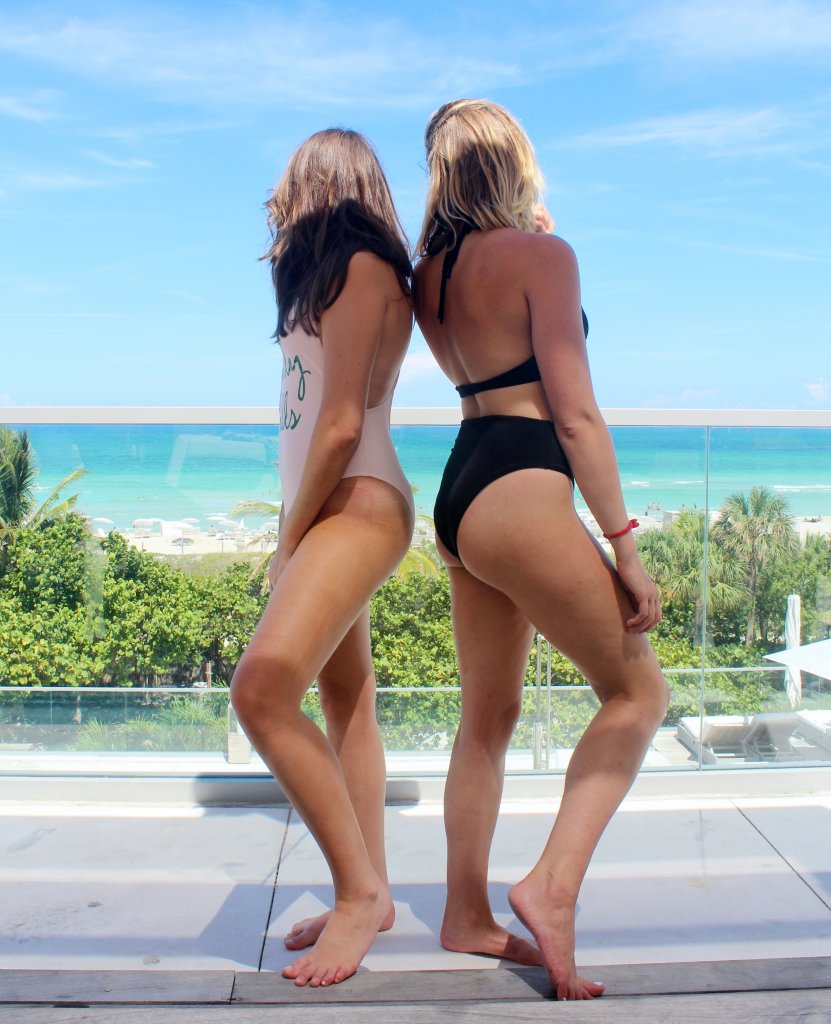 ---
Art & Design
I'm obsessed with fashion and design. Actually I'm a shopaholic, it's true. That being said, I'm always looking for cool places to visit and photograph my new outfits for my blog and Instagram. Miami is THE city for amazing design and cool shots. Ever heard of the neighborhood in Miami called Wynwood? It's my part of the Design District and my new favorite place! The Wynwood Walls commissions artists to paint huge murals and designs. It extends throughout the neighborhood so you can see literally hundred (maybe even thousands) of pieces of artwork just walking along the streets. Look up or down (sidewalk art) and art is EVERYWHERE. How inspiring is that?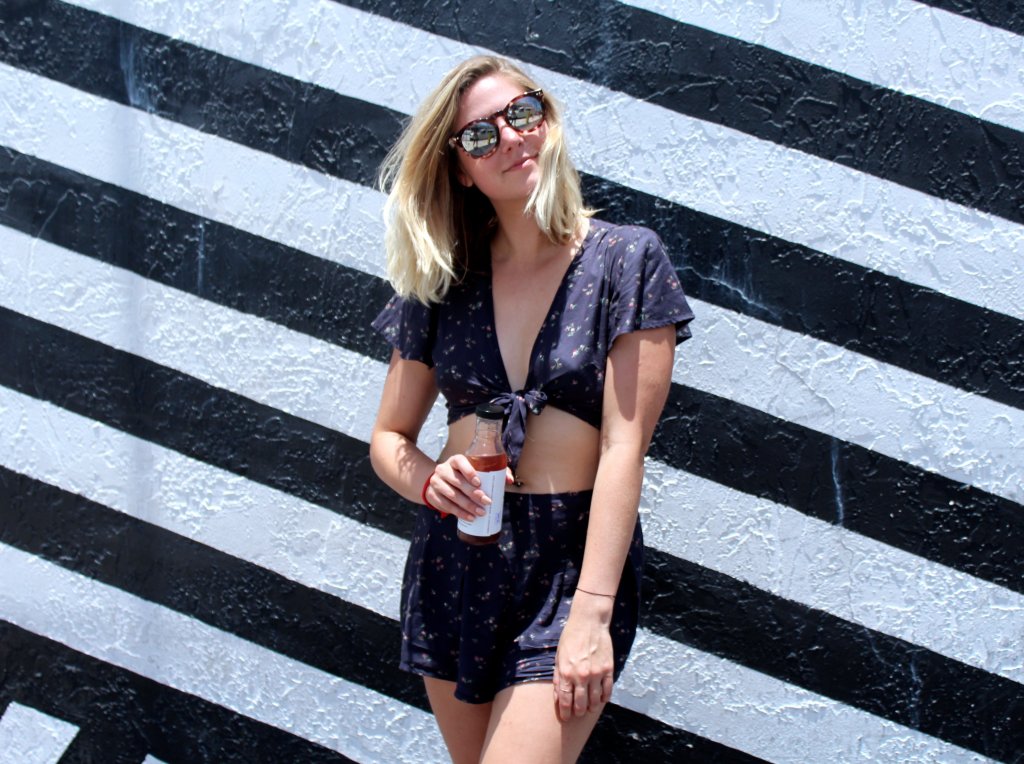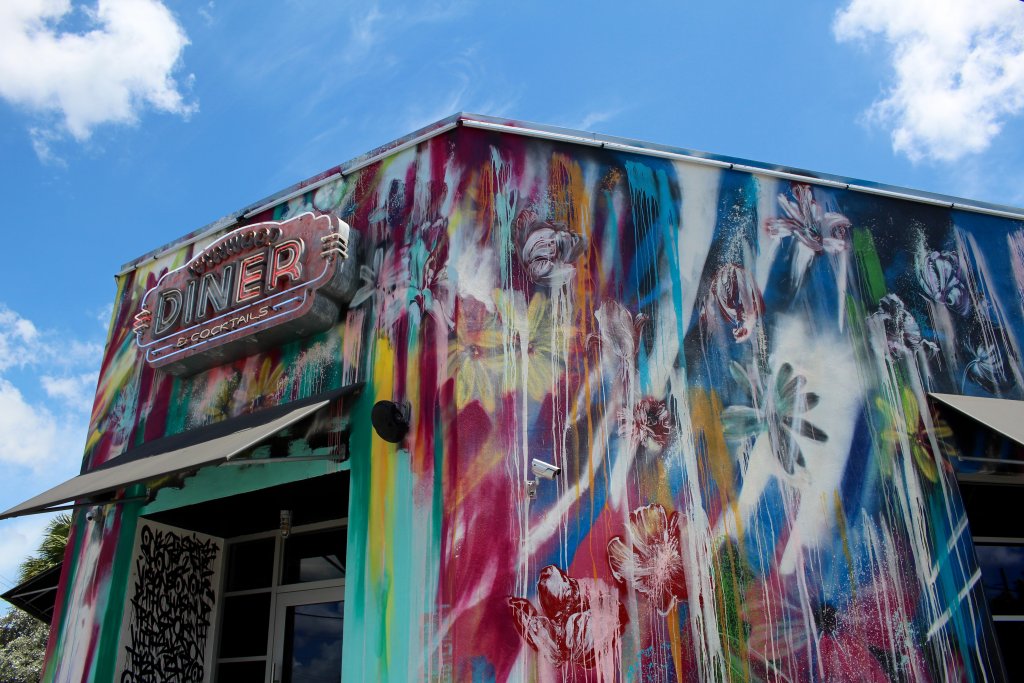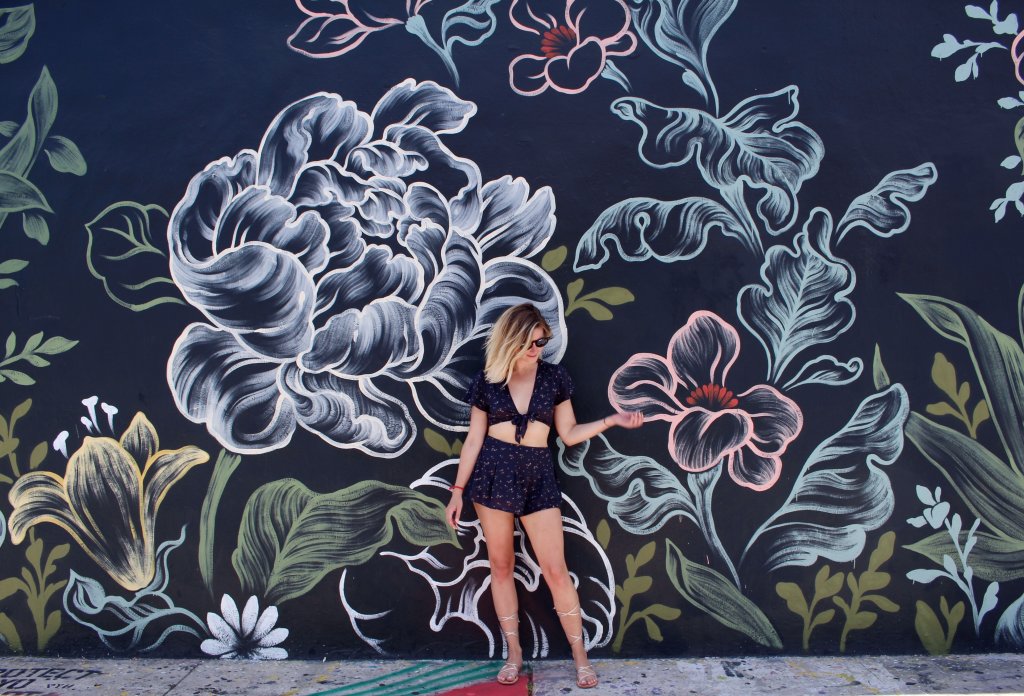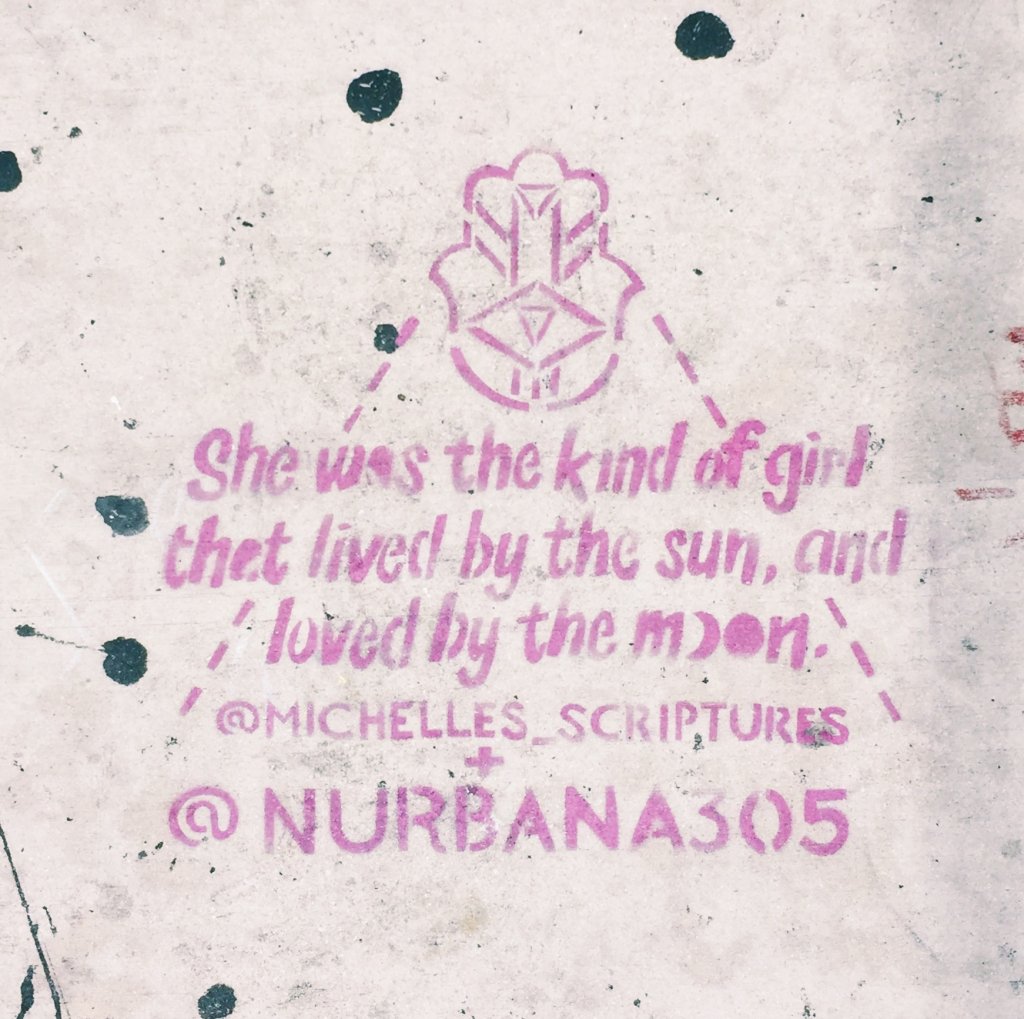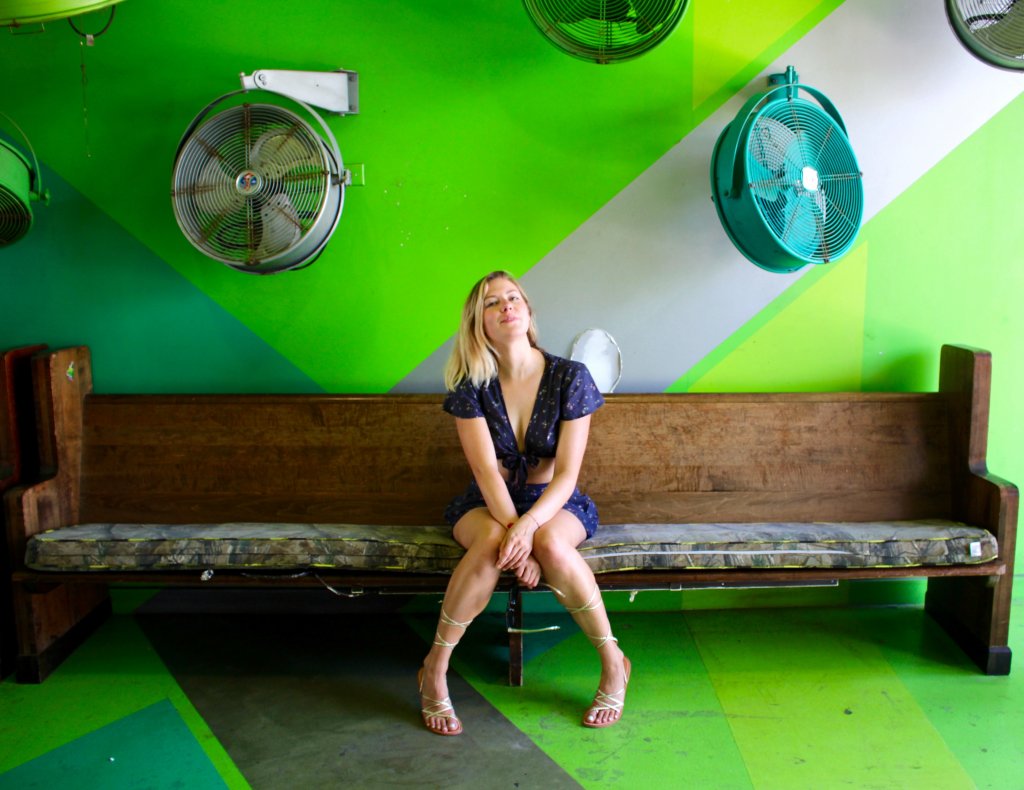 If you want even MORE art in Miami, make sure to attend Art Basel, which I've been dying to go to!!!
---
Gorgeous Beaches
Obviously this cannot be left off. I'm an avid beachgoer. Even when I lived in New York City, I went to the beach all the time whether it was Long Island, The Hamptons, Montauk or Coney Island. Some beaches are (much) nicer than others, but Miami Beach is my FAVORITE United States beach. The water is so warm it's like bath water. Just walk right in and you don't even need the five minutes of adaption time to get used to it. The joy of this beach doesn't stop there. The sands are white and clean and the water is SO blue and clear. It's like you're on a tropical island, but nope, it's Miami Beach. I could stay out there all day.
Plus, along with the beaches are amazing hotels with restaurants and pools you can visit! Here are some of my favorite places to go to while I'm there.
This view is unbeatable and the rooftop pool is open to the public. Or you can be like me and sneak into the 5th floor locals-only pool.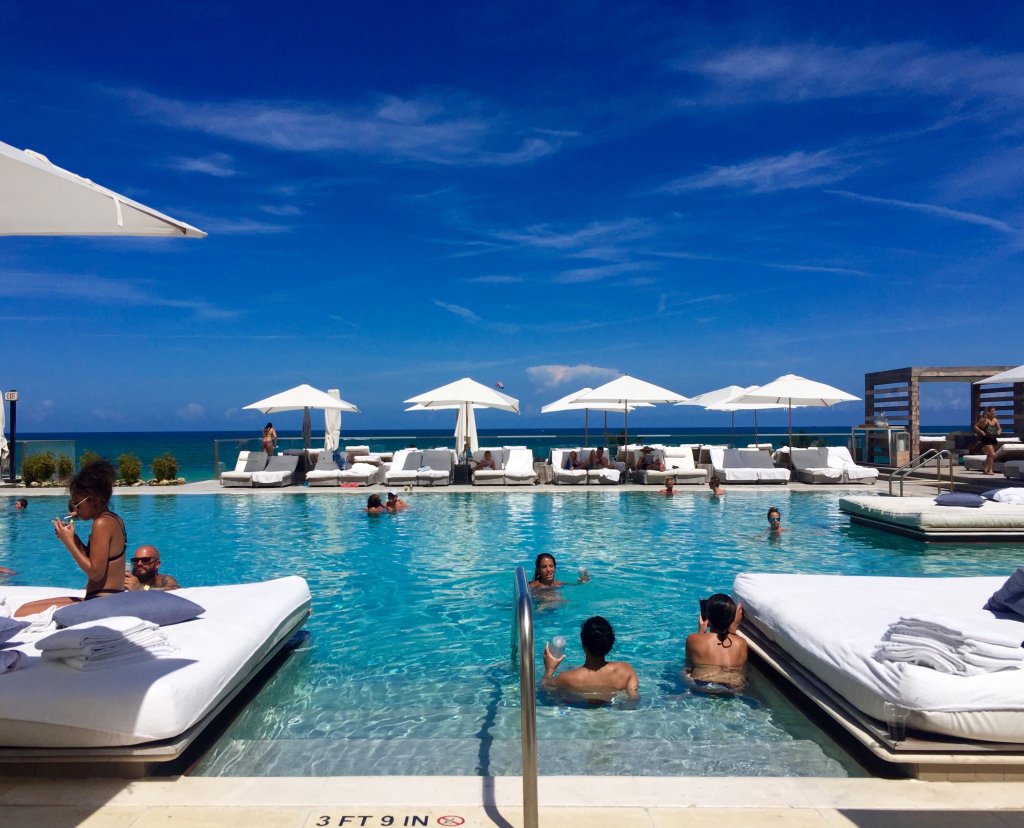 I went here for a birthday lunch and it was a tropical oasis. The food was amazing and the ambience was so calm and relaxing. It's worth a visit to see how beautiful it is.
This place is GORGEOUS. Want a beautiful pool session? Stop by here even if its just to admire the design.
---
Water Activities
This is kind of related to the last one, but if you like water sports, this is the place for you. I love stand up paddle boarding and there are so many places you can rent (or buy) them from. It's also fun to rent a jetski or just take a ride in a boat (or yacht if you're lucky). I also tried parasailing for the first time ever here. It's the perfect place to do it because of the stunning blue water and miles of beaches you can see. I even saw a dolphin when I was up there!
Ok it's sounds weird that this is listed under water activities, but they have the best stand up paddle boarding! The instructor they have is amazing and you can even do yoga on them. Plus, I had to point this place out because you just need to go there in general. It's an oasis. I've never been to rehab, but this is what I can imagine a rehab center would be like. They have full-body mud masks, massages, yoga classes, you name it. You can just buy a day pass here and enjoy all of the amenities too.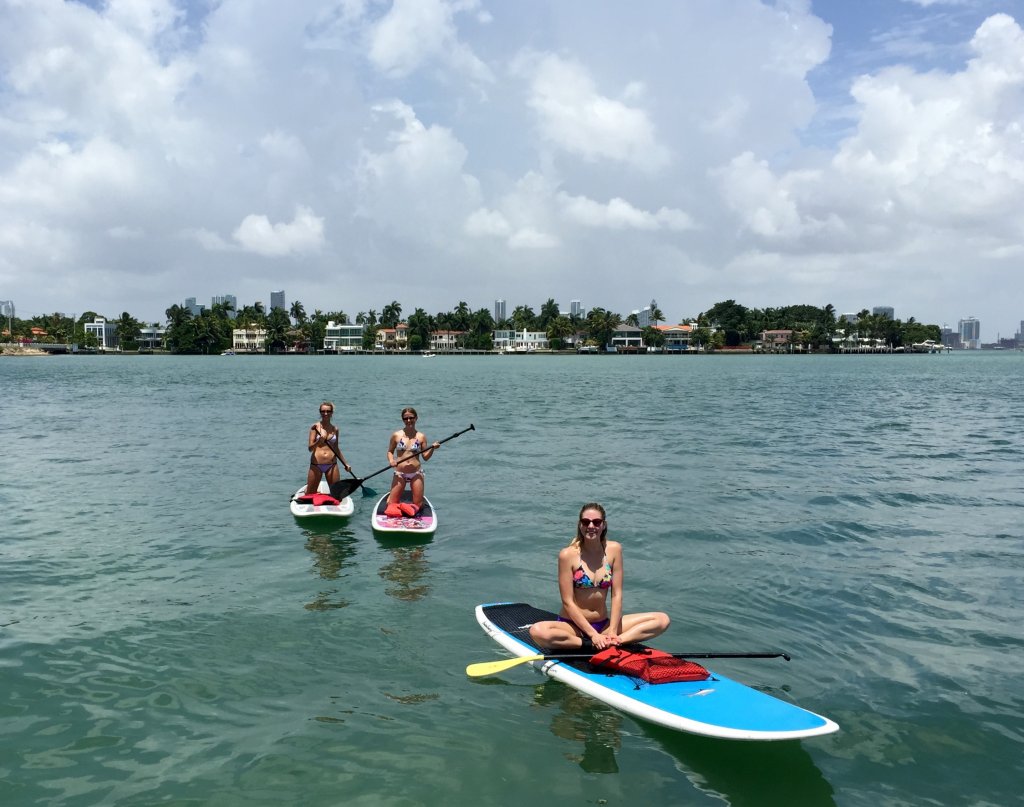 ---
Unique Culture
There are so many different neighborhoods and ways to experience the culture here. It's loud, bright and fun and you can really feel the Latin influence. Go to the Design District (like I spoke about above) or to Little Havana for a taste of Miami's Cuban-American culture. The food there is amazing! I just love how friendly the people. I've heard mixed experiences on this, but then again compared to New York City, everyone is nice.
There's also a lot of great shopping areas in Miami. I usually stick to the shops on Collins and get lost in the chain stores and boutiques for hours. And if you want more nature, check out the Everglades National Park. There's even more cultural things to do throughout the city in this guide here!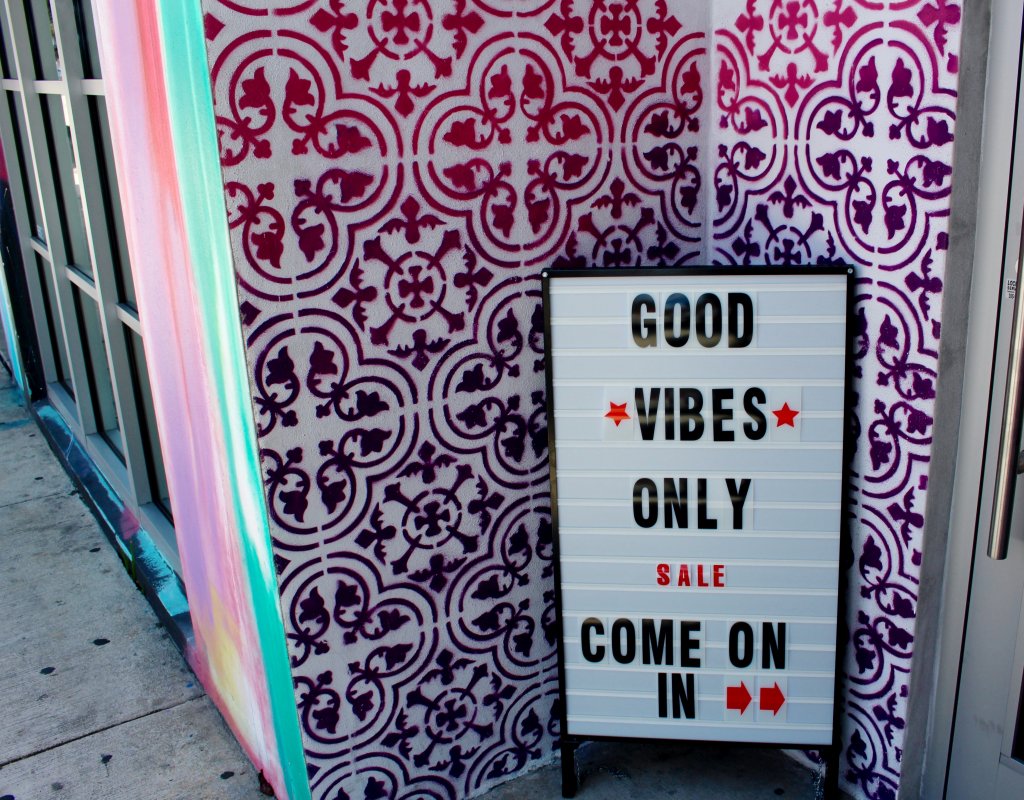 ---
Music & Parties
Ever heard of a little thing called Miami Music Week or Ultra? They already have the 2018 dates up! These are huge music festivals held in Miami in the spring. Huge artists perform here and in Miami all year round. If you're into djs and house music, this is the place to be. It's really appreciated here and there are many day and night clubs that feature huge artists.
This is the one day pool party you cannot miss when you come here. It's only on Sundays and you can't have a bad time. It's like you're in Vegas though so be warned. Bachelor and bachelorette parties flood this place, but that makes it even more fun.
This is the nicest nightclub in Miami hands down and they always have great, well-known djs.
There are so many other great clubs here too like Story and E11even. Just find a promoter on the beach or on social media and you're all set!
---
Great Food & Drinks
Ok Miami may not be known for it's great food, but they have so many cool and trendy places, that I wanted to put it on the list. Juices? Tacos? Trendy beach clubs? Check, check, check. They have it all.
This place is in a bunch of major cities, but this Miami Beach one is so cute! It's right on the water and with their Rose Saturdays, complete with a dj, it's the place to be. Once you're done eating (with your toes in the sand), you can relax in a cabana or in these cute chairs!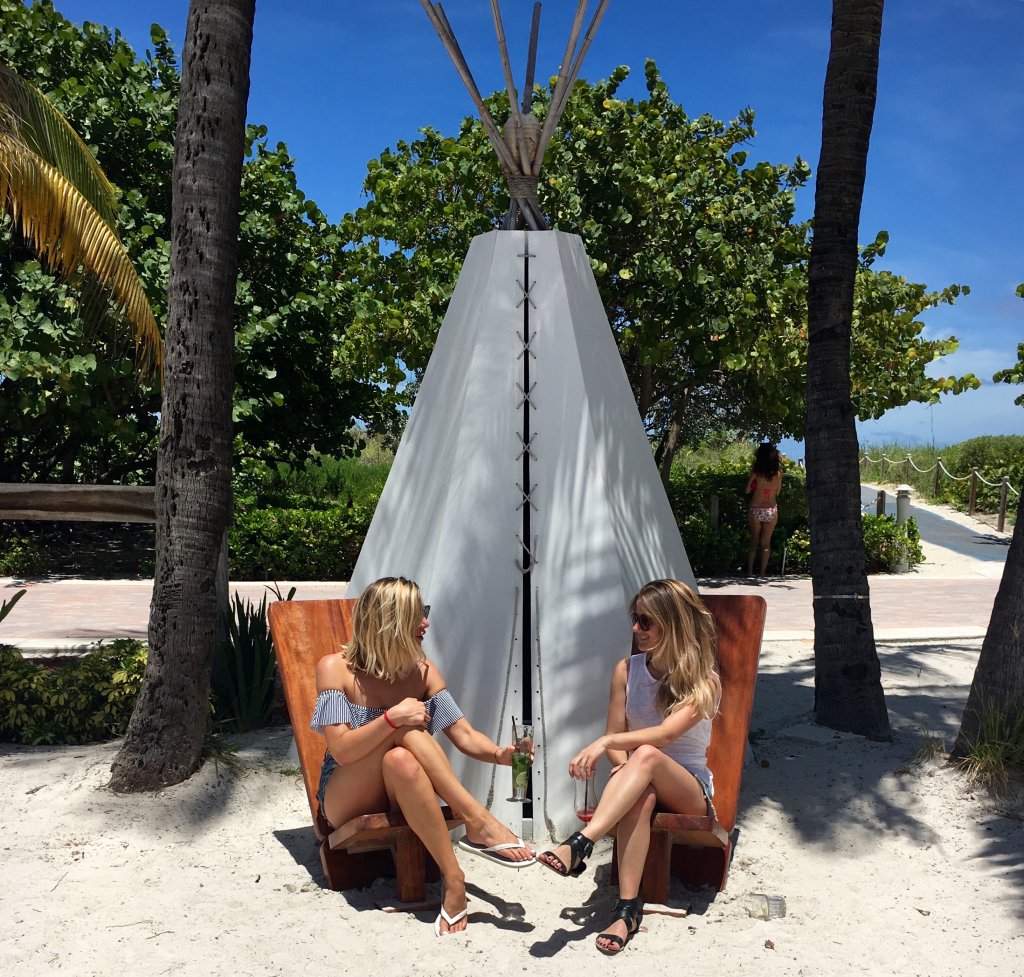 Want amazing tacos in an old food truck turned restaurant? This is the place, right in South Beach. It's so lit, it has its own Snapchat filter! Plus, if you go through the "bathroom" door, it takes you to a HUGE, hopping bar that you need to at least experience.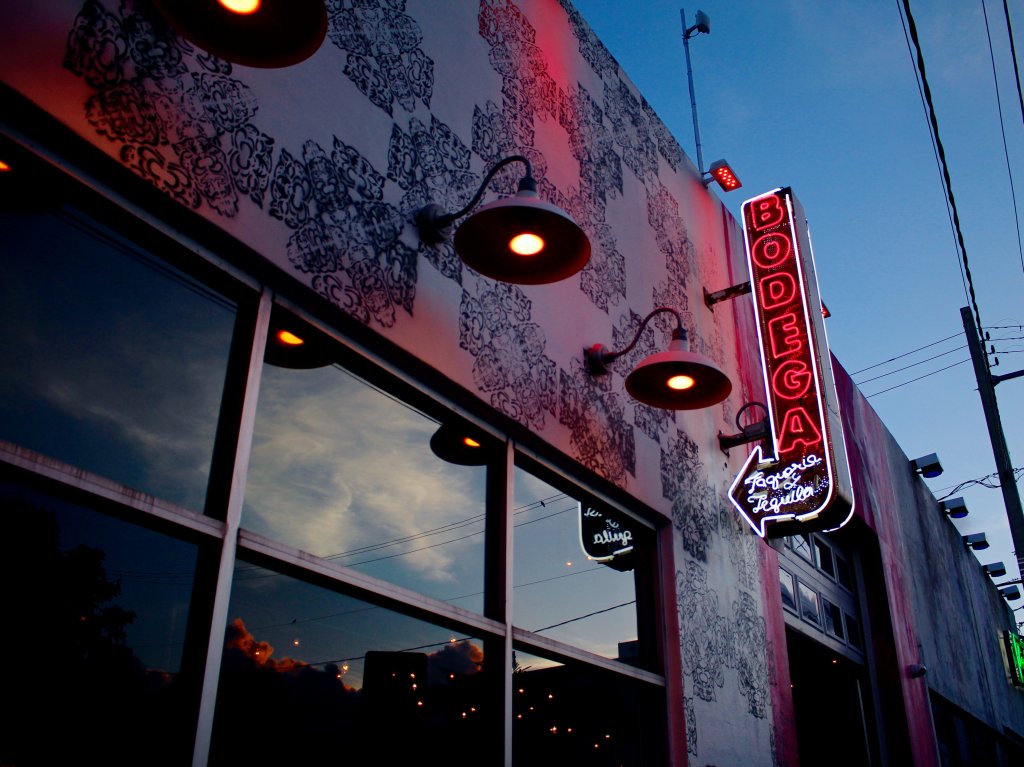 Talk about the freshest food in Florida. Seriously. It's right in the heart of South Beach and tastes like it was all JUST grown, picked and thrown into your salad or sandwich. I suggested the Exotic Salad to the lady next to me, explaining that it was the BEST salad I've ever had. She got it and said I was right. So go here for the "best" salad you've ever had. Plus, it's an outdoor bar-type seating with mist sprays in case it gets too hot. Their juices are delicious too.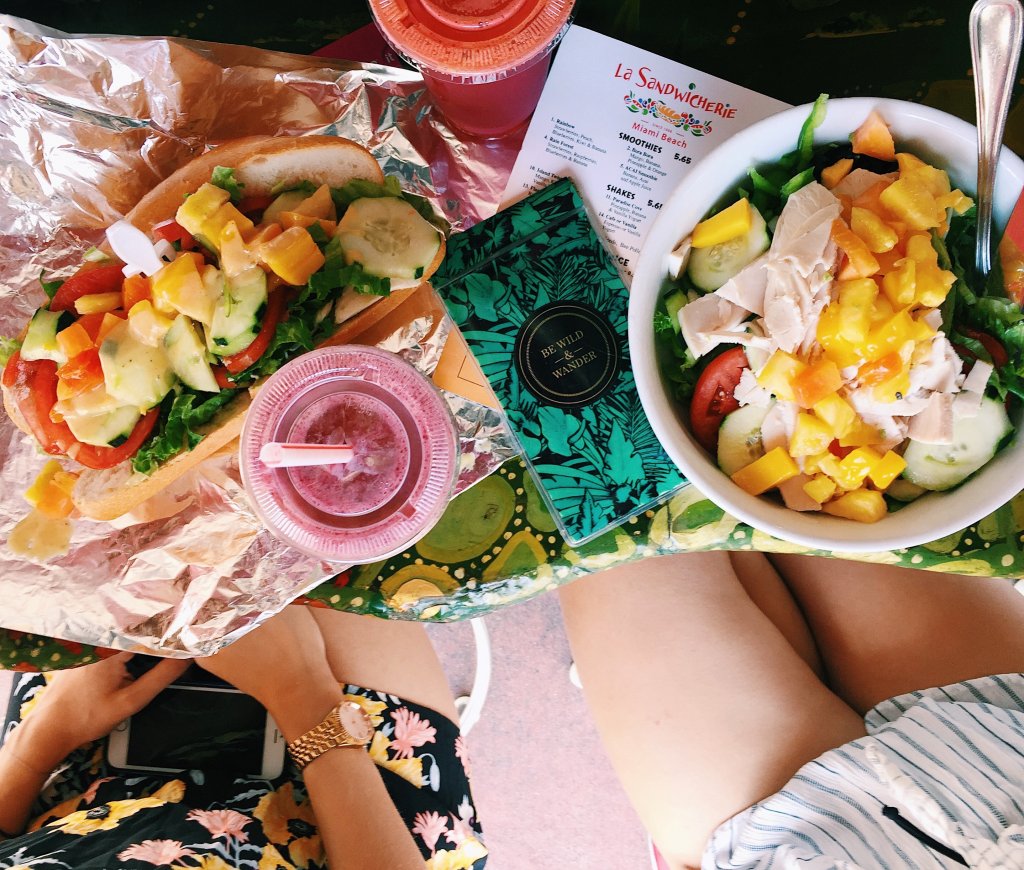 This is in the Design District, amongst Wynwood Walls. It literally looks like a garden oasis. I stopped in just because the venue was so tropical and enticing. Turns out, these are the best mojitos in Miami, complete with a stick of sugar cane. Chew on these and you'll never be the same. My girl Paige introduced me to so many of these great places in Wynwood since she lives here! Check out the video she made of our trip!!!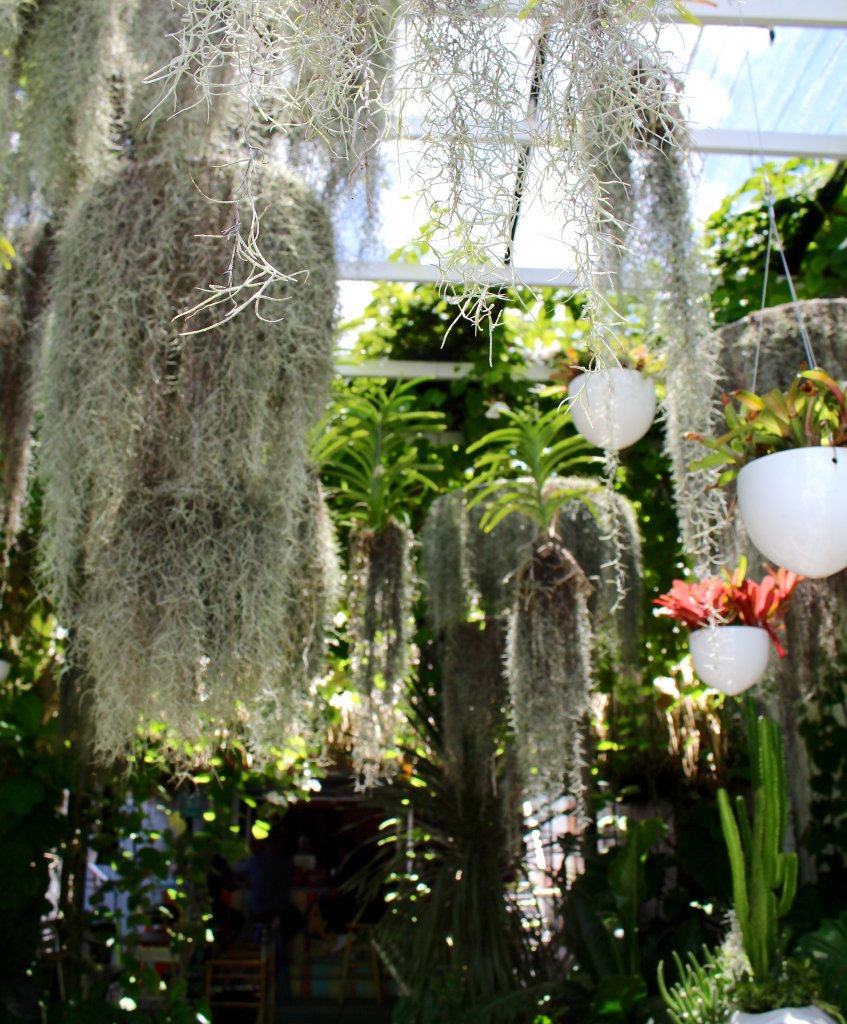 This place is a great coffee shop in Wynwood (yes, I intentionally left off the "i").
I never made it here because they are closed on Monday's (TAKE NOTE), but EVERYONE had the best things to say about it, even my uber driver.
---
Getting Around
You can Uber, drive a car or my personal favorite, rent a Citi Bike in Miami. My friends and I get the 24 hour unlimited ride pass and we just bike everywhere. You can find docking stations every few blocks so it will almost always take you right where you need to go. Plus, who doesn't love to ride on a bike and be outdoors as much as possible, especially in such a gorgeous city!?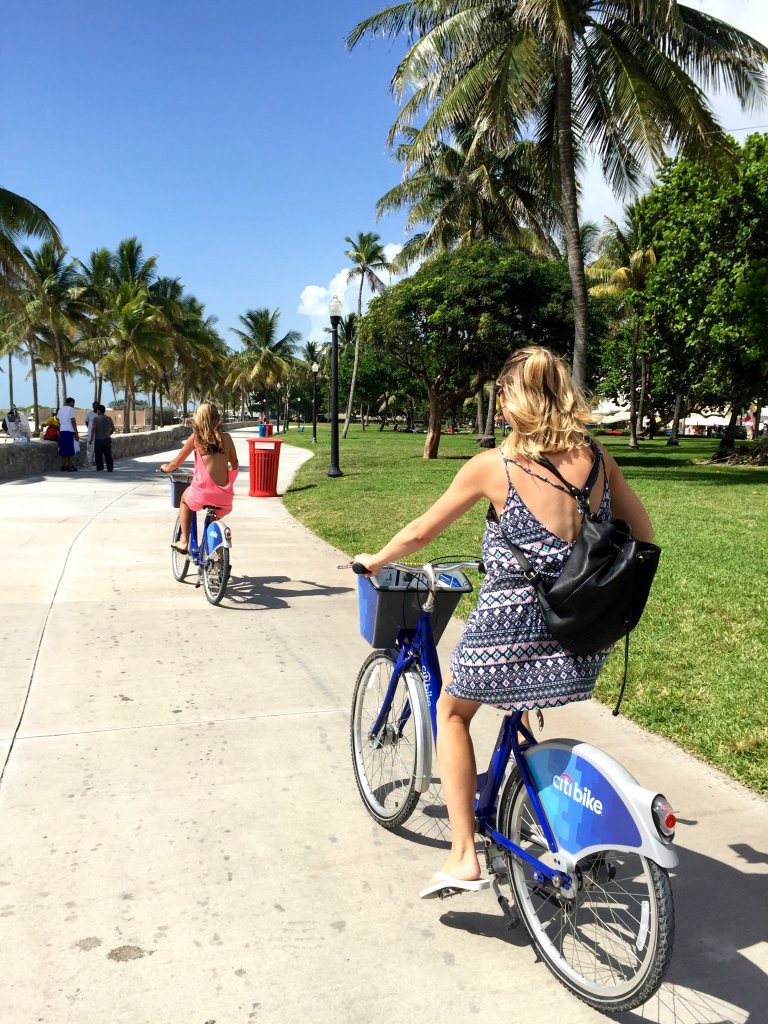 No matter what your preference, party or beach, relaxing or wild, you will find a vibe that matches yours in Miami. I've spent some totally relaxing times here, while other trips were so filled with activities. If you're finally sick of those New York winters (like me), it's time to consider a place like Miami to live! I actually can't even explain enough my love for this place. Who is with me and is ready to start living in Miami?
Check out the full city guide here for more info on Miami and moving there!
XO