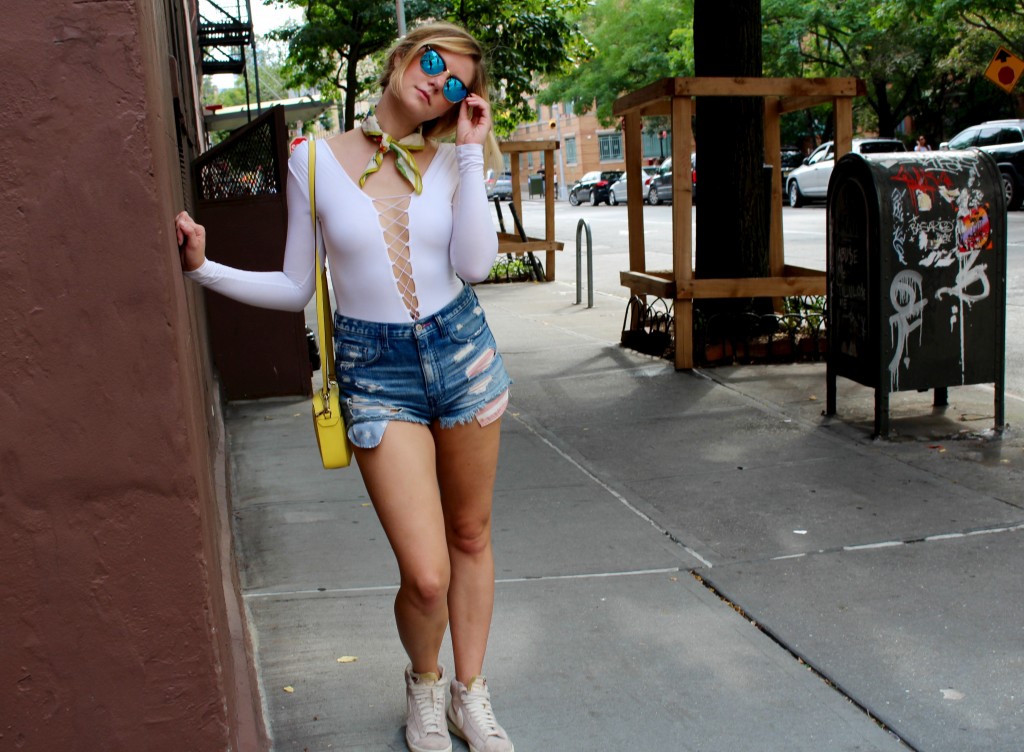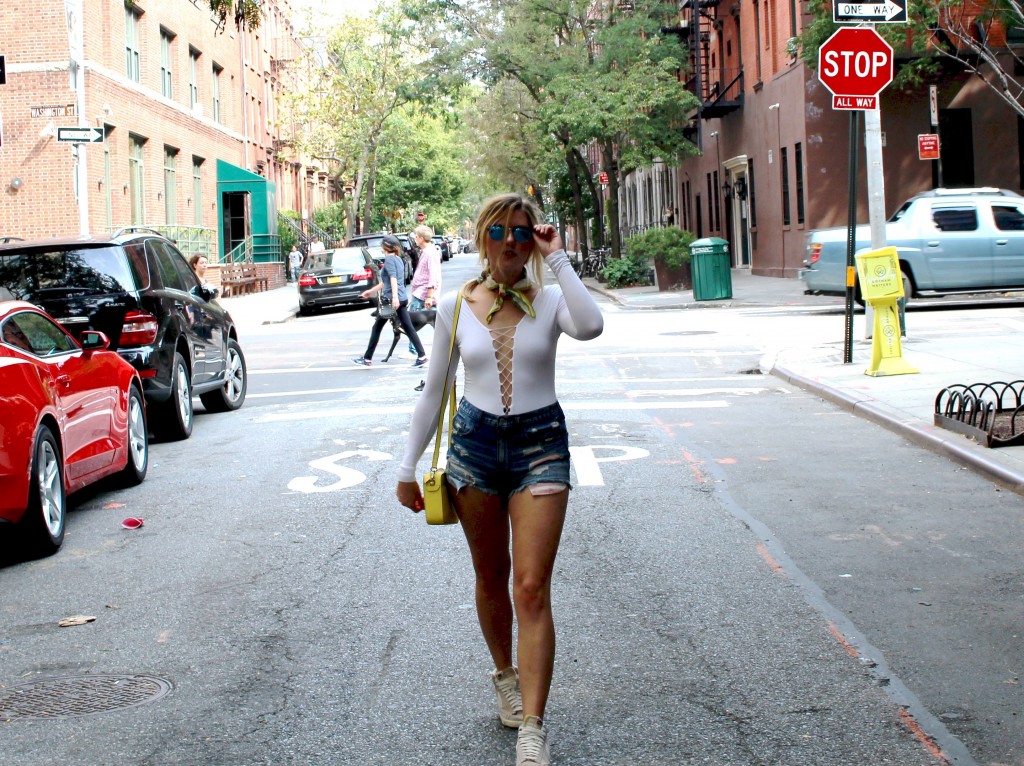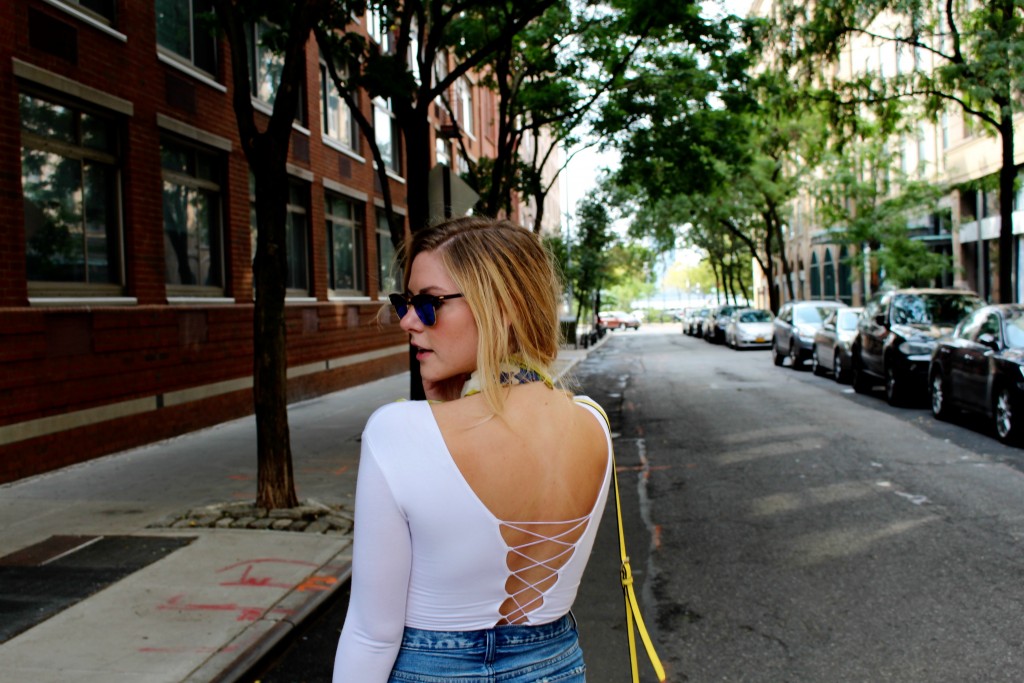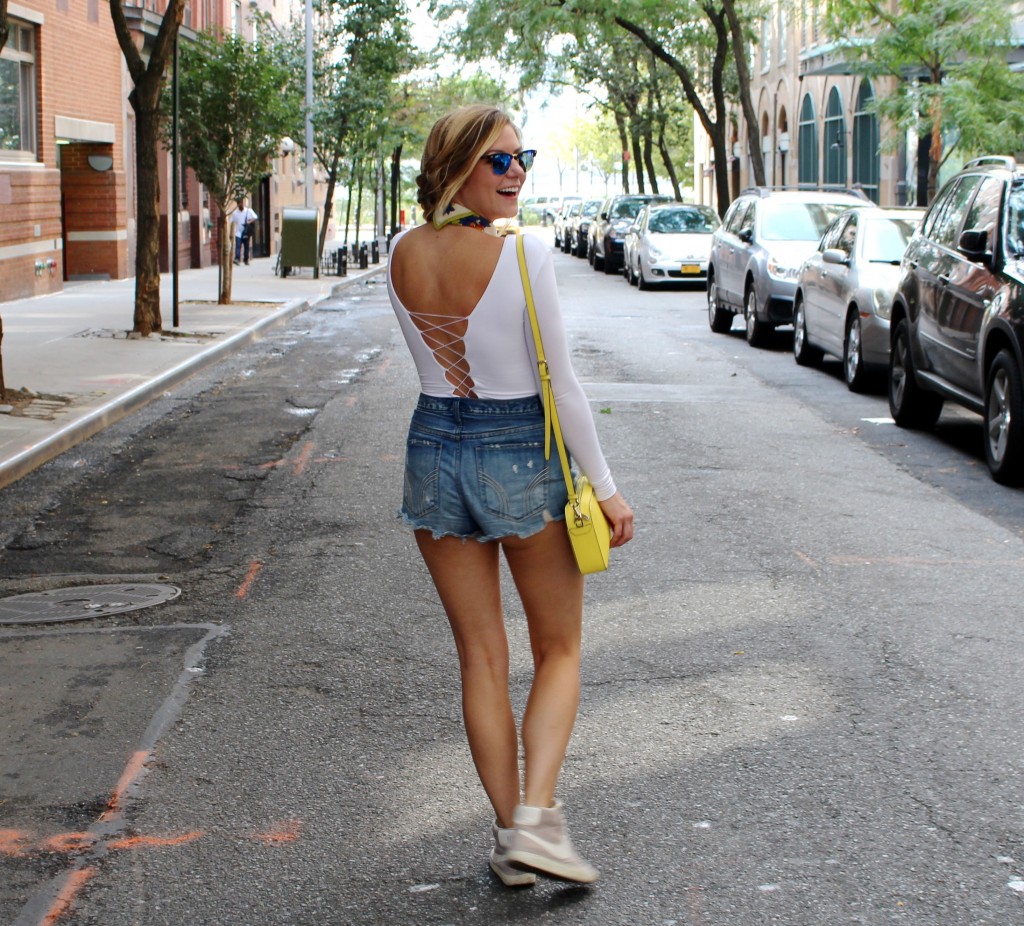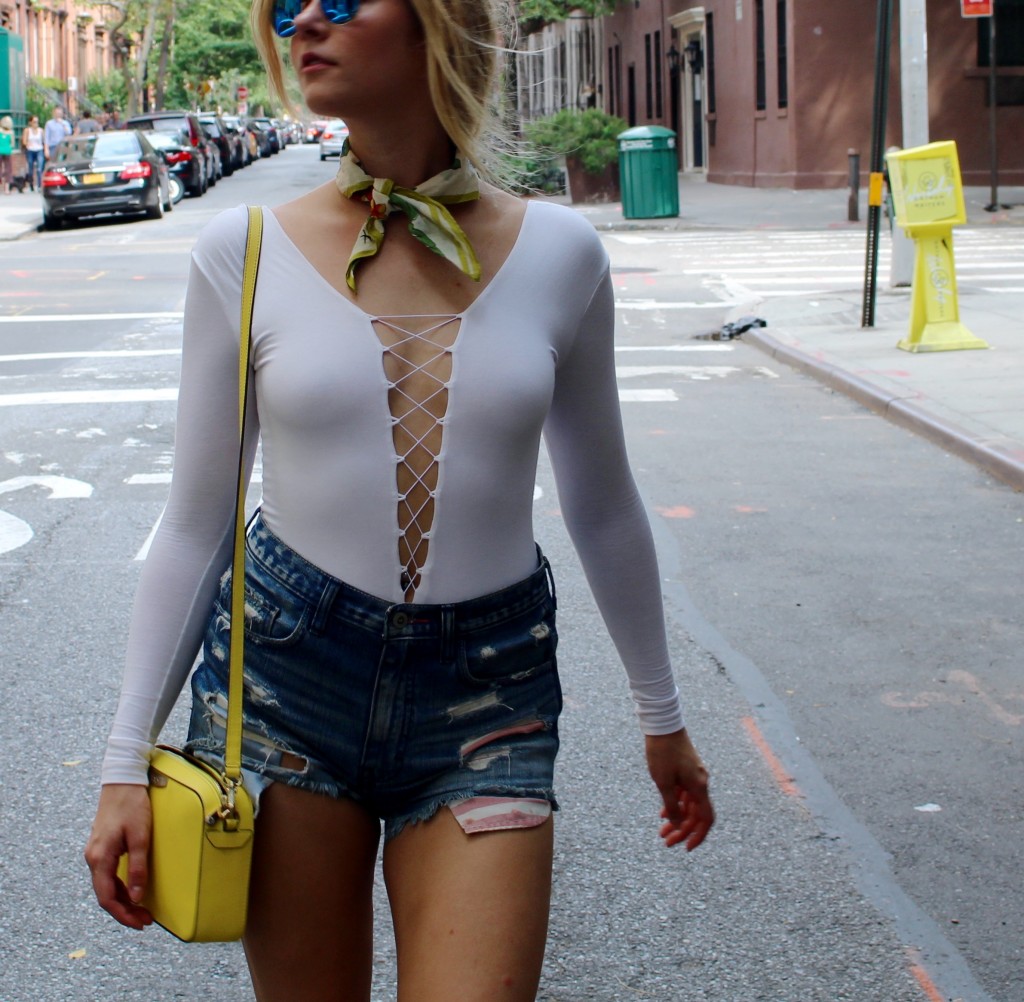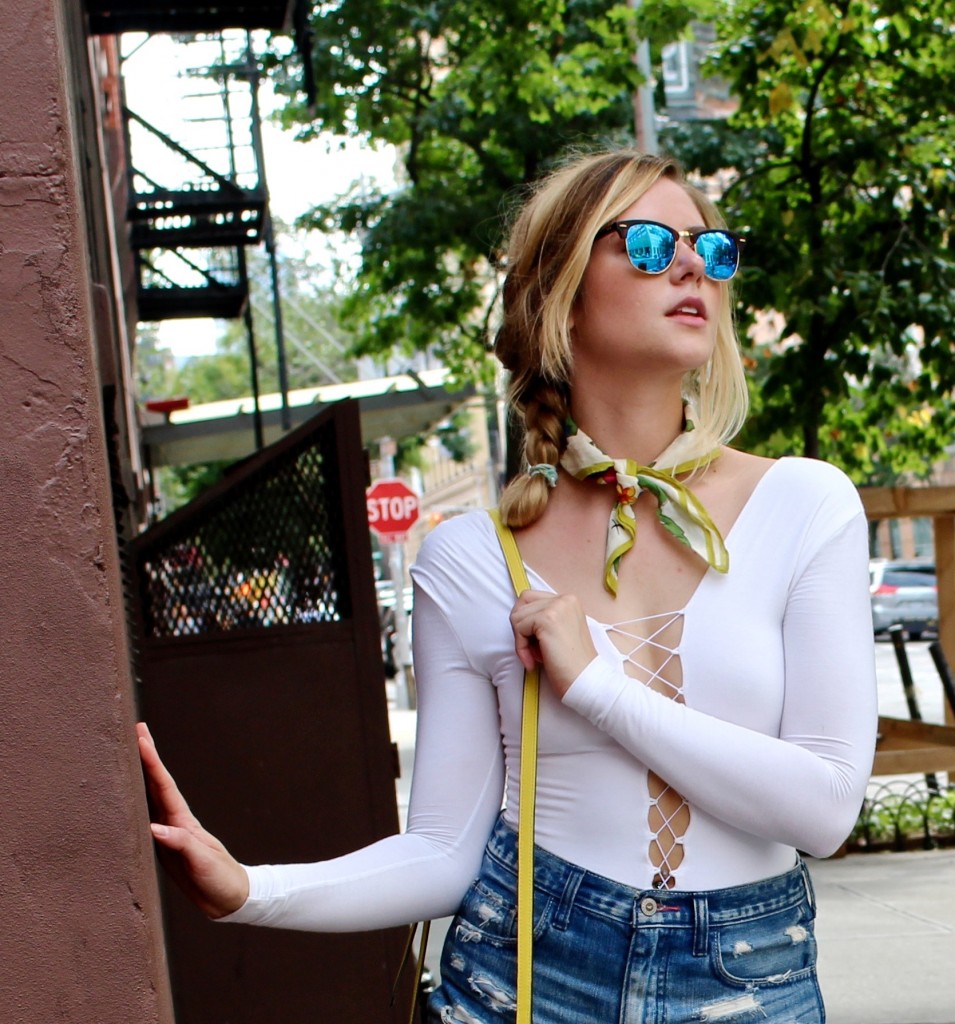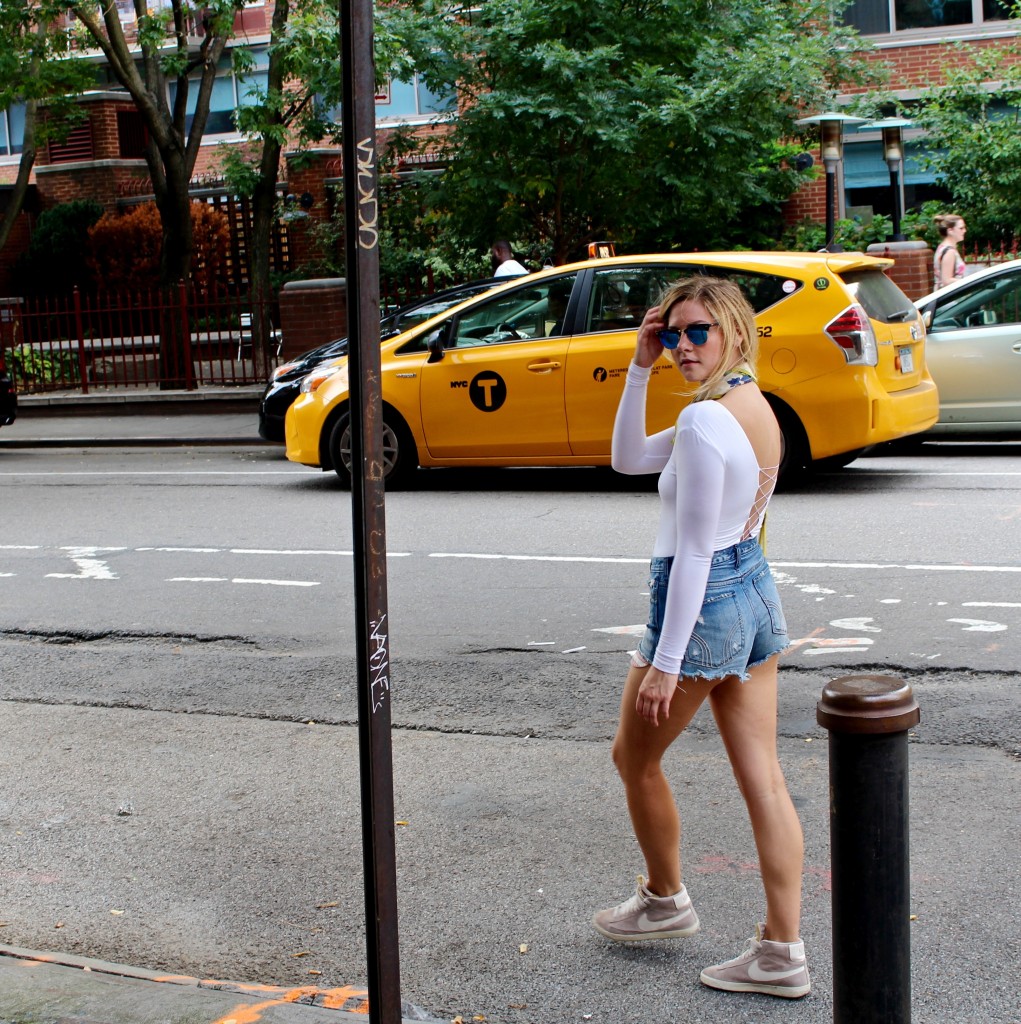 Technically, I am no longer a resident of NY. Actually, I am no longer a technical resident anywhere since I work from home now. Currently, I am living in LA by the beach. One of my dreams. My dream before that was to live in New York City, but that was accomplished and now onto the next. So before I left, I wanted to do a typical street photo shoot. I don't know if I found the prettiest streets, but that's the thing about New York City, it's just not pretty up close. It's all an illusion. Kind of like a Monet.
This was the taken not long ago, as it was still actually too sweltering outside to be wearing this. Summer really dragged on this year. So that's what I do NOT miss about the city, is the humid, hot, sticky grossness that is summer in the city. Thank you LA for being a beautiful, non-sticky, temperate wonderland.
In this outfit I wore this T By Alexander Wang lace up body suit. It is the most incredibly soft thing I have ever put on and it is borrowed from one of my sweetest friends, who also has it in black. Shout out to Jenn, thank you! Oh did I mention she is the amazing photographer for this shoot? Yep. So the lace up front and back of this  is incredibly flattering. I'm not going to lie, I am not in my best shape, but you can't even tell in this beautiful lace up body suit. Then the high-waisted shorts were also perfectly flattering. I am pretty short waisted so I like wearing things that cut me right in my smallest part, like these shorts. Anything lower or higher and then I look a little bigger. This lace up body suit would also look amazing with a black A-line skirt or a long, colorful, flowing skirt. That's what's great about pieces like this, you can wear them so many different ways and really get your money's worth.
Since chokers are such a thing right now, I turned this scarf into a casual, summery-looking choker. The flower pattern was perfect for keeping this outfit feeling really light and fun. I love, love, love the yellow bag that my best friend gave me for my birthday this summer from Henri Bendel. I'm not sure if I would have picked the color out myself and now I don't know why because it is the perfect pop of color to any outfit. It seriously matches every outfit I wear.
The blue sunglasses also feel very summer and fun and I always love the bright, but subtle blue they bring to any outfit. I had actually been eyeing these for about, oh, a year. Last year when I went to Miami I had wanted to buy them, but couldn't justify it since I already had two pairs. Then I went back this past summer to Miami and those exact same glasses were at a store called Atrium where everything was 30% off, including these glasses. So there you have. Good things really do come to those who wait.
Then of course, my favorite, the sneakers. I also didn't bring these Nike high tops with me to LA and now I am super regretting it. They are my favorite and instantly make almost any outfit look cool. Though I noticed that I haven't seen a single girl in LA wearing high top sneakers. So maybe I am better off without them here.
This was my final cute outfit of the summer. Even LA is a bit chillier and requires my leather jacket. Au revoir summer, but hello fall and cute sweaters and cute outfits in LA.
Much love from the west coast.
XO
What I Wore
One Piece Lace Up Body Suit: T By Alexander Wang, Shorts: Hollister Co., Suede High Top Sneakers: Nike, Scarf: Hollister, Co., Club Master Sun Glasses: Ray-Ban, Crossbody Bag: Henri Bendel