I just visited Cinque Terre (meaning "five lands"), the coastal towns along the Italian Riviera and thought it was one of the most beautiful places I have ever seen. It's not easy to pronounce so I wrote it out for you: (Cinque) CHEEN|kweh (Terre) TEHR|reh. I highly recommend a visit here so you can soak up the beautiful views of the vibrant blue water and rainbow array of old buildings. Cinque Terre is made up of five small villages, each breathing-taking and with their own quirks. I went for 4 nights with one of my best friends. If you do go, follow my suggestions for an Instagram-worthy and delicious trip.
Note: the entire place is Instagram worthy. 😉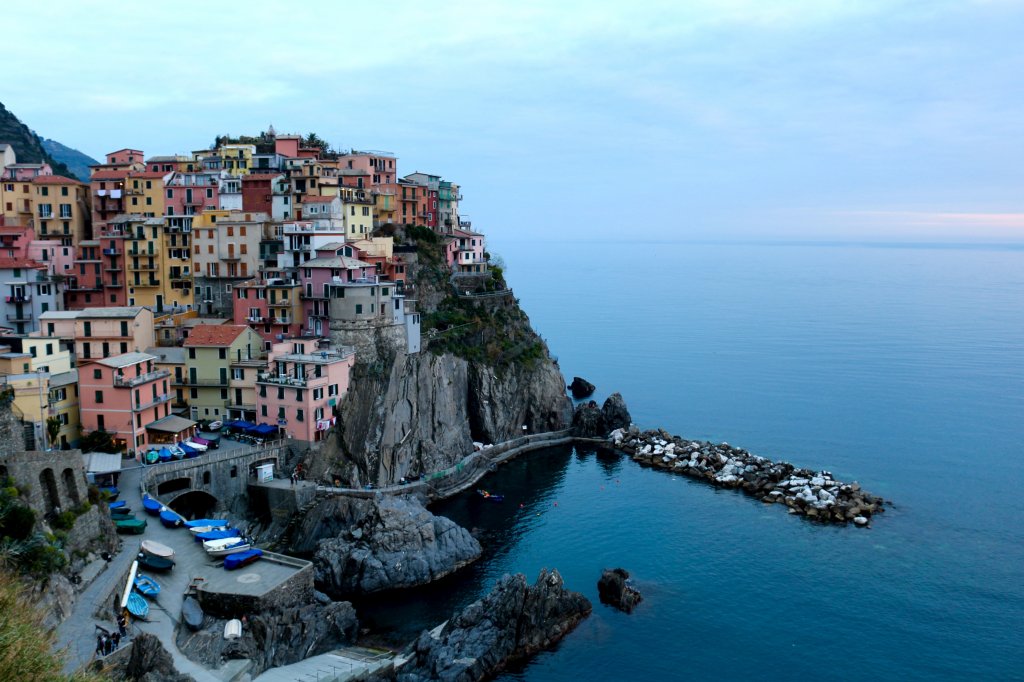 About
Because there are five villages that make up Cinque Terre, you have plenty of options of where to stay or to village hop. My advice is to pick a village first, then look into lodging, etc. Or if one village is more expensive to stay in, then look at another. Each one is pretty small and known for something different, but each has delicious restaurants and a few local shops. I went in off season during the end of March, right before the tourism really starts to pick up.
We stayed in Manarola, which is one of the oldest and most beautiful of the towns. It is a little smaller than the other towns, but it really didn't make a difference to us. It wasn't quite warm enough to swim yet, but if it were we would have stayed in Monterosso — the only one with a swimming beach. We visited the other towns, Riomaggiore (the largest village), Vernaza and Corniglia via a quick 15-30 minute train ride, depending on where you stay. Each is slightly unique, but all filled with colorful, coastal buildings. Since I only visited the others on a day trip, I don't know them as well as I know Manarola. If you'd like a little more info on the differences of each, I found more detail here. That being said, most of my guide is for the town of Manarola.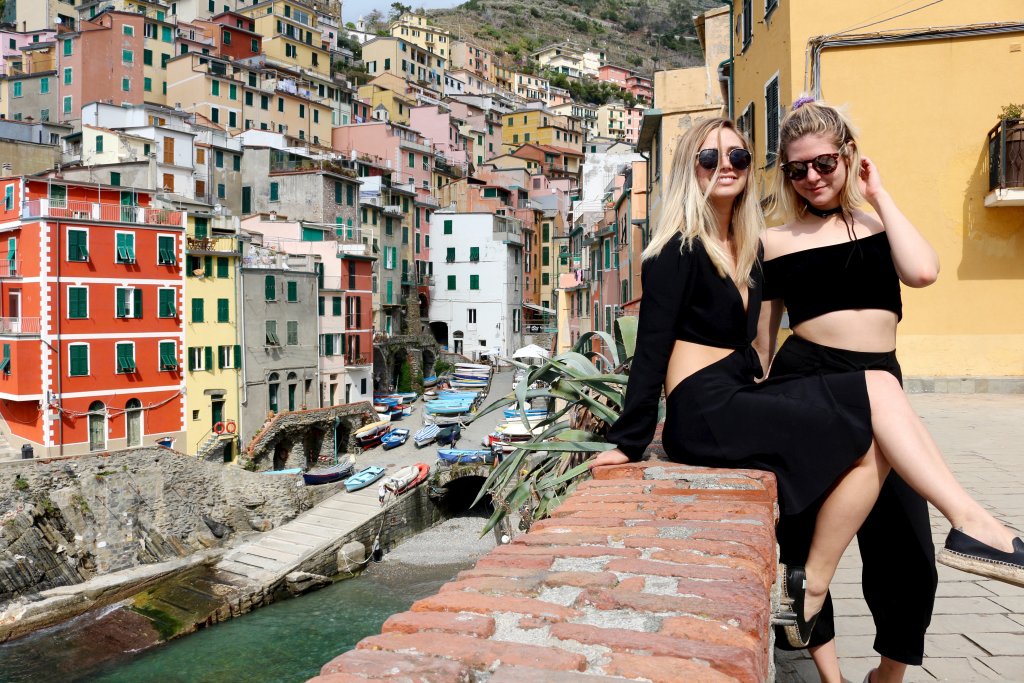 Transportation
You can get here via train from most major cities in Italy, though not usually directly. The Italian coast has its own trainline, so you generally need to switch from any major city you're in, such as Milan. I came from Rome (a guide coming soon) and took the train to La Spezia and then switched to the train to Manarola. My advice to you is to get there earlier in the day, rather than later. Because they are such small villages, I had a problem with the train crew being on strike and had to wait in the dark alone for a couple hours for a train. No one was around and there were no taxis. I'm sure that's not happening every weekend, but because of the lack of people and help, I do recommend an earlier train.
This site is the easiest to find tickets because it allows you to put in your starting location and end destination and figures out any transfers for you.
TRANSPORTATION COST: $150 (depending on when you book your train and from which city you book from)
---
Lodging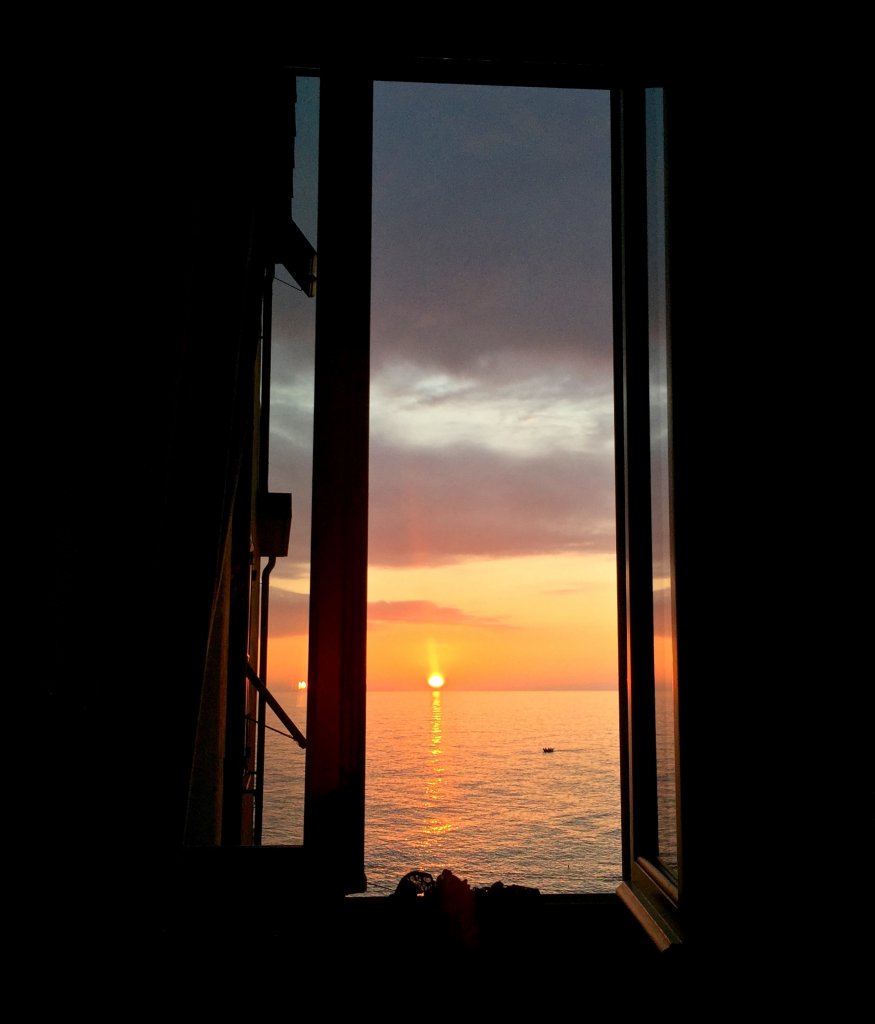 Well I have the most amazing friend in the world that booked this trip and let me stay with her, which I couldn't be more grateful for. That being said, I will still tell you the costs and places. This probably won't be a budget trip for you. It's not a cheap place to stay, especially during the peak season — late spring through early fall. There are hotels and Airbnbs that you can choose from. We stayed in Hotel Marina Piccola. We lucked out with a gorgeous water view where we fell asleep to the soothing sounds of the ocean. It was such a quiet, relaxing experience, with amazing restaurants, views and hikes just  a couple minutes walk away. The train was about a five minute walk with no stairs (great to keep in mind since many of the other towns have a lot of stairs, which make large suitcases difficult). A full breakfast was included as well and it was delicious, with everything from a custom cup of cappuccino and juice to scrambled eggs and pastries. I highly recommend it, though there may be more affordable options in the peak season. Here are some hotels to look at, but again don't forget to compare it with Airbnb.
LODGING COST: $400+ for 4 nights (off peak starts around $400 for a hotel, though a room in an Airbnb will save you money)
---
Food
 Nessun Dorma for an IG-Worthy Cheese Platter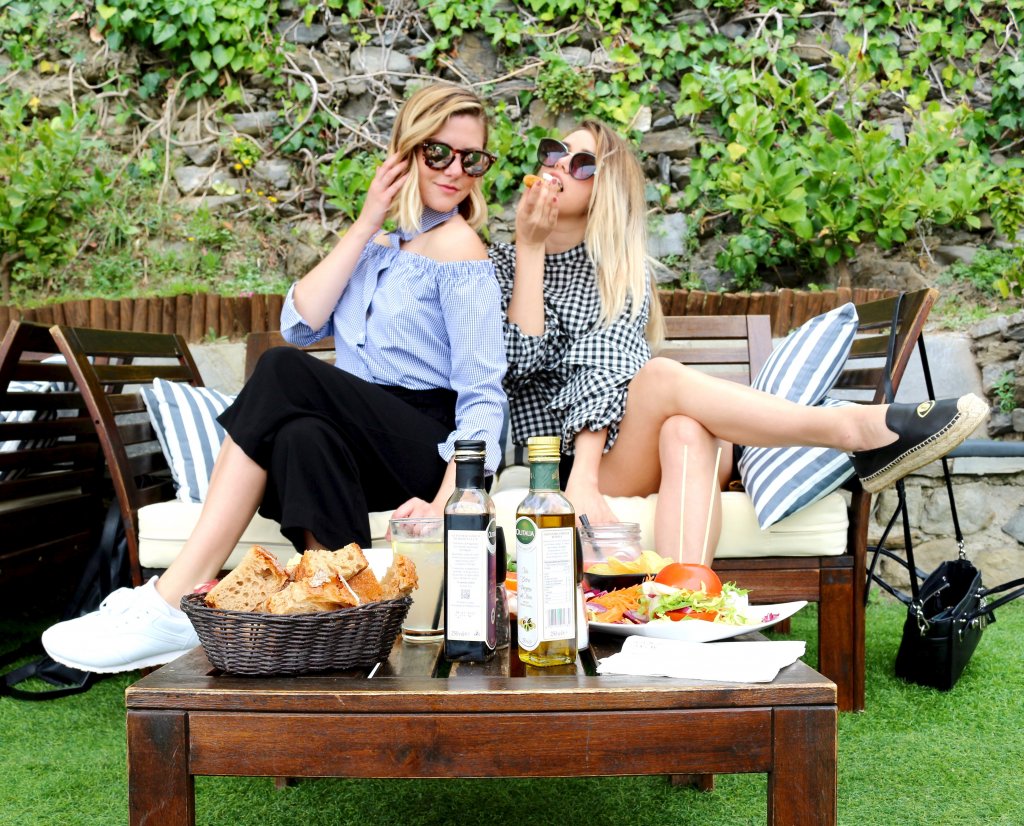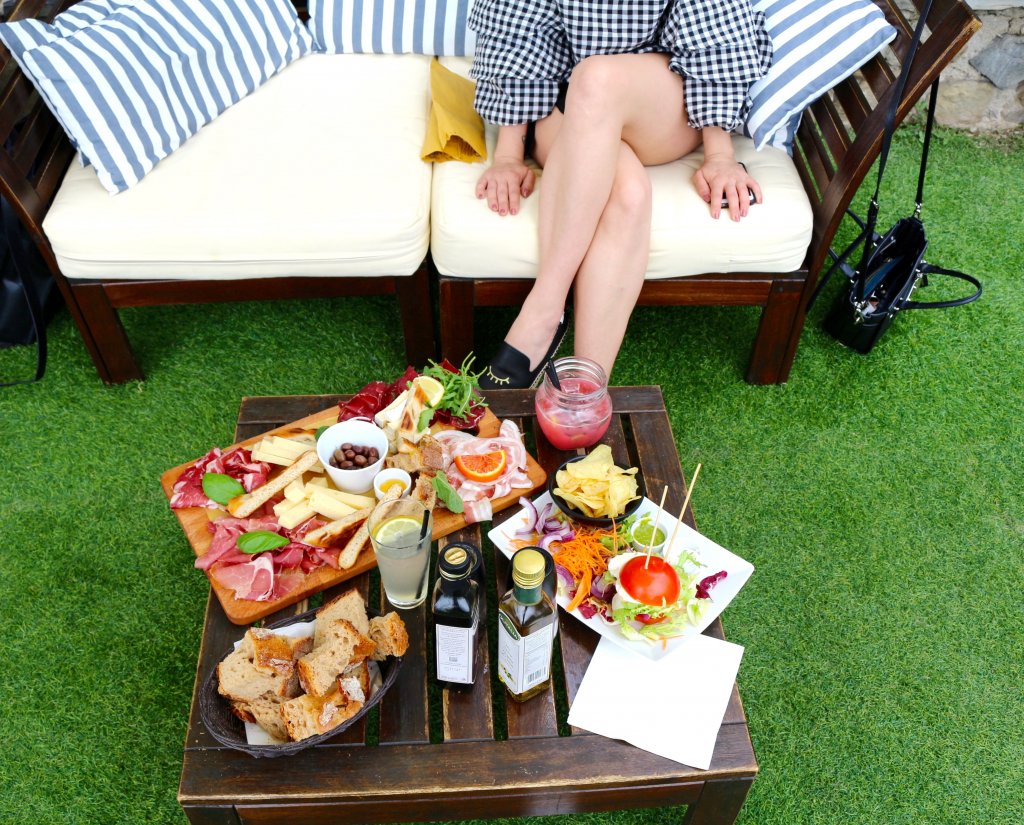 Want the best value and best tasting cheese and meat platter of your life with the MOST breath-taking views behind it? Go to Nessun Dorma NOW! You walk up a hill (that's how you get the views) where there are tables and comfy couches that look out onto the best view of Manarola. The drinks were also beautiful (though a bit sweet). We took what we couldn't finish to go.
Il Porticciolo for Seafood
I hope you like seafood. These are fishing villages after all, where to this day, people's livelihoods depend on fishing. You should take advantage of the catch of the day. It will be some of the freshest fish you have ever had. We ate at Il Porticciolo and we were given a platter of fish that they literally caught earlier that day and got to choose which one we wanted. It was the best fish I've ever tasted. This place was located right next to our hotel on the main drag, a minute walk from the water. Note: my photo was taken on my phone and does NOT do it justice. Just wanted to show you how fresh it looks!
Trattoria Dal Billy for Squid Ink Pasta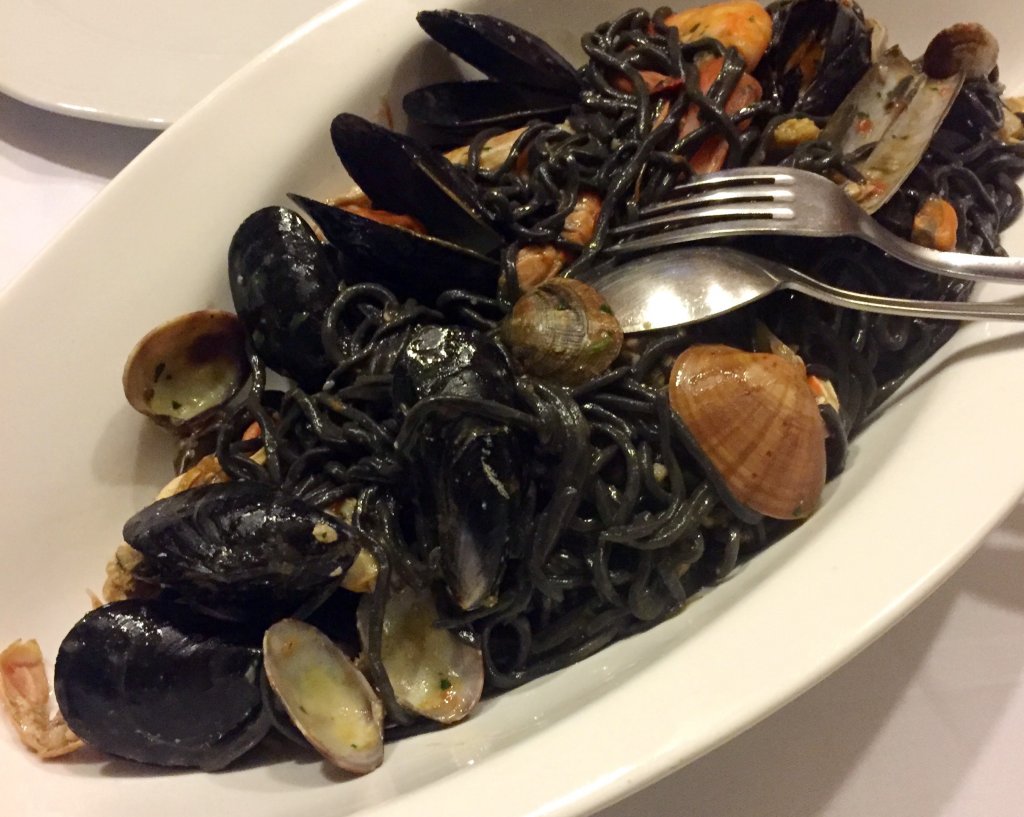 Trattoria Dal Billy is known for its squid ink pasta and I don't know about you, but that was something I could not NOT try while I was in Cinque Terre. It's in the town Manarola as well, on a hill the opposite of Nessun Dorma. Of course, the only thing we ordered (you can only order it in a portion for two FYI) was the famous squid ink pasta, filled with all kinds of seafood. The pasta was rich and some of the best I've tasted. To top it off, go during sunset because the view is spectacular (supposedly, since we went at night).
Street Vendor or Cafe for Fried Calamari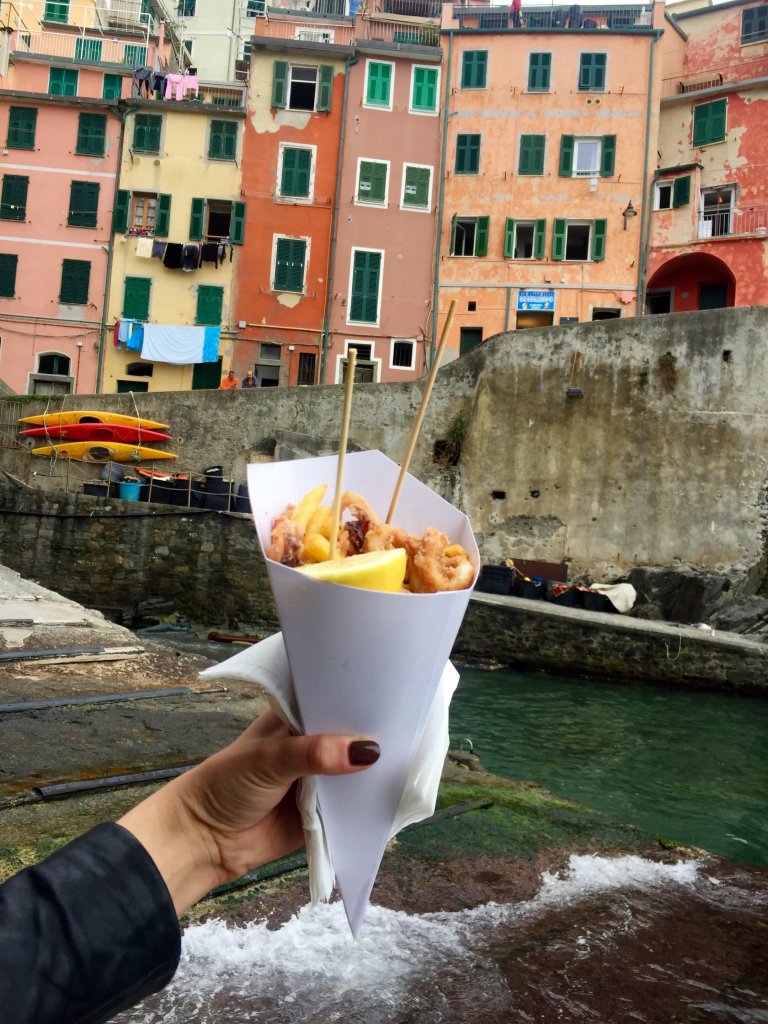 Let's be honest. Who doesn't love friend calamari? Any place you can find with a fried calamari stand, get some with fries and go sit and eat it by the water. We did this in the town of Riomaggiore. Couldn't even tell you the name of the place, but there were a few that all looked great on the main road. They're all fresh so I'm pretty sure you can't go wrong.
FOOD COST: $100 (Completely approximate depending on how often you eat out and what you eat. On average though, the food is very reasonably priced)
---
Activities
I'm not going to lie to you. Our activities on this trip consisted of taking photographs, enjoying the scenery, eating, drinking and relaxing. And here are the best places to do those things.
Enoteca Cantina Zio Bramante for Live Music & Drinks
We got in late, around 11 pm. Everything else was closed except this gem. We found live music, drinks and food. We were there for hours multiple nights just enjoying the atmosphere. We had so much fun requesting songs and singing along. Definitely a highlight for us.
Hike
Was totally going to do this. Until we had too much wine at the aforementioned place the night before and didn't feel up to it. You can hike along the entire Cinque Terre or from just one village to another. This is a big attraction to visitors here. Some hikes are easier than others depending on what you are looking to do. Some info on the hikes here.
Visit Other Villages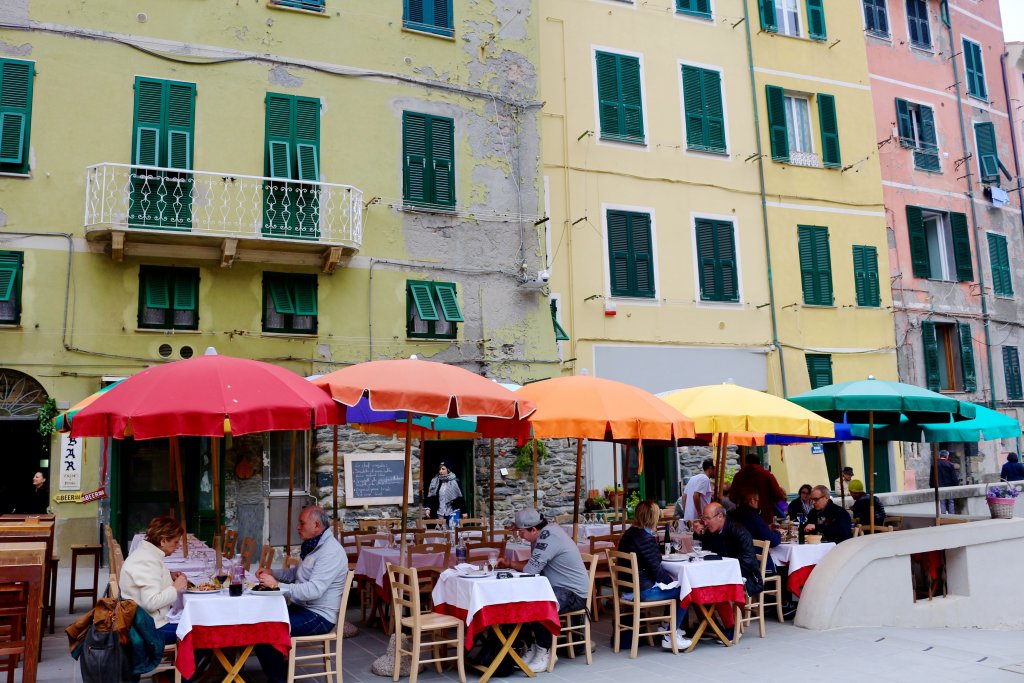 We wanted to see what the entire Cinque Terre had to offer. We took the train to the other villages to explore. The train drops you off right at the top of each town so it's easy to get around. Every town could be its own day trip so plan accordingly.
Take Instagrammable Photos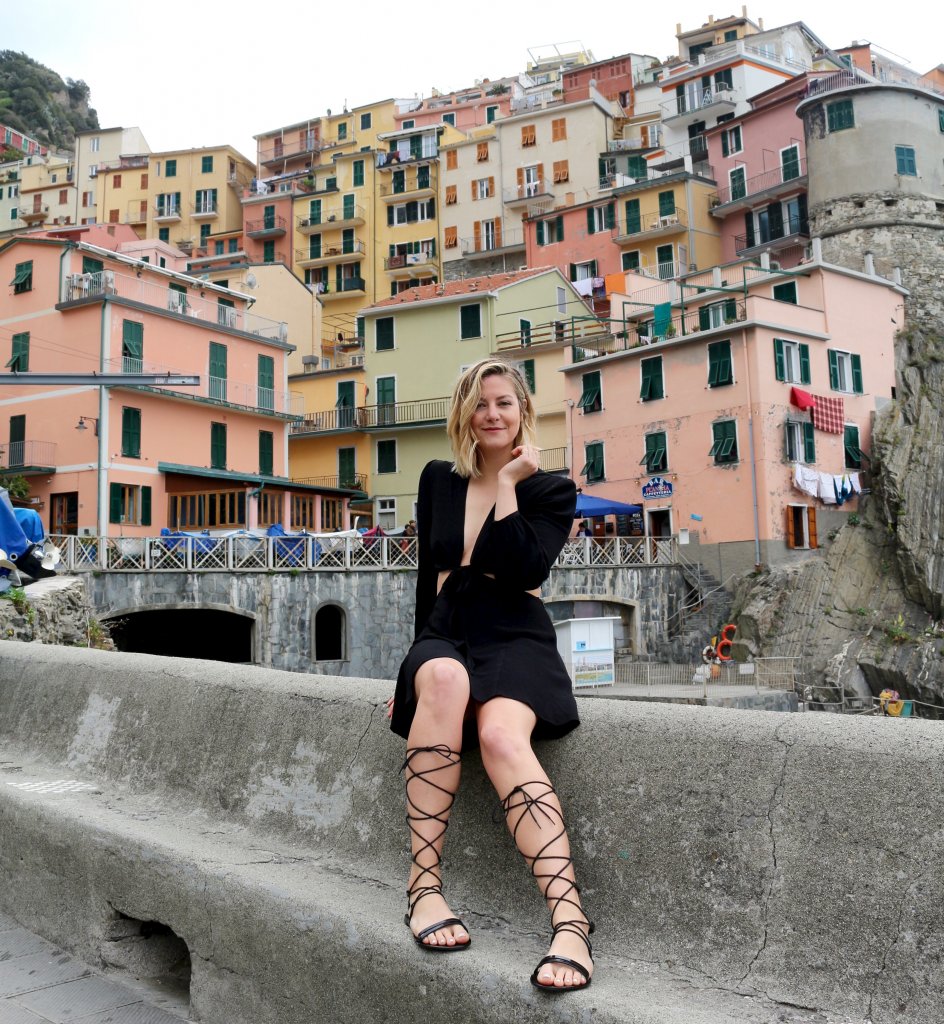 This trip was made for gorgeous photo ops. We had so much fun taking photos on this trip, look out for a guide coming in the future. Most of our photos happened in Manarola and Riomaggiore. There is a cemetery at the top of Manarola, past Nessun Dorma that you need to go to for the best views.
ACTIVITIES COST: $0 (train tickets to other villages included in transportation costs)
---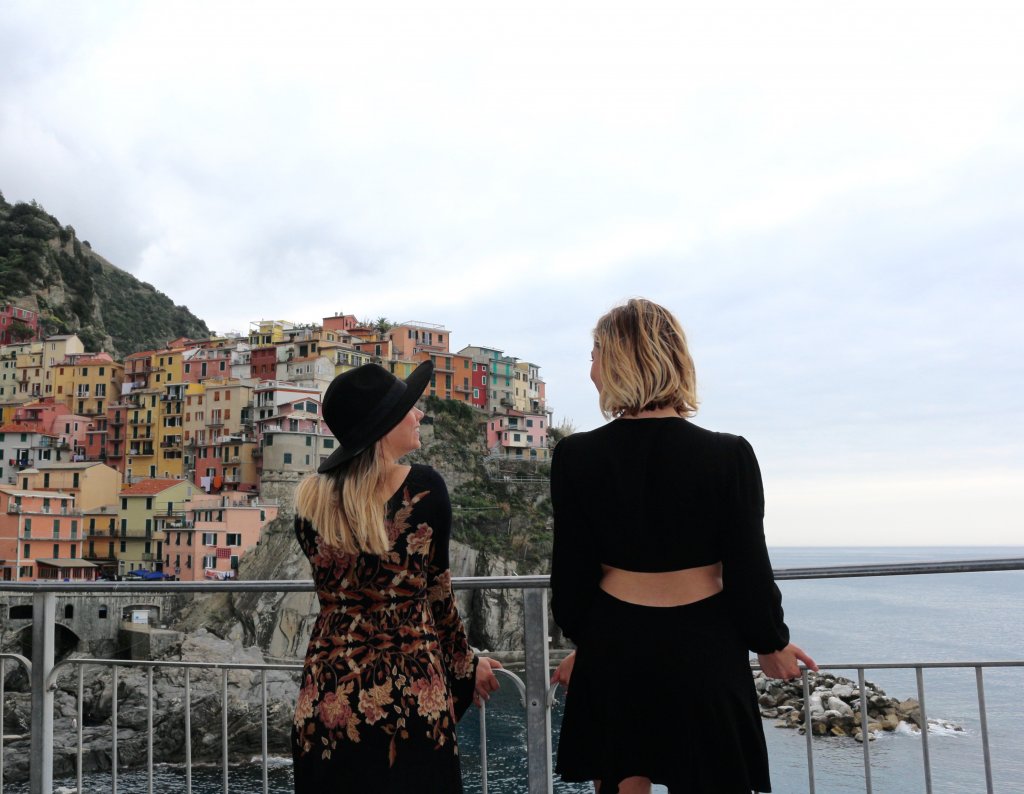 TOTAL TRIP COST: Approx. $450 (everything is cheaper with a friend)
Cinque Terre was by far one of my favorite trips. It was stunning. I woke up thankful every single morning that I was there. I also went with a great friend who enjoys the same things that I do — like getting dressed up to take photos and eating well and having fun. I would definitely go back.
Have you been? What town did you stay in?
XO