I have always wondered what it's like to attend the MTV VMAs and now I finally got the chance. Seriously attending has been a dream of mine and it finally came true. I love music and it was amazing because I got to see most of the artists I have ever wanted to see all in one night. In case you may be wondering, here is how I got to attend and here is what happens when you attend the MTV VMAs — as a non-famous person.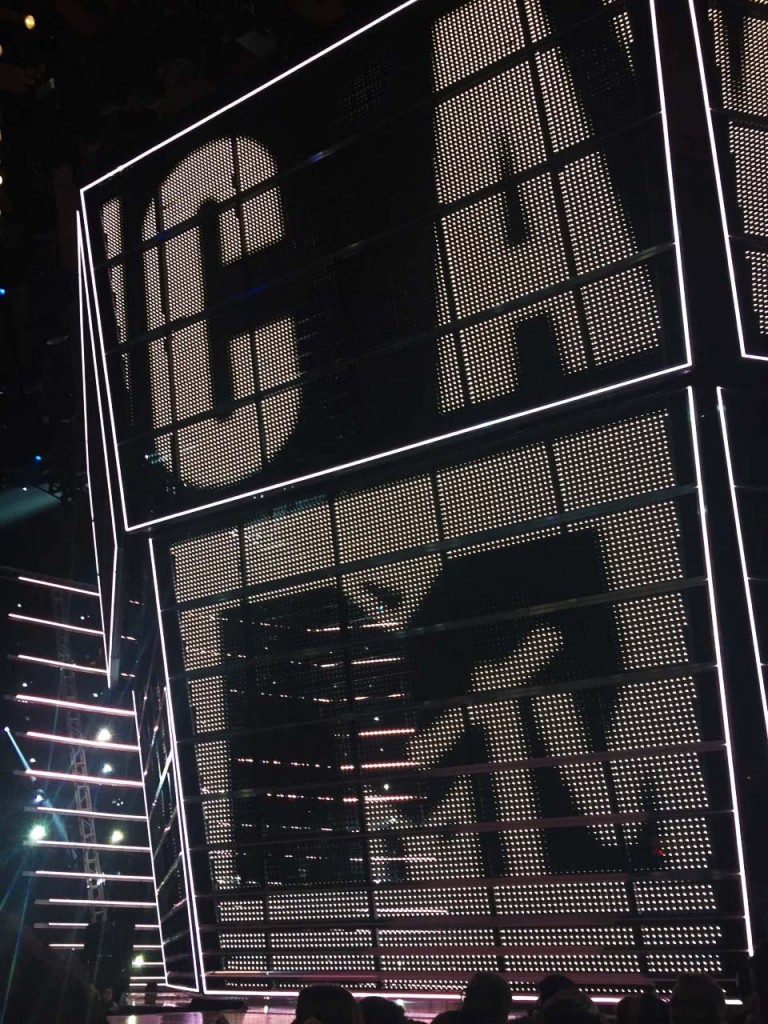 GETTING IN IS REALLY HARD – DUH
I have a lot of friends in the music industry and for the most part, no one could get a ticket. Apparently even the directors of music videos aren't guaranteed a ticket. You can't even buy the crazy expensive tickets without a certain secret code. Which is crazy because there were a lot of empty seats up in the stands. So who gets to be down in the pit cheering on the performers? The MTV VMAs and a lot of other major events use agencies and companies, like 1iota to help them fill in seats. I did this before at the 2013 MTV VMAs and attended the Katy Perry performance under the Brooklyn Bridge. Basically you just fill out a profile and enter a lottery of thousands to win. Your attending here is all in the luck of the draw. I entered this year for the MTV VMAs with literally no expectations, except a secret, desperate desire to go. It has always been on my bucket list, I am not going to lie. So when I saw that I won a ticket as a pit fan audience member, I was more than thrilled. I was shocked at my luck and almost cried. So there it is. I got in like that. Oh and my coworker even gave me money to buy a lotto ticket that day. Just in case. No, I did not win that too. Only so much luck to go around I guess.

YOU GO ALONE & YOU GO EARLY
You can not bring a plus 1 and you need to be there early to guarantee your spot. I mean early. As in 3 hours before showtime. I got there an entire hour before call time, by sheer luck, and was still about the 50th person in line. So besides waiting in line, I wait alone. My friend did try to slide in with me considering we are some pretty smooth talkers, but it was such tight security that I don't think ANYONE without a purpose or a ticket could do it. It was just me, myself and I. Luckily I am pretty talkative and became quick friends with a girl next to me.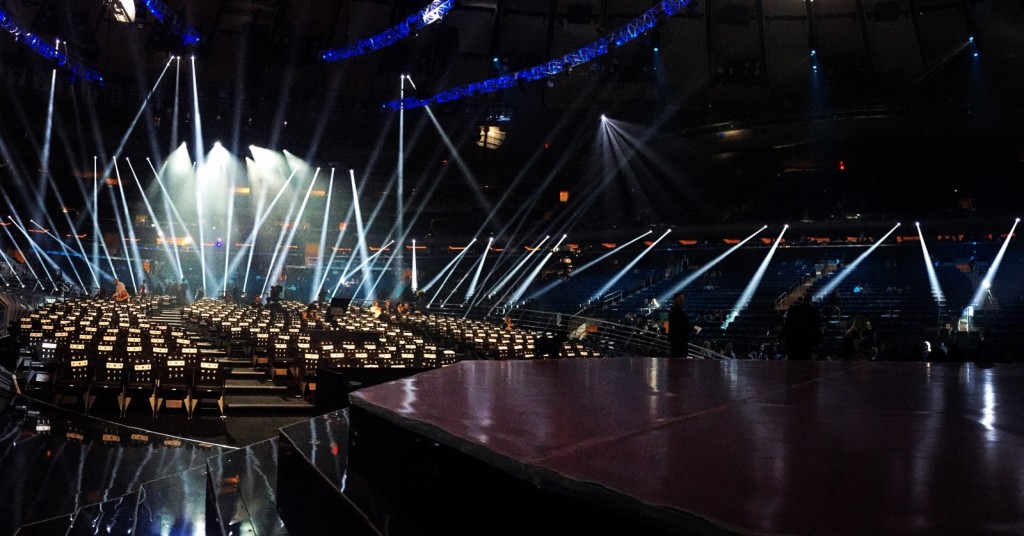 PRETTY PEOPLE GET PRIORITY SPOTS – SO DRESS NICE
It goes without saying you should wear something that really makes you stand out since this is THE awards show to do it at. TV shows are made to look a certain way. Once inside, the pretty and/or trendy-looking people are pulled aside one by one, including myself, probably given my Alice + Olivia jacket vest that was pretty on trend and made me look kinda cool with my crop top and shorts showing underneath. 40 or so of us were given a black wristband. This meant were were designated to be in the front aka the ones seen on camera. I was more than ok with this and the guarantee of my view. In fact, once we got in, I had a prime view. I was literally the person touching the stage. I could have reached out and touched Beyonce's dress, had I really wanted to get kicked out. As for your outfit, you can always look to see what was worn last year for some inspiration. Here I recapped my favorite looks of the night.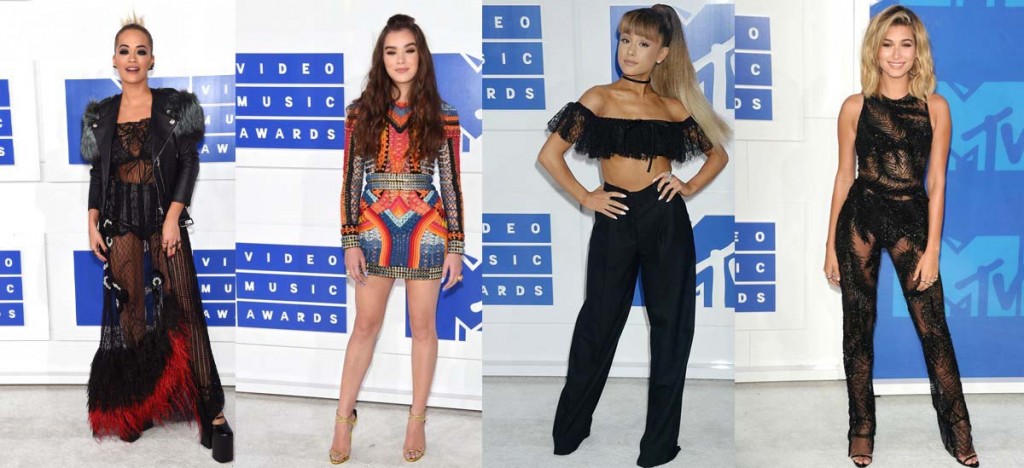 THE COOLEST CELEBS ARRIVE LAST
Since we were there early, we got to watch the celebrities roll in. The first people there weren't recognizable. After that was Teen Mom cast members, among others I couldn't recognize. Then Jaden Smith, followed by Ashley Graham, Hailey Baldwin and four of the Final Five US Olympic gymnasts. Soon after arrived Nick Jonas, The Chainsmokers and DNCE with Joe Jonas. Last were Ansel Elgort and girlfriend Violetta Mykoshan, Britney Spears and finally Kim and Kanye. For the most part, everyone sat through the entire performance or left right before the Vanguard Award that Rihanna won.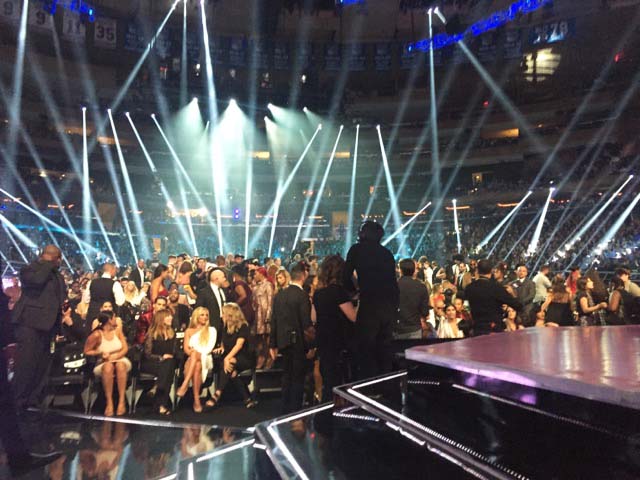 EVERYONE SEEMS TO KNOW EACH OTHER
It's funny to watch who interacts with whom at these events and pretty much everyone says hi to each other, even if its pretty clearly just to be nice. Kim and Kanye sat front row, of course, with the seats constantly being filled by people who volunteered to be "seat fillers" any time one of them or anyone else got up to speak at the awards or perform. Fun job. Kimye stayed for the entire show, with people constantly coming up for a selfie or a quick hello. Behind them sat long time friend Jonathan Cheban and then front row, right sat the beautiful Britney Spears for just the first couple of performances until she went on. Three rows behind her was the dreamy Ansel Elgort and his girlfriend Violetta Mykoshan. The cute love birds couldn't keep their hands off of each, as per usual. Commercial breaks is really when you get a chance to see who is actually friends with whom. Since Ansel (stage name Ansolo) and The Chainsmokers have the same manager, Ansel got up and said hello to Alex and Drew of The Chainsmokers, presumably congratulating them on their chance to perform at the MTV VMAs 2016. Hailey Baldwin and Jaden Smith sat together for a couple minutes of mingling after she went and said hello to Kim Kardashian.
COMMERCIAL BREAKS ARE FOR DRINKING
Free drinks all around, ya hear me? But they are not for the audience members. They are just for the celebrities. It looked like the choices were water and alcohol. During each five minute break, every one would get up and mingle amongst each other.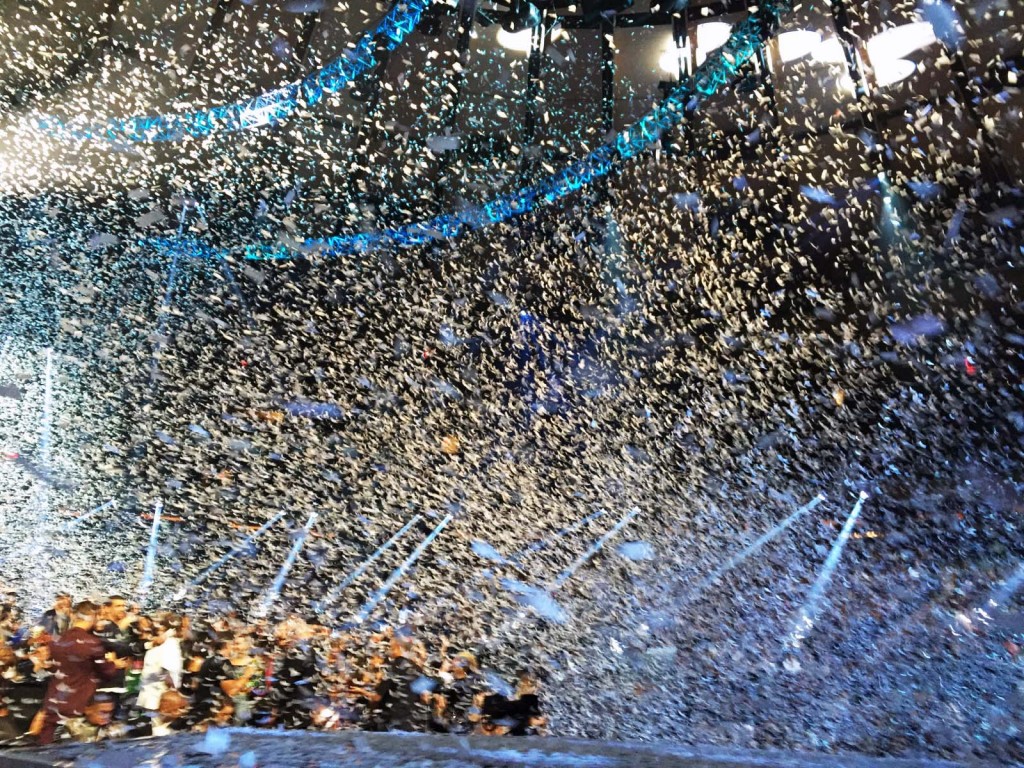 PICTURES ARE OFF LIMITS
At least for everyone in the pit where I stood. Since phones in the air look bad for television, we were not allowed to bring them out to take photos. Which honestly doesn't bother me because just like at any concert, I will sit there and record everything and for what? I never watch those videos again anyways. It was nice to enjoy and live in the moment for a change. But that being said, I did try to sneak a couple… and yes Rihanna and Drake did kiss at the end.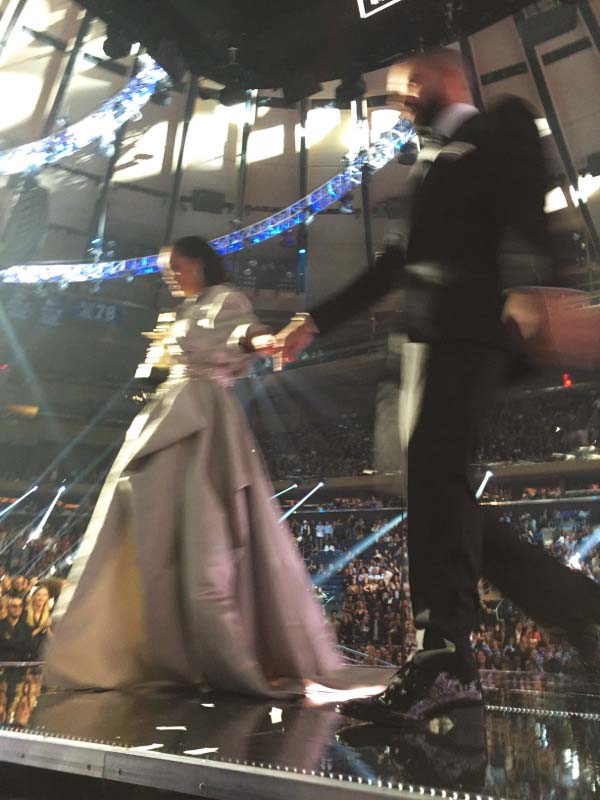 IT IS DEFINITELY WORTH IT
Despite the long wait and going it alone, of course I would do it all over again. I love live television and learning what production goes into it and knowing what is "real" and what is not. And of course I loved seeing all of the live performances and my favorite celebrities up close. So there you have, that is what it's like to attend the MTV VMAs — as a non-famous person of course. Otherwise, this would probably be a whole different story.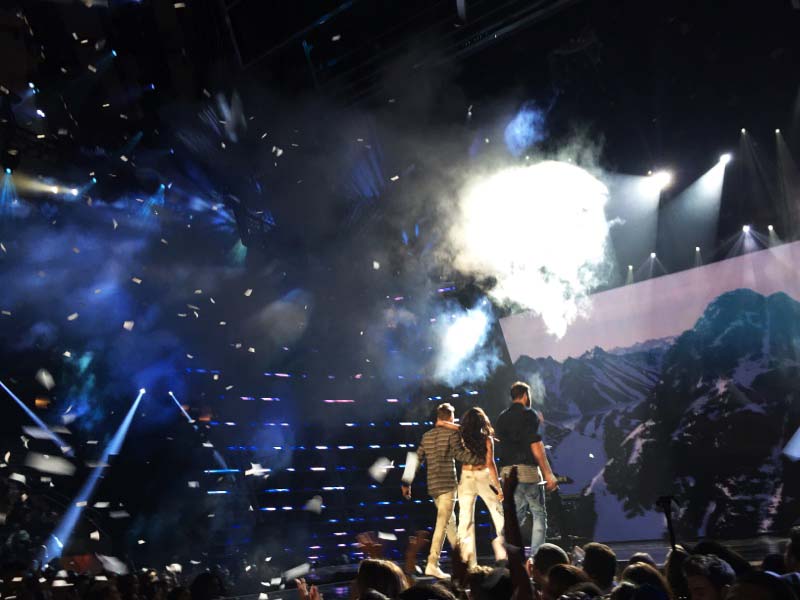 Here's to me hoping to again next year.
XO
Note: This was originally published in 2016, but has been updated in 2022 to keep it up to date due to an influx of views and inquiries.