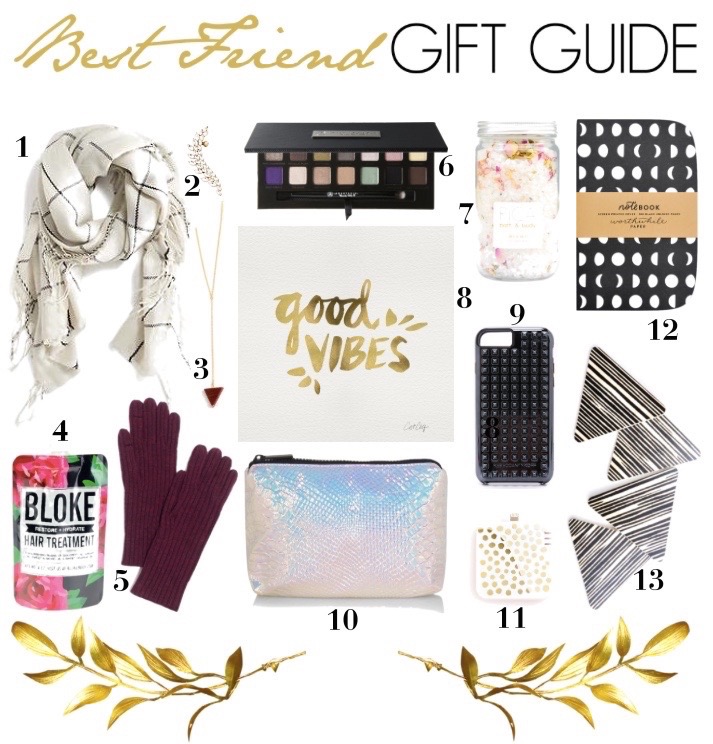 This article is to help the girl who needs some fabulous, unique gift ideas for her friends this holiday, and doesn't want to blow her budget. Whether you need to buy for a bunch of friends or a select few, here are some of my favorite gift ideas for every type of girl (or guy) you may know.
GIFT IDEAS
For The Most Stylish
1. Oversized Blanket Scarf, $27
What cool girl doesn't have an oversized scarf to cozy up in for the winter? Ok, me, which is why I'm putting it on this great gift guide. If she doesn't already have one, believe me, she can use another. Old Navy has a lot of patterns to choose from in this soft flannel material.
3. Lariat Gemstone Necklace, $69 (this is the price exception)
This is a necklace I made and sell on Etsy under Kristin Simon Jewelry. It's gorgeous and the lariat trend is on point right now. Plus, it's made of 14k gold filled chain and gemstone, which is known to have healing properties. Definitely worth the splurge for your very best friend.
For The Daring
2. Statement Ear Cuff, $6
Because this ear cuff is the perfect add-on gift for your girl who loves to wear bling and standout from the crowd (in a great way).
10. Holographic Bag, $15
This bag is technically for makeup, but I think it makes the perfect clutch to wear throughout the holidays, bring in the new year and for any other occasion. The gorgeous material will pop perfectly against any outfit.
For The Homebody
4. Hair Mask, $20
Perfect to use when taking a bath (ahem, below). Just massage it into hair, leave on and rinse out for the most shiny, soft locks. Plus, this one will last quite a few baths and the packaging is cute to see in the shower.
7. Bath Salts, $27.60
We have that friend (or we are that friend) that loves a good weekly bath and these salts are so pretty.
For The Makeup Lover
6. Eye Shadow Palette, $35
Who doesn't love makeup? This beautiful palette by Anastasia Beverly Hills is new and holiday party ready in this mix of fun and neutral colors.
For The Artist
8. Fun Art Print, $16
Everyone could use an inspirational saying or a beautiful picture to look at every day and make their home even cozier. You can find a lot of other cool prints at Society6.
For The Planner
12.  Notebook, $18
This adorable patterned notebook is perfect for your organized friend that writes everything down. Or for the friend that should.
For The Party Host
13. Cute Drink Coasters, $34
We always go to that one friends house in the super convenient location to hang out. Save her furniture in style with these adorable triangle shaped coasters.
For The One Always On Her Phone
5. iPhone Friendly Gloves, $35
If she doesn't already have a pair, I'm sure she could use another one since gloves are the easiest thing to lose. These keep your hands warm and still let you play on your phone. Love Madewell? They have their own holiday gift ideas and guide to check out.
9. Modern iPhone 6/6s Case, $38
I'm in love with this studded phone case. I actually own it and I know that if I didn't already have it, I would love one as a gift! Rebecca Minkoff is the perfect brand for a fashionista and it comes in other colors too.
11. Stylish Portable Phone Charger, $38
Still look semi-cool with this cute portable phone charger that you just plug into your phone to extend battery life. Check out all of their other fun patterns too.
I hope this helps! Let me know if there are any other great gift ideas I missed out on.
xo