I don't even know what I'm doing for New Year's Eve this year, but I know that New Year's Eve outfits are always the first thing my friends and I are thinking about when it comes to this day. I literally want to do something just so that I can dress up. There's something about putting together a sick out — which can be over the top for an occasion as rare as New Year's Eve — and dressing up and feeling your absolute best. There aren't that many times a year when you have an excuse to dress up, which is why I like to take advantage on New Years. I actually hate the whole idea of the "holiday," as the night is usually a let down without a kiss from a handsome stranger, but hey let's focus on YOU and what you are wearing to stand out this year. Try one of these easy outfit formulas for some great, sexy and different ideas for these New Year's Eve outfits. Also, I didn't put any places to buy them because all of the pieces can be found at most places right now, like H&M, Forever21, etc. Oh and if you want to see exactly where these pieces are from, click the link in the title.
Outfit #1: Classic Slip Dress + Bomber Jacket
A short or long slip dress is very on trend right now and is a pretty universally flattering dress style. Mix it with a fur or quilted bomber to add another element to the look. Pair it with strappy heels or chunky boots and a choker to complete the look. The best part is you can find a slip dress virtually anywhere now — and for cheap!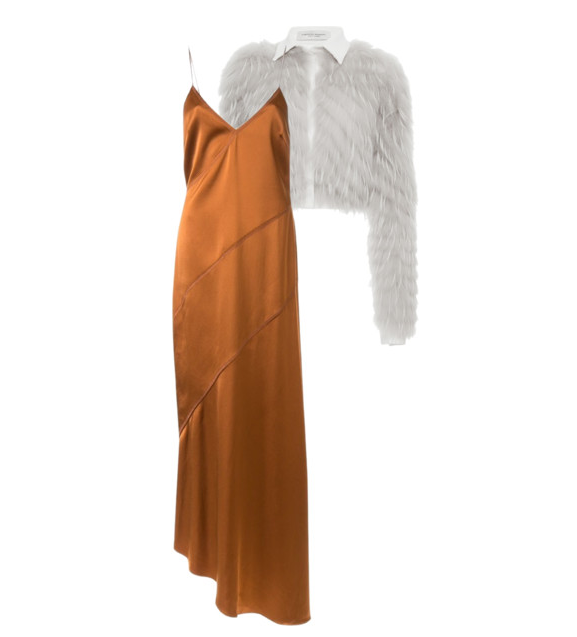 ---
Outfit #2: Wide Leg Pants + Crop Top
This is my personal favorite, as wide leg, high-waited pants are super flattering, especially to make the waist appear smaller. Be sure the waistline hits above the belly button, at the smallest part of your waist though for the most flattering look. Once you have that part down, a crop top is guaranteed to look good and add some sex appeal. An off the shoulder top is even better for a stand-out look. Pair this with some silver loafers and plenty of ear candy to pull it all together.

---
Outfit #3: Tuxedo Jacket + Sexy Bra + Skirt
This is a super classy look, sexed up by the open jacket and flash of a cool bra. Make sure the blazer is long and left open so you can see the peekaboo of the bra underneath. You can go with a black lace bra or a fun one like this, all depending on your personality and what you like. Just make sure it's cute! A skirt with an off-center slit in the front will keep the look classy, yet edgy. Pair it with strappy shoes or black leather booties and long, fine chain necklace to finish it off.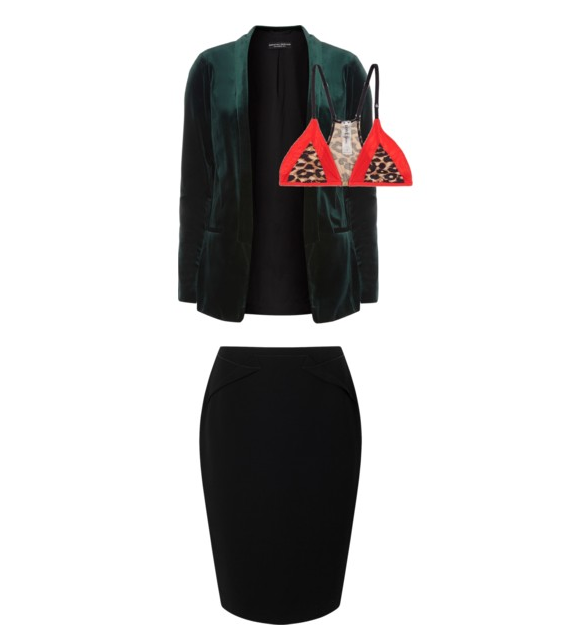 Are you doing anything for New Year's Eve and if so, what will you be wearing?
XO